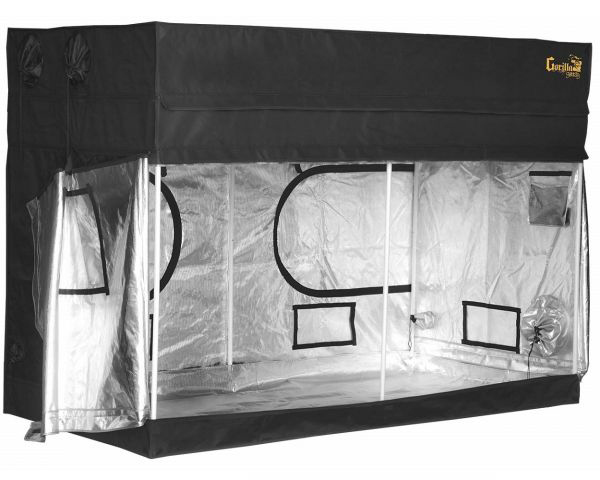 For those who prefer to grow their plants indoors, the search for a good indoor grow tent can be exhausting and above all, confusing.
With so many popular brands offering a variety of features and tent sizes, the process becomes all the more overwhelming. However, a name that stands out among all the others because of its long list of features is Gorilla offering some cool grow tents.
Gorilla Grow tents come in three different varieties: 
The GGT Line

– This is the standard type of gorilla grow tent. It is the most popular and has all the features that indoor gardeners look for in their grow tents.

The Lite Line

– As the name suggests, this tent is a little more lightweight as compared to the GGT Line. With this tent, you sacrifice some of the good quality fabric for a more affordable indoor grow tent option.

The Shorty Line –

The short line is a perfect match for beginners. It contains all the features that come with the GGT line but is only about 2 inches shorter than the original.
All three of these possess the same features with the only difference being of weight, cost, and the overall size of the tent.
Now that you know the slight difference of size and weight in the three different types of grow tents that are offered by Gorilla Grow, let's jump into a detailed review of the features that make Gorilla Grow Tents a must have for any indoor gardener.
Gorilla Grow Tent holds itself as a pioneer as it is one of the few companies offering grow tents in multiple sizes.
Ever since the release of their first grow tent in 2017, Gorilla has only gone further up the ladder of revolutionizing indoor gardening. They are known for offering high quality products with excellent customer support so that you have nothing to worry about.
Whether it is installation or removal, you will find all the information on the official website. If something doesn't seem right, you can get in touch with the agents and they'll be happy to help.
What Makes Gorilla Grow Tents So Special?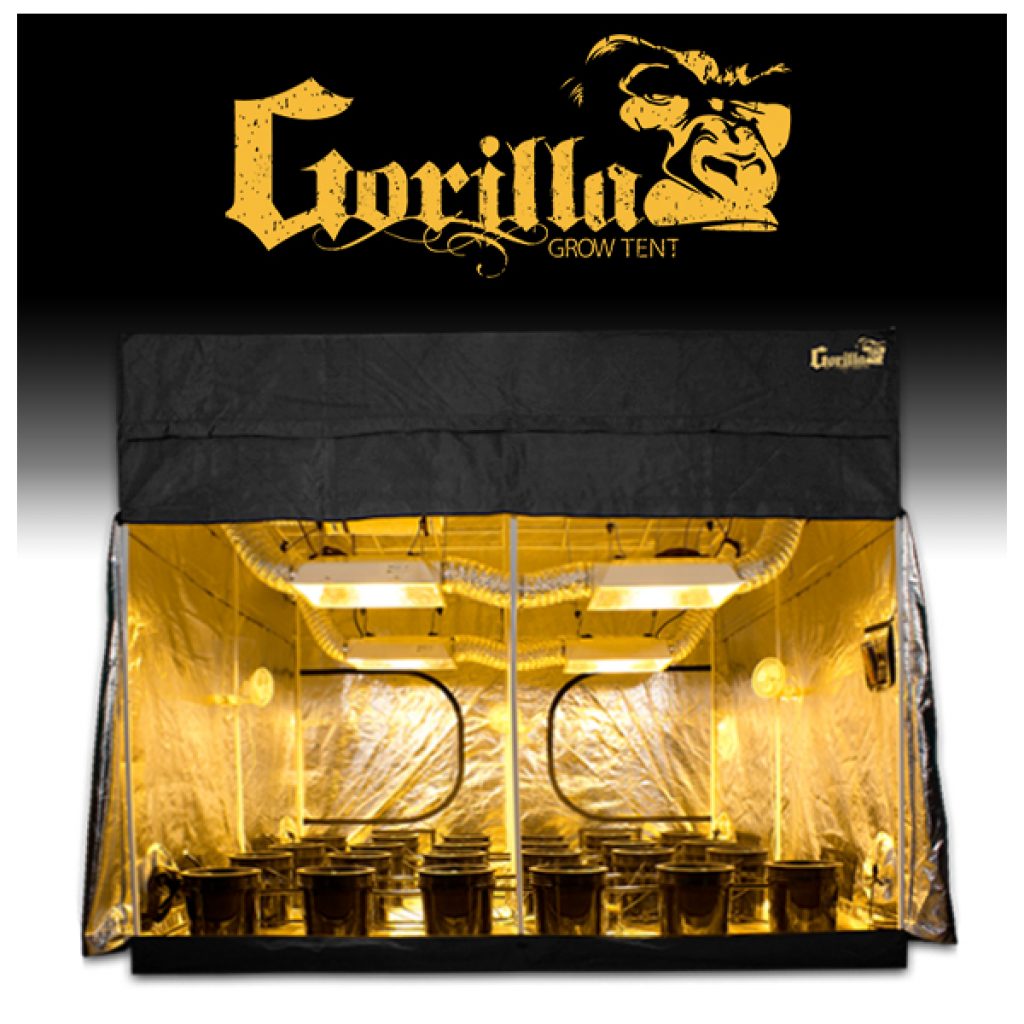 Not only are Gorilla grow tents good in quality, but they also make use of some of the best LEDs, grow soil, and even ventilation systems to imitate the environment of outdoor gardening. This is a huge plus point because it provides you with the best indoor yield.
When it comes to durability, you will not be disappointed at how well these tents age. They are sure to last for years.
Additionally, the fact that you can pick and choose your tent from three different lines is another noteworthy factor.
Gorilla Grow Tent Reviews
Gorilla grow tents are built with a number of features that set them apart from other names on the market. 
But are Gorilla tents worth the hype? Let's take a dive into all the features that these tents have to offer: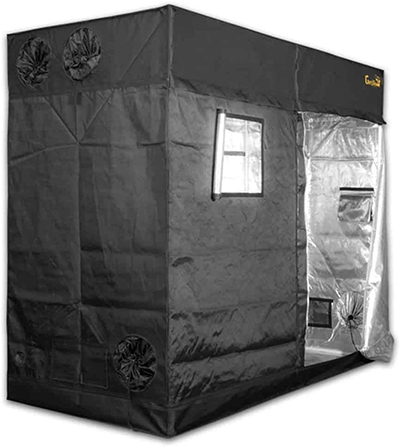 The highlight of Gorilla grow tents is their incredible height, which remains unmatched even today. You can choose from multiple options:
Most indoor gardeners struggle to find a grow tent big enough to accommodate taller plants as most of them are made while keeping smaller shrubs in mind.
However, The GGT Line by Gorilla stands at a tall height of over 6 feet, which makes it suitable for tall plants as well.
With this option, you will be able to grow a variety of problems without worrying about your plant outgrowing your tent.
If six feet is still not enough for you then there is good news for you. Gorilla also produces a unique line of height extension kits. 
When installed into your grow tent, these extensions (available in both 1' and 2' sizes) can increase the height of your grow tent, leaving it standing at almost 7-8 feet tall.
If you purchase the Gorilla GGT Line, you get the height extensions included with the package. This is a great plus. Once you get this beauty, you will not have to worry about finding a replacement for years.
If you wish to opt for the Lite Line, then you will have to purchase the extensions separately in case the 6' 7'' height of the Lite Line is not enough for you.
The height isn't too bad but it might not be enough for some people. The good thing is that attaching an extension is as easy as it gets.
If your indoor garden does not require a lot of vertical space, then you might do better going for the Shorty Line. 
The gorilla tents in this line stand at a short height of 4 feet and can again be extended with the addition of height extension kits in case you need that little bit of extra room.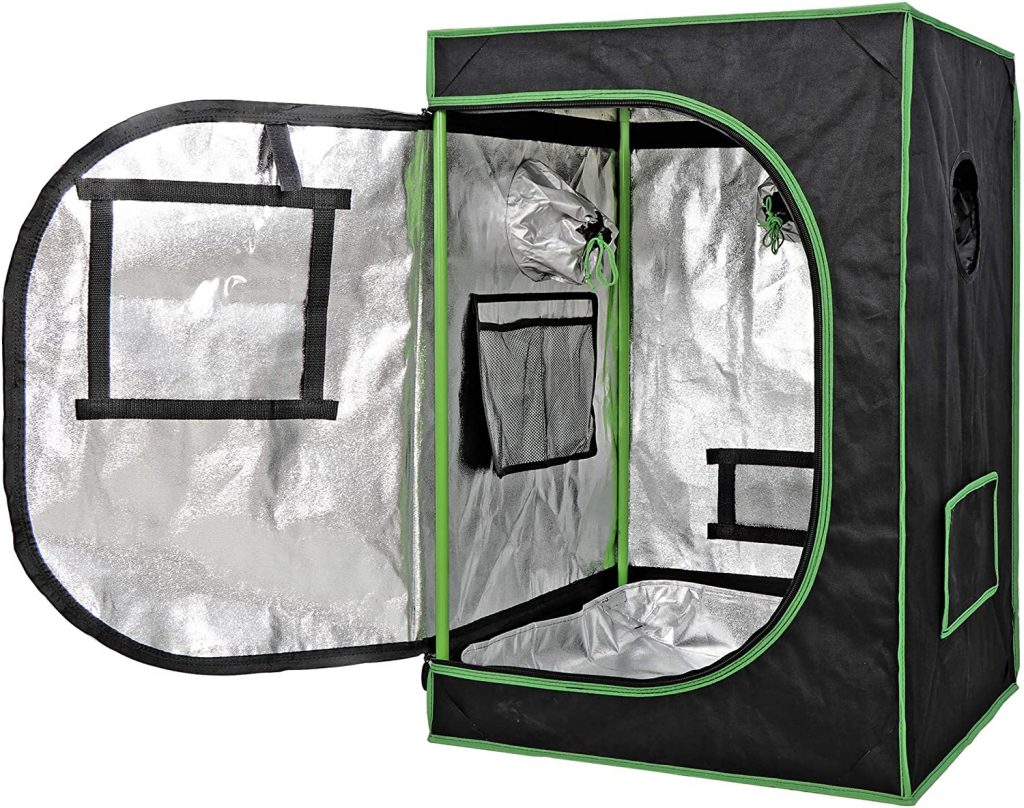 The density of the fabric used in grow tents is 'Denier', which is donated by a D. 
Most grow tents on the market stay at a low fabric density of around 600D. Not only is this value too small, it also means that such grow tents are more prone to rips and are not very efficient at keeping light from leaking.
We tested the tents from Gorilla and were quite impressed with what we saw.
The fabric of the GGT and the Shorty Line by Gorilla features a strong and durable plastic with a density of 1680D. 
Not only is this higher and better than what we usually see, but it is also highly reflective and does not let any light escape, allowing your plants to absorb optimum levels of light.
We must mention that this fabric is not only good for your plants but for you as well. They are quite good at reducing noise pollution by reducing the noise created by the fans installed in the tent.
Not a lot of people pay attention to this factor but working in the presence of such loud sounds can be both distracting and harmful. This tent kit does a good job of providing security.
The density of the fabric used in the Lite Line by Gorilla measures at 210D.
This may sound like a drastic downgrading compared to the density of the GGT and Shorty Lines but it's still quite good. You will realize it once you use this beauty. 
Moreover, Gorilla guarantees a special method of PVE binding to effectively stitch the exterior fabric with the interior reflective material, ensuring no light leaks even with a 210D fabric.
This is a feature that is not paid attention to in most grow tents. However, you will quickly learn that Gorilla grow tents are not your average grow tents due to their effective maintenance features.
Not only are these tents bug and pesticide resistant, they also come with a 10 inch ducting port with double cinching. This means that no unwanted contamination enters and mingles in with your plants, thus preventing the growth of mold and pests. 
As a result, you will have to waste less time taking care of the environment.
In case the external air somehow does enter your grow tent, the tent will take care of it as it comes with an additional mesh pre-filter that continuously filters the air circulating within the grow tent.
Most grow tents do not have an efficient duct, which can cause air to leak thus promoting the growth of mold.
A problem most indoor gardeners have to face is water leakage, which can cause floor staining while also damaging the electrical equipment. This is a major problem, especially when you are trying to grow your plants hydroponically.
Keeping this widespread issue in mind, Gorilla has come out with a state-of-the-art floor tray that installs at the bottom of the tent. It does so with the help of Velcro straps, making it easy for you to install and remove the tray to your convenience.
The floor tray stays above the floor at a height of almost 4'', which prevents any water from leaking out and staining the floor.
On the other hand, the frames of all Gorilla grow tents have been made using a solid metal that is built to last and stand strong without collapsing on top of your plants and harming them.
Another safety feature worth mentioning is the surface cooler. The top of the tent has been installed with a roof section that works on preventing infrared rays from entering the tent and heating it above the required temperature.
5. Temperature Controlling
The tall height of these tents plays a major role in reducing internal temperatures of the grow tent by almost 10°F. 
Pair this with the extremely thick fabric the tent is made with and you have yourself the perfect environment to grow your plants in, no matter what the temperature is like outside.
Not only is the tall height of these tents good for pushing out internal hot air, but the good denier of the fabric used also prevents temperature fluctuations.
This consistency allows plants to grow well and offer good yields.
Most high-end grow tents on the market are made of cheap metal that may bend or cave in at any given time. Add a few LED lights over your plants and the entire tent may fall and damage your indoor garden.
The good thing is that Gorilla grow tents are famous for not just their sturdy metal structure, but also for their interlocking technology. 
The metal bars surrounding the tent interlock and join together at various points making the entire structure sturdier.
What is even better is that these joints are kept in place with an added pair of screws so there's an extra layer of protection that guarantees sturdiness.
On the other hand, the double-stitched binding technique used by Gorilla is also part of its promise to provide indoor gardeners with only the best grow tent. 
Instead of making use of zippers and single stitches, Gorilla makes use of a double stitch technology that does not tear even after regular use.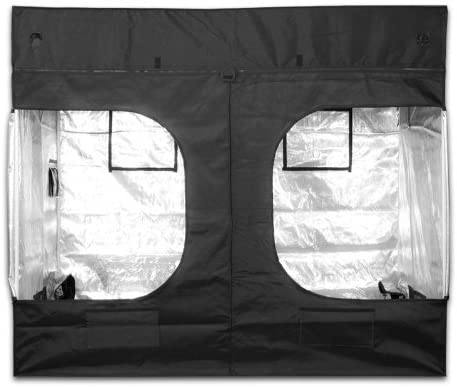 Indoor gardeners know how pesky it can be to get your grow tent set up and ready to use. This is the reason why ease of use and assembly is one of the qualities of Gorilla Grow tents. 
A few of the features that make assembling the grow tent easy and simple are:
Gorilla grow tents come with Velcro straps installed into them. They make assembling your tent even easier by allowing you to simply remove and install the main door of your grow tent according to your preference.
Thanks to this feature, you will not need an extra pair of hands or even any special hardware to install the door.
Similar to the door, you will not require any special drilling or screws to install the roof, all you have to do is place it on top of the finished structure and you're done.
The roof will remain in place, which is the most impressive part as it comes with special attachments that work without requiring manual effort.
The zippers are easy to use. You will not need a lot of strength to get the job done.
Other than the fact that every Gorilla grow tent comes with a detailed manual on how to set up the grow tent, there are a number of features that make this grow tent a good choice even for beginners.
360 Degree Unzipping Door
A feature worth mentioning is the door, which can be unzipped a full 360 degrees so that it does not get in the way while you tend to your plants. 
Alternatively, you can also remove the door entirely at any given time and reattach it once you're done.
Every Gorilla grow tent comes with more than 2 viewing windows. These windows add to how easy it is to grow your plants indoors with a Gorilla tent.
You can take a look at how your plants are doing at any given time without having to unzip the door or disturbing the internal environment of your garden.
This may seem like a small addition, but is still worth mentioning, nevertheless. Gorilla grow tents come with a tool pouch that is large enough to hold any gardening tools that you might need while tending to your plants.
The smallest addition makes a difference and the tool pouches provided by Gorilla are proof.
Depending on the type of Gorilla grow tent that you purchase, you can even stand up straight in some thanks to their tall height and large space.
This adds to the comfort you feel while you attend to your plants. You will not feel the need to crouch down into uncomfortable positions. This makes the unit suitable for all people, including tall individuals.
One look at Gorilla tents and it is clear to see that they are the best available grow tents on the market. 
Not only are they extremely attractive and spacious to look at, but you get exactly what you pay for once you invest in them.
Keeping customer satisfaction in mind, you will notice a few extra added features when observing the grow tent. The very thing to take note of is the ducting port, which can be installed with a ventilation system of your choice. 
Moreover, Gorilla grow tents have extra safe-lock stitches in frequently used areas, extra tool pouches for storage and interlocking metal bars.
The structure itself is neat and tidy to look at with none of the stitches or poles poking out in a haphazard and messy manner.
Warranty and Customer Service
Gorilla offers a 1-year warranty on all of their products, regardless of the type of grow tent that you decide to purchase.
It is important to note that the warranty does not apply to regular wear and tear of the tent itself. Before you decide to claim your warranty, make sure you take a look at the terms and conditions.
However, if the damage to your tent is covered under the warranty then you will be happy to know that Gorilla cares for its customers and ensures that the faulty or damaged product you return is fixed and sent back to you as soon as possible.
Gorilla Grow Tent: Pros and Cons
No Gorilla grow tent review can be complete without the pros and cons:
Pros:
Extremely spacious and tall in height.

High density grow tent fabric for maximum temperature control and no light leaks.

Incredibly reflective inside for maximum light absorption.

Sturdy and interlocked metal bars to provide a strong structure.

Viewing windows to keep a check on your plants without disturbing the environment.
Cons:
Might be on the pricier side.
Overall, here is a quick rating of Gorilla grow tents:
Who Should Purchase Gorilla Grow Tents?
Gorilla may sound like a brand that is meant for professional indoor gardeners but that is not the case. It is suitable for everyone who wishes to grow plants inside, ranging from herbs to fruits to flowers. 
The price may seem a bit hefty to some, but it is worth noting that the brand itself is trustworthy and you get exactly what you pay for once you decide to invest in Gorilla grow tents.
Gorilla Grow Tents: Frequently Asked Questions
Which Gorilla grow tent line should I purchase?
The very first thing you will have to determine is how much space you have inside your home to accommodate the grow tent.
Gorilla grow tents usually have dimensions of around 49.5 x 6 x 15 inches. Depending on available space that you have, and the kind of plants you are wanting to grow, you can choose from the GGT, Lite and Short lines.
The Shorty line is the best in case you have limited space and are not going to grow very tall plants.
Can I reduce the height of these tents?
While you can increase the height by using extensions, it is currently not possible to reduce the height.
Are Gorilla grow tents good for hydroponics?
Yes, thanks to their high density fabric and temperature control, Gorilla grow tents make the perfect home for hydroponics.
Additionally, gorilla grow tents also come with a floor tray or a flood tray that collects any extra water, preventing messy spills that can ruin your floor or carpet.
Gorilla Grow Tent Review: Conclusion
Although expensive and a little more on the luxurious size, Gorilla grow tents guarantee that you will never have to turn back from your investment. 
Compare the available options and pick what fits you the best.
Latest posts by John Terry
(see all)