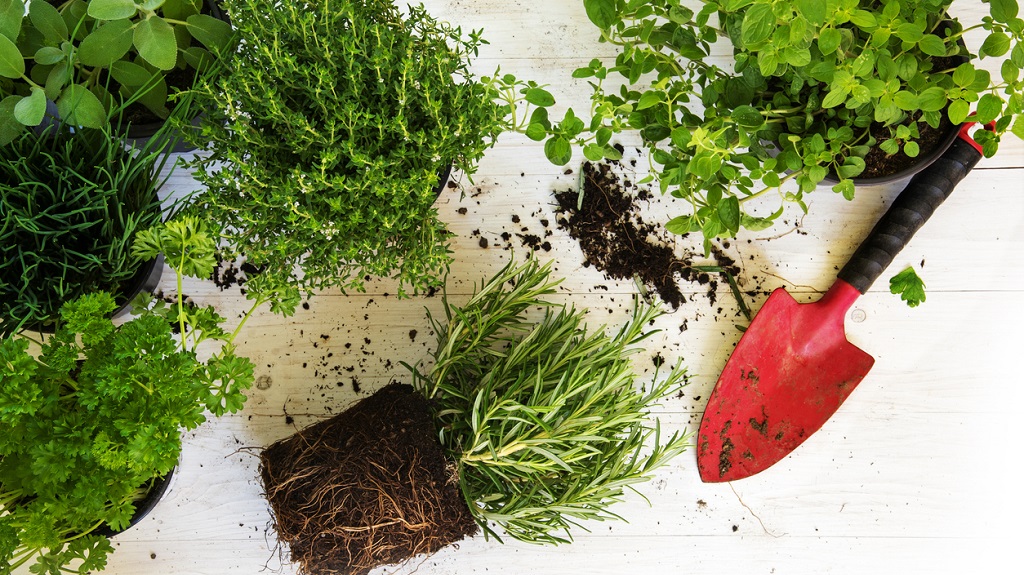 Do you fancy cooking your meals with fresh herbs? If you live far from a farmers market or cannot go and buy herbs daily, it is better to start your own herb garden. So, if you want to consume fresh rosemary, mint, parsley, thyme, and more, you'll be happy to know there are so many herb garden ideas to get you started, and we will happily share some of the easiest.
What is a Herb Garden?
In very simple terms, a herb garden is a section of your home you use to grow fresh herbs. The garden can range in size from one pot to a dedicated border outdoors., and you get to decide which types of herbs to plant.
But, before we discuss some of the best herb planting ideas, let us discuss what herbs are and some of their benefits.
What is a herb?
A herb is a plant that produces leaves, seeds, or flowers you can use to add different flavors to your meals. In other instances, you can use a herb for its scent in beauty and wellness products, while some herbs are also good for colors and dyes.
In terms of health benefits, fresh herbs are rich in antioxidants. Thus, they can help you fight serious diseases like cancer, heart disease, diabetes, blood clots, and some tumors. In other instances, herbs are great for meditational and wellness uses, and you can add them to most products to offer scents that will help you relax.
With that, there are many ways you can use herbs. Adding your favorite herbs to your meals increases the taste and flavor and is one way to benefit from their health properties. Some herbs, e.g., mint leaves, rosemary, lemongrass, and more leafy herbs, you can add to your drinks for healthy teas. Herbs are also great when used topically for beauty and anti-inflammation benefits. You can also extract their old to make essential oils that you can add to your beauty products.
Easy Herb Garden Ideas to Get You Started Today
Now that you know the benefits and ways of using fresh herbs, starting herb gardens will guarantee a fresh supply of herbs whenever you need them. You can start an indoor or outdoor herb garden of any size using different materials. Read on to discover the best ideas for you.
1. Indoor Herb Garden Ideas
Most indoor herb gardens are easy to set up inside your house, mostly as a kitchen herb garden, though you can also plant herbs in other parts of the home. Here are a few ways to start an indoor mini herb garden.
a) Herb Garden by the Window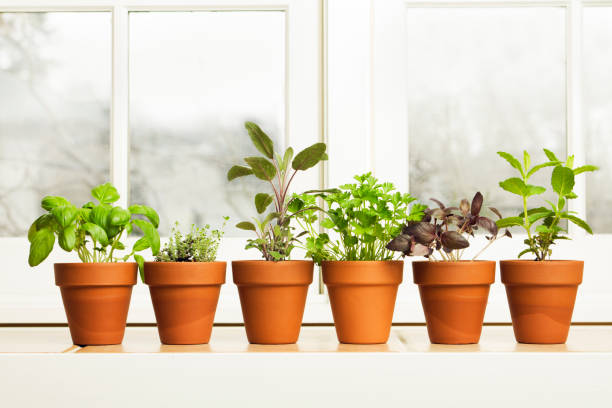 Featured image: Getty Images
Do you have a space under a window that receives a good amount of sunshine? That is your ideal space to start a potted herb garden. All you will need is a few small pots or porcelain planters, fertile soil, and herb seeds or seedlings.
Plant each herb a few inches deep at the center of each pot and watch them grow, multiply, and fill your room with beautiful scents. You can grow as many varieties of potted herbs as you want, from basil, mint, chamomile, jasmine, and more.
b) Start a hanging herb garden
Sale
Labcosi 3 Tier Rope Farmhouse Wall Hanging Floating Shelves, Rustic White…
Retro Practical Hanging Shelves for Wall: Hand-made with high-quality…
3 Tier Adjustable Floating Shelves: The floating shelves displayed measure…
Easy to Install: The rustic wood shelf is easy to install. Just nail the…
Rustic and Durable: This American country farmhouse wooden shelves has a…
Widely Used Floating Shelves for Wall: The rope floating wood shelf can be…
If you need an indoor plant garden but are short on space, you may want to consider growing your own herbs on the wall. But how exactly do you do this?
With space on your wall, you can get this hanging shelf and install it easily. It is affordable, durable, and comes with three-tier floating shelves that can hold at least six herb garden planters, so you can grow herbs of different varieties as you need them.
c) Grow herbs in porcelain planters
Featured image: Pinterest
If you can get a porcelain herb garden planter, you can start by using the space on your work desk, kitchen counter, bookshelf, or even shoe rack to plant your herbs. However, it is better to get several planters so you can grow different herb plants.
d) Start a hydroponic herb garden
Featured image: Herbexaminer.com
If you love growing herbs but lack enough resources like water, sunlight, and soil, you can still start your project by using the best indoor herb garden kits. These kits come with seed pods where you can plant the herbs without soil, plus a water reservoir and grow lights to help the plants grow without much input from you.
e) On your kitchen counter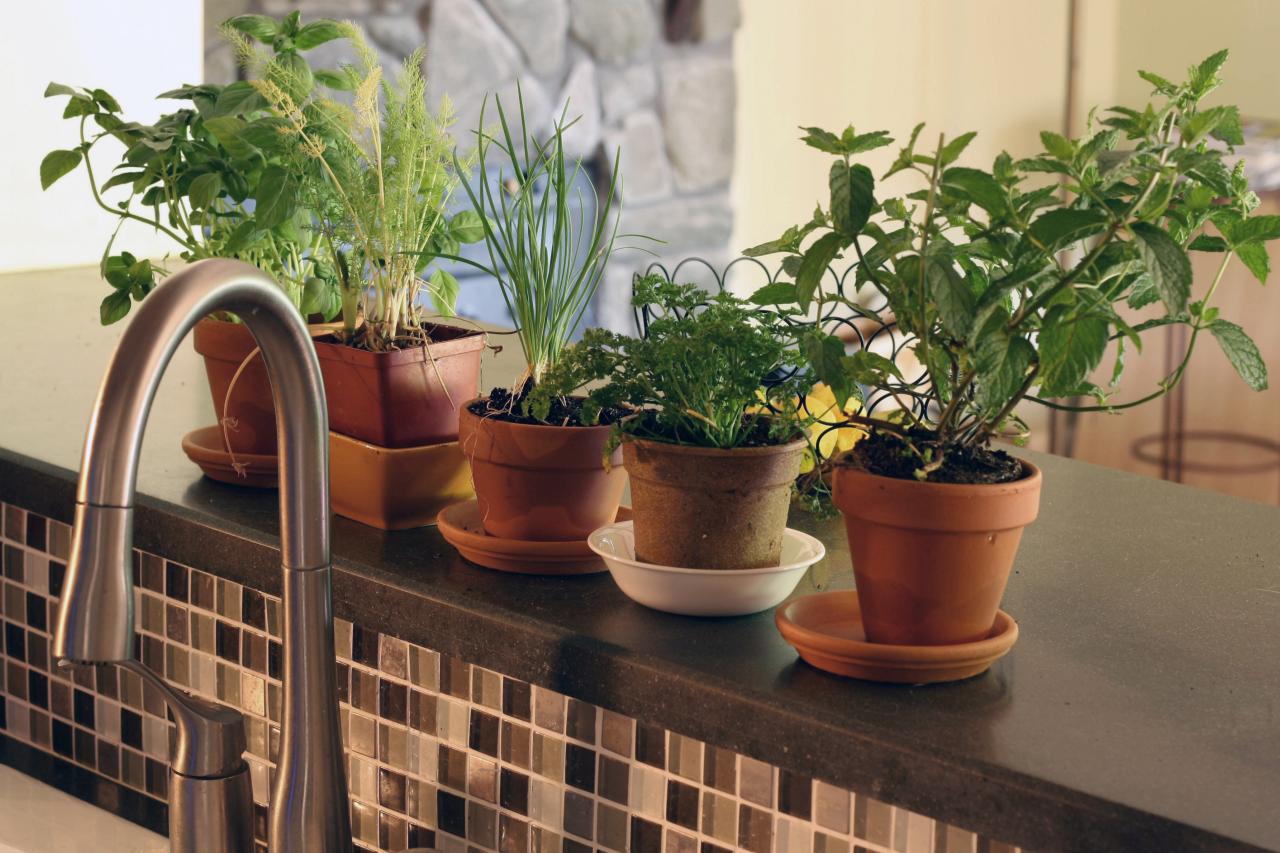 Featured image: Pinterest
Growing herb on your kitchen counter is an easy idea; you will only need to find herb pots, planters, or even old cups and buckets to get the project going. You will also need to pick a spot that you don't use a lot and receives enough sunlight. With simple plant care and maintenance, you will soon have a thriving kitchen herb garden to serve your whole family.
2. Outdoor herb garden ideas
Unlike when you plant herbs indoors, outdoor herb growing tends to be easier since you can plant many herbs and not have to worry too much about the amount of sun your plants receive. But, it is only practical when you know a thing or two about gardening and when you have enough space outdoors. So, without further ado, let us discover the easiest ways to start this herb garden.
a) Start a container herb garden
Featured image: Pinterest
If you have the space outdoors but not a prepared garden, you can get the best herb garden containers to get started. You can place these containers on your patio, and they will still grow the best herbs you want.
Alternatively, if you have a prepared garden but would like to use it for other purposes, you can dig up holes that the containers can fit in so your herbs can grow outdoors. It is a nice herb garden idea that eliminates the need for constant watering during the rainy season.
b) Build a vertical DIY herb garden
Featured image: Manmadediy
Sure, there are instances when your outdoor space is not enough for as many herb planters as you need, and truthfully, you can't get enough of your favorite herbs. You need a bigger garden, and one easy way to get it is by building a vertical herb garden yourself.
If you have several pieces of cedarwood, why not follow this Manmadediy guide to build your herb garden? You will preserve the fertility of your soil as it is a wooden garden, and you can stand it anywhere in your outdoor area. Also, you can customize it to your ideal size depending on the varieties of herbs you want to grow.
c) Make a trellis container herb garden
Featured image: Better Homes and Gardens
Do you have enough buckets or containers but no space on the garden floor to place them? Not to worry, this step-by-step guide from Better Homes and Gardens will have you build a vertical trellis garden to grow herbs.
d) Grow herbs in the ground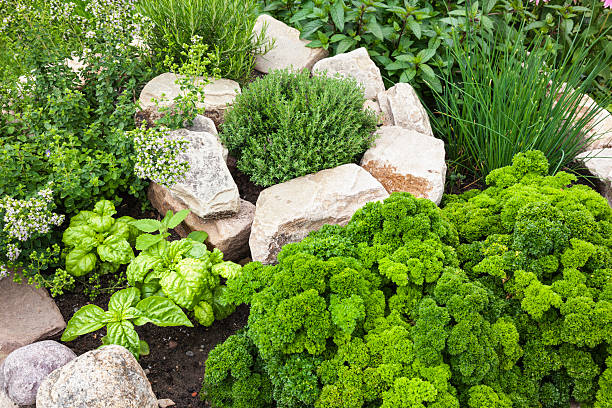 Featured image: Getty Images
When you have a full-blown garden, growing herbs gets easier. You can pick one border to plant herbs or prepare a raised bed for them. Either way, it is one f the easiest to accomplish herb garden ideas as you will already have fertile, moisturized soil.
e) Use an upcycled dresser
Featured image: porch.com
You can use an old dresser that you don't want in your house a minute longer. While it will add greenery to your garden, it is also a great way to add some outdoor furniture, and it is safe to plant on as wood is good for the soil.
Remember to open the drawers and reconstruct them so they don't close again and use fertile soil for the herbs.
Factors to Consider When Choosing Between Herb Garden Ideas
Growing a herb garden fulfills your gardening desires, reduces your grocery bill, and possibly saves you a trip to the doctor. As you have seen in the herb garden ideas above, sometimes all it takes is creativity to start farming fresh produce. Even so, there are six vital factors you need to consider before you pick any method. Let's explore them here.
1. Herbs need sunlight
Before starting a garden, make sure you position it in a place that receives a good amount of direct sunlight for your plants to thrive. It is ideal to guarantee them at least four hours of sunlight daily. Also, when thinking of sunlight, you need to space your herbs properly, so each plant gets its fair share of the sun.
If you live in an apartment that does not give this luxury, you can opt to start a hydroponic garden where the herb garden kit comes with built-in lights that mimic the sun's strength.
2. You need more space for more herbs
While this is obvious for any gardening project, some herbs are known to multiply or spread fast, and you may find the containers, troughs, or borders are not enough for your needs. Thus, when planning your small herb garden ideas, keep the possibility of expanding your garden in mind.
3. You need to pick the types of herbs to plant
There are two considerations you will need to factor in when choosing your herbs. These are climate and invasion.
If living in a hotter climate, you can plant Mediterranean herbs such as oregano, sage, or basil
If your climate is rather cold, herbs such as rosemary will thrive better
There are herb plants that are quite invasive, for example, lavender and lemon balm. Thus, if planting herbs like this, you are better off using a pot or herb planter to lock the roots in
With the knowledge of these planting conditions, it will also serve you better to only plant herbs you use regularly. When you don't have a lot of space, you can check which herbs can be planted together.
4. Herbs need healthy, fertile soil
If you already have amended soil in your garden, you will be ready to plant your herbs. But, if you don't, you need to find the right soil mix before planting.
Not sure where to start? If planting your herbs in pots for a start, you can buy this Miracle-Gro potting mix that feeds the roots for the best health.
5. Herbs need protection from pests, diseases, and sometimes frost
While you might enjoy the sweet scents coming from your herbs, the scent often puts pests off, so you might not have to deal with serious pest infestations. But, there are instances where snugs, aphids, spider mites, or whiteflies may attack your herbs. Without an effective pesticide, these pests can slowly kill your herbs.
Diseases are also not very common with herbs unless you fail to maintain the best conditions. Your herbs will be predisposed to poor health if the soil is too moist, conditions that invite fungal diseases, and the rusty disease in the mint family.
Winter often means most plants, including herbs, will not survive. But, if you live in a very cold climate, hardy herbs such as oregano, thyme, mint, sage, and chives will stand a better survival chance.
6. Herbs need constant care
When you plant the correct herbs for your climates without overcrowding them, you will still need basic plant maintenance. Observe the following;
Water them. Your herb garden needs to stay hydrated, but the plants will not survive long growing in moist soil. As such, you will not need to water them daily. Before watering, always pinch the top layer of the soil, and if it feels dry, know it's time to water. However, if it is moist, it is best to leave the plant as is
You need to feed the herbs. If you want healthy herbs, it is best to feed them with plant food such as this Miracle-Gro. It is easy to apply as you will only need to add it to the irrigation water and feed it that way
Harvest the herbs constantly, so you don't end up with too much foliage to clear. Frequent harvesting will also leave you with fresher leaves to use every time you need them
Latest posts by John Terry
(see all)