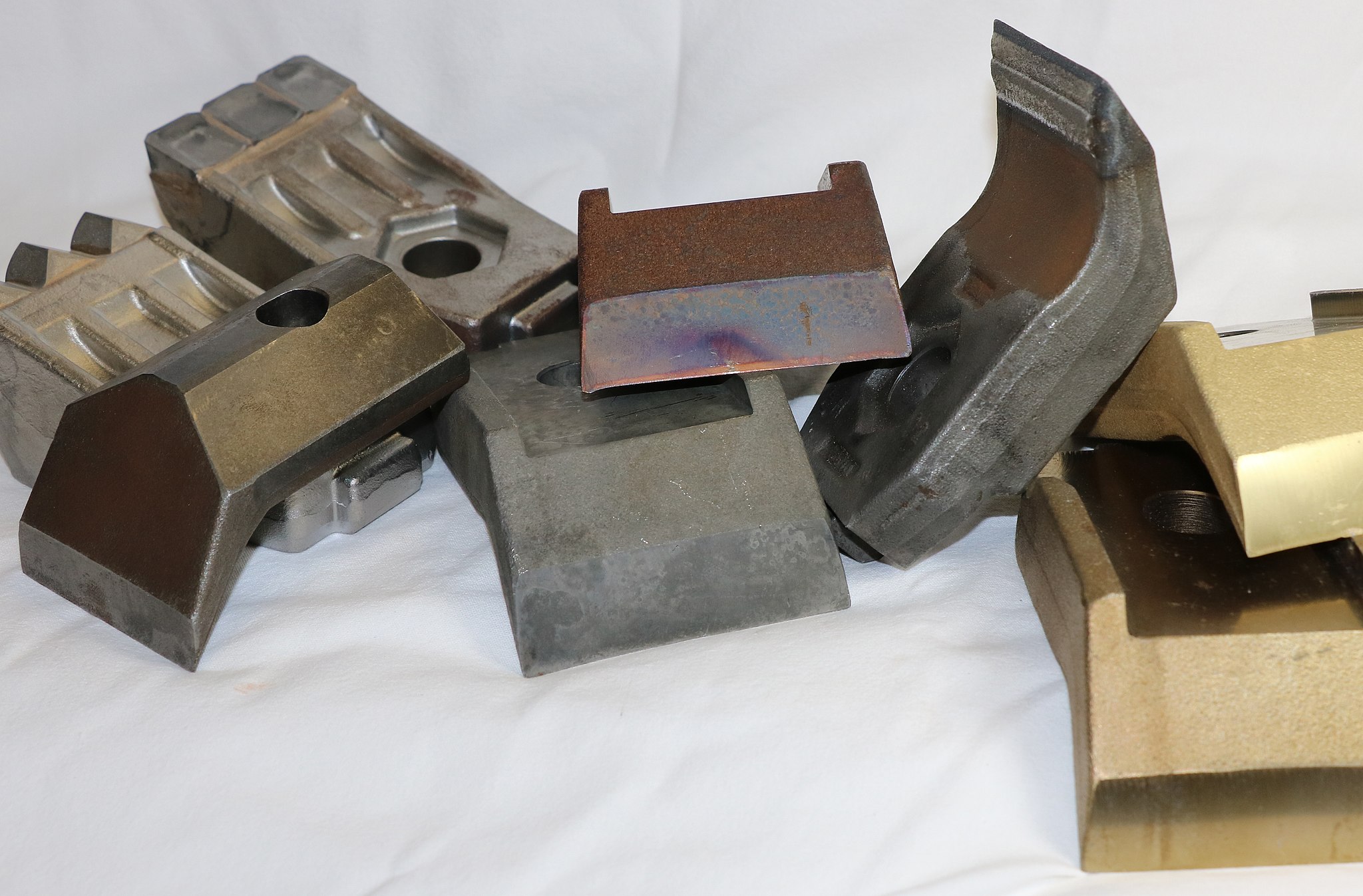 Imagine working so hard to mow your lawn, only to wind up with ugly lumps of cut grass sitting on top of that neatly manicured expanse of green. Even if you want the nutritional mulch from the clippings, you won't reap as much benefit from the big balls of grass. The solution to these troublesome turf balls is to use the best mulching blades that break up and properly disperse the clippings during the cutting process.
At first glance, the mulching blade might look similar to the regular mowing blade. They have a similar shape and are installed on the same mounting holes. But while the standard mower blade is relatively flat, with a small angle, the mulching mower blade is somewhat designed like an airplane propeller.
The rear of the blade, known as the lift, is angled upward with more airflow, compared to the standard mowing blade, to push the grass clippings into the lawn bagger. Most mulching blades also have teeth (like a serrated knife) that cut into the lift. The teeth slice through the grass clumps, neatly dispersing the cut grass into the bagger or to the ground so they can mulch back into the soil.
Adding the mulching blades to the lawn mower is a great DIY challenge. And while most mulching blades are designed for gas-powered mowers, you can find mulching blades that can work with the electric model as well. So, to keep your lawn looking great and create a rich mulch from grass clippings, get the best mulching blade.
The Best Mulching Blades for Your Lawn Mower
1. Oregon G3 Gator Mulching Blades
Oregon G3 Gator Blades, Set of 3
Set of 3 gator mulcher blades for 54″ decks, Ariens, Craftsman, Poulan Pro…
Length: 18-1/2″, Center Hole: 5Pt. Star, Outer Hole: 3/8″, Center To…
Replaces AYP/Husqvarna: 187254, 187256, 33954, 532187256, 574292401,…
Fits: Ariens: 54″ Hydro/Gear/Automatic Tractors 54″; Craftsman/AYP: GT2254,…
Oregon Gator is a US-based company that produces a whole range of outdoor and gardening equipment, including a line of professional tools. It has many dealers across the country who offer good customer service, which is a huge plus, especially for products that are meant to last for long. Get the Gator G3 set of mulching blades if you want to replace the blades on your 54-inch Craftsman, Husqvarna, Ariens riding grass mower.
The blade set is heavy duty and durable, thanks to its 0.187-inch thickness and 2-3/4-inch width. It has an aggressive lift and serrated teeth to break the clumps quickly and efficiently. The Oregon Gator blades are definitely made to last and for extreme efficiency. The Oregon blade heavily relies on austempering to increase the grass's fatigue strength and resistance to the impact.
The blade has cutting-edge sharpening technology. When installed on the lawn grass mower, the blades use an aggressive angle that provides an intense airflow to ensure effective performance. That aside, the Gator blades are quick to use and help save you a good amount of energy.
The result grass clippings are extremely fine, and this mower does a great job of spreading them across the lawn, so there's no need for any further spreading afterward. Regardless of whatever weather and how tough the grass can get due to airlift, G3 blades work through it all to create their well-thought-out design.
The G3 Gator blades have great features and are truly durable, making them the best lawn mower mulching blades for a healthy lawn. It has a total length of 18.5 inches, a center-to-center distance of 3.75 inches, with a 5-point star center hole. The blades should fit a wide range of 54-inch mowers by Husqvarna, Decker, Poulan Pro, and Craftsman.
Pros:
It is highly reliable
It is highly durable
It is highly efficient in mulching
It works in any weather
It works well even on tough grass
Cons:
It is relatively pricey
It might be slightly difficult for beginners to set up
2. MTD 942-0741A
MTD is an American manufacturer well-known for producing mass-market outdoor power equipment and has been in the market for more than eight decades now. This particular lawn blade set model that is under review should make a great addition to walk-behind lawn mowers or replacement by the brand.
It is designed to fit a 21-inch deck except if it's made of cast aluminum, as in some specific models that have blades that come with the four-point center hole. Additionally, only one is included in each of the packs.
According to many user reviews, the Gator blade comes across as one of the most durable pieces you'd ever come across with your mower. It requires occasional sharpening and can stand up to tough, wet grass and does a great job at mulching. The Gator blade comes with a protective coating applied to it which compromises its cutting ability in the first half-hour or so, but generally, the Gator mulcher is a decent and durable tool from MTD lawn care equipment.
Pros:
It is durable
It has a great mulching performance
It is relatively affordable
Cons:
It needs some time to get sharp
It might miss a blade or two
3. MaxPower 561713XB Blades
Sale
If you are a shopper who's on a budget, then you will appreciate how affordable this 2-blade kit is, compared to most of its competitors. This is a set of US-made commercial replacement mulching blades that will stand out due to the quality and build. This replacement blade will fit different mower models with a cut of 42 inches, mostly these include lawn mowers by Poulan, Husqvarna, and Craftsman.
Where each is 21 inches long and 2-i/2 inches wide and comes with a star-shaped 5-point center hole. If you are a beginner, the latter fact will likely cause you difficulties in installation. On the other hand, that same feature ensures a secure fit that helps the lawn mowers preserve the best RPM when the blades are installed.
The cutting-edge design is quite effective in the way it even cuts even the toughest grass, and weather patterns hardly affect the performance of this model. If you like to use mulching blades to let your dry grass clipping to mulch, this is a worthy consideration for your heavy-duty lawn mowing mulch blade solution that won't hurt your wallet.
Some mulch blades experience chute clogging, and this blades mulching kit eliminates that problem, which is a bonus.
Pros:
It fits a 42-inches deck
It is made of a highly durable material
It is perfect for heavy-duty operation
It doesn't experience chute clogging
Cons:
It is not simple to install
Arnold produces a range of gardening equipment with a primary focus on lawn care, from the trimmer lines to mulch clippings blades, and so much more. The producers emphasized durability pegged to inclement weather conditions and, in particular, the colder days.
The Arnold 490-110-0140 42-inch mulch blades are a set of two blades measuring 22 x 2.5 x 1 inches, and that particularly come with a 7-point star center hole. This clippings blade is relatively easy to install, provided that you carefully follow the directions given and ensure that the raised fins face up. Otherwise, you might make your lawn suffer some dramatic damages.
Some people use this model on a John Deere mower and express how effective and durable it is. The blades might not look extra sharp when out of the box, but they are definitely extreme mulching blades that leave no uncut blades of grass in the middle of a whole patch of finely cut grass.
This is a common problem that users with the original John Deere standard blades experience. This is attributed to the high lift its specially designed blade shape gives.
The blade set comes in a pack of four. It might not be inexpensive, but it is the best option for anyone willing to boost their 42-inch deck John Deere mower mulching performance.
Pros:
It is sturdy and durable
It gives an effective, even, and clean cut
It is quick
It is easy to install
5. Rotary Copperhead
Sale
The history of the Rotary Copperhead grass mulching mowing blade dates back to 1957. It is currently one of the global market leaders in the power equipment spare part supply that offer an extensive range of products that are primarily designed for lawn mowers.
This two-pack grass mulch blade kit is an affordable model that's also made to fit the 42 inches John Deere mowers. However, the only downside is that the Rotary blades are not pre-sharpened, and there's a layer of paint covering the cutting edge that you will need to break off before using this grass mulching blade.
Out of the box, these blades are unlikely to perform any better than the original John Deere blades; however, they easily outdo them when sharpened a little. They hardly ever leave any uncut grass patches, even during wet weather. Users have mentioned bumping into stones as they are mowing their grass with these blades, which survived pretty much unharmed instead of regular blades. This makes it a great option for shoppers on a budget who are looking for a heavy-duty tool for their lawn mowing and grass mulching. The installation process is pretty simple.
Pros:
It is extremely durable
It leaves no uncut streaks
It works well in any weather
It works well on any grass
It is simple to install
It is relatively affordable
Cons:
It might need some pre-sharpening
Factors to Consider to Get The Best Mulching Blades
A) Length
Getting the right length of your mulching blade for your mower is very important. Lawn mowers and all their components are specifically designed at certain lengths, and this applies to the mulching blade as well. Installing a blade that is too small will not give the best results. 
B) Weight
Mulching blades are relatively heavier compared to the standard lawn mower blades. They're thicker, with a design that has a more aggressive lift angle which, by default, requires more material. This may cause your mower to run a lot slower.
People who use older riding mowers may encounter occasional stalls with their mower as they engage the deck. The increased inertia by the mulching blades gives more resistance than the mower was initially designed for.
C) Number of Pieces
To upgrade your riding mower blade, you'll need to purchase a kit with the correct number of blades. Most riding mower blades come in a set of two or three blades. Each blade should be replaced with a similar matching blade for optimum performance.
D) Fit and Mounting Options
Today's mowers have different mounting hole styles. The most common ones being the five-point star, six-point star, bow-tie, and a universal fit. The spindle under the mower deck is designed for either of the shapes, and the correct blades matching that spindle should be easy to install.
E) The Durability
Generally, mulching blades are more durable than standard mowing blades due to their design and thickness. This is a plus, especially for commercial machines and riding mowers. This, however, can be a problem for push-mowers that have direct-drive shafts. 
Frequently Asked Questions on The Best Mulching Blades
1. Can you install a mulching blade on any lawn mower?
Mulching blades are easily available for most mowers, but not all lawn mowers should have the mulching blades installed. Underpowered lawn mower models may not have the horsepower capacity to spin a mulching blade at the optimum speed needed, providing some mixed results as you're cutting and mulching.
2. Can you use the mulching blades without the mulching kit?
Yes, you can use the mulching blade without its mulching kit. To install the mulching blade on your mower, you need to ensure that the blade properly fits the deck and is tightly secured. However, note that not all mowers using mulching blades will do a great job mulching, especially if the deck design doesn't allow it or has a low-capacity engine.
Latest posts by John Terry
(see all)