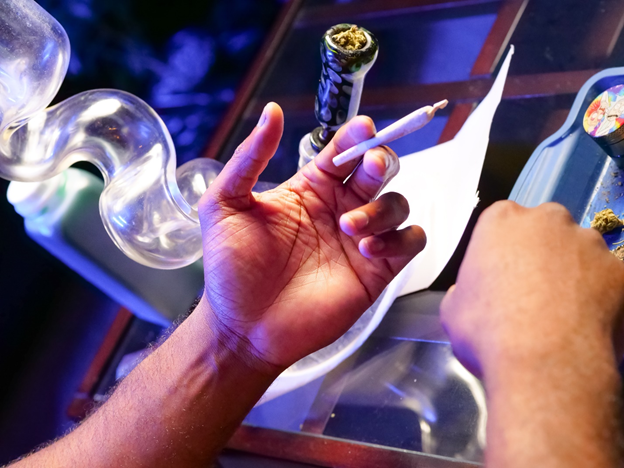 Hitting a blunt is an integral part of the cannabis culture. An art that starts with a gas station cigar and involves dumping that cheap tobacco and re-rolling it in some weed. Using the best blunt wraps to roll up a big fatty and share it with your friends is one way to spice up your weed session.
Quick tip, if you're going to spend money on a high-quality blunt, then you might as well get yourself a high-quality Sativa. Nothing beats rolling up a blunt and blowing down some steam after a long day. The best blunt wrap should burn slowly, comes in tons of different flavors, and is most ideal for passing around the smoke in your circle. 
These blunt wraps also come in different sizes, a variety of flavors, and styles. So if you're working with a budget or looking to flex a little in the high life, then here's a list with something for every stoner.
Best Blunt Wraps for Blunts
1. King Palm Hand Rolled Leaf Blunt Wrap
King Palm
Don't know how to roll? No problem, King Palm has your back. Our cones come…
Made from natural leaf rolls that are individually hand picked and cleaned…
The leaves used when making King Palms are resilient and slow burning. This…
The natural corn-husk filter will be one of the best filter tips you have…
Included in this purchase are 25 individual hand rolled Slim Size Palm…
King Palm is a 100% natural leaf that is individually hand-rolled, tobacco-free, chemical-free, and contains no glue. These leaves are handpicked, cleaned with pure water, and then rolled for a pre-rolled tobacco-free blunt wrap, a more natural way to smoke cannabis.
This is the palm pioneer for stoners who prefer a tobacco-free alternative in the cannabis community. It is a premium biodegradable blunt wrap made from handpicked Cordia tree leaves cleaned with clean water. This blunt wrap has a perfect super slow burn and gives the purest and cleanest blunts possible.
The leaf is made from the Cordia (Borage) flowering tree that originates from Singapore rain forests. These leaves offer the best smokable leaf that resiliently burns slow. Overall, King Palm helps create employment and sustainability in Singapore since it creates over 2,500 jobs.
It ranks high as one of the best blunt wraps because of its quality and craftsmanship. Packing weed in a King Palm blunt wrap is as easy as it gets. Basically, it comes as a leaf tube and a corn husk filter that you just fill with some ground cannabis; each pack has a wooden packing stick that makes packing your blunts even easier.
Once packed, just light it up and enjoy your smooth, super slow-burning blunt for a perfect long-lasting smoke session. Small tip; the tighter it is, the better. If you want to mix things up a little, try King Palm's all-new terpene-infused flavor rolls. These will go perfectly with anything you pack.
Just pop its filter tip to activate the flavor and taste and see how it blends flavor with your favorite cannabis flower.
Pros:
The cones come pre-rolled for extra convenience
Made from individual handpicked natural leaf rolls that are cleaned with purified water, have no toxic fertilizers, chemicals, or preservatives
Each blunt wrap is individually hand rolled and tobacco-free for a cleaner, more organic, and healthier smoking experience
The wrapping leaves used are resilient and burn slow
It has one of the best natural corn-husk filter tips, which help make sure that no loose herbs fall through and also eliminates oils from getting into the mouth
Flexible corn husk filters that allow you to hit your cone as you wish
The purchase includes 25 individually hand-rolled slim palm leaf wraps, a packing stick with a boveda 72% humidity pack for overall freshness
Cons:
They come with no flavor and taste somewhat like green tea that's a little harsh 
2. Zig-Zag Zagz Blunt Wraps
Zig-Zag, the original makers of a classic rolling paper, also give decent blunt wraps. What's cool is the fact that the Zagz blunt wraps don't have a whole tobacco-filled cigarillo to waste your time with. They definitely know you're buying the wrap to stuff it full of weed, bud.
The wraps are easy to roll up and burn evenly while you smoke. Note that, at times, they can be a bit too moist as you're opening up the package. But, like other users, you can just let them sit out for a couple of hours so they can dry up first. 
Other than great quality, Zagz also comes in all the flavors smokers could ever dream of. What's more, these wraps are so affordable. Zig Zag is popularly well-known for the joint wraps, but they also sell individual and 2-count blunt wraps, which also come in such different and unique flavors.
Pros:
Premium flavor wraps for great taste
Thin and durable wraps for a slow burn and unique experience
Each Hemp wrap has a large and perfect size at 105 x 48 mm for everyday rolls, or the large raw cones meant to be shared
Flexible and easy to roll so you won't waste any material in the rolling process
These wraps come with a special thin glue line that gives a perfect seal for every roll
It has a natural Arabic gum that is durable and completely non-toxic that doesn't interfere with the flavor and taste
The wraps are made out of natural hemp plant fibers for a classic and slow-burning that enhances your experience
Its premium rolling wrap provides strength, fineness and is completely GMO-free, tobacco-free and nicotine-free
It comes in a great value pack since the box contains 25 packs with 2 wraps each, meaning that you get a total of 50 wraps that will last smokers a couple of months
The wrap packs are lightweight, compact, and will easily fit into your pocket
The wraps are resealable for extra freshness
Cons:
They can be a bit too moist as you open up the package and therefore get stale quicker
They roll a little weird
3. Blunt BACKWOODS 
Backwoods cigars are the real OG's when it comes to cigars because these OG cigars are made with 100% natural tobacco leaf to give you that extra buzz. In addition, the Backwoods cigar comes in a variety of smooth and sweet flavors, like the Honey Bourbon or the Sweet Aromatic. However, their real appeal comes because they were originally designed to be unrolled by hand, so you won't have to split the cigar up like other cigars that are commonly used for bud blunts.
The Backwoods cigars are easy to roll, and nothing screams "I'm a blunt aficionado" like perfectly rolling a Backwood cigar blunt. The wraps are made from raw tobacco leaves, which will take a little bit of skill to unroll the entire leaf then skillfully roll it back around your cannabis flower.
The end product, however, is definitely worth all the effort. They burn so slow, so you'll be smoking or passing the blunt along all night. 
Pros:
Made from 100% natural tobacco leaf to give you that extra buzz
Comes in a variety of flavors for great taste
They were originally designed to be unrolled by hand, so you won't have to split blunts up like other cigars
Easy to roll
They burn so slow for a better smok0ing experience
Cons:
Contain nicotine which can make you feel dizzy, nauseous, and sweaty
4. Shine King Size 6-Sheet Rolling Pack
Quality and luxury dazzle go well, as this perfectly woven blunt by Shine Papers proves. Shine Papers invented the world's first-ever 24K gold rolling paper. Not only will smoking on Shine Papers turn literally every head in the room, but the papers also burn extremely smooth and slow while they leave behind a 'gift' in the ashtray.
Yes, the gold stays remain in the ashes, commonly referred to as 'the gems,' but unfortunately, you can't pawn off your ashes. Each blunt paper is made from 24 Karat edible gold and a smooth all-natural reconstituted tobacco for a premium woven blunt.
Shine ingeniously and carefully cured the shade tobacco leaves, then individually packed them for smokers to use as a rolling paper. As opposed to a processed paper, rolling your juicy weed bud blunt with a tobacco leaf definitely does take a bit of skill, but the smoke experience and taste are well worth the investment in time and money. In addition, the blunt has a sweet taste that you can smoke smoothly and still drip with luxury.
Even with the all-natural blunts approach, these wraps also come with a few flavor options to improve your taste and bud smoke experience. But since the wrap is cured with actual edible gold and not some sparkling paint, these weed wraps can actually put a dent in your bank account. 
Pros:
Quality and luxury sparkle with the world's first-ever 24K gold weed rolling paper
Extremely smooth blunt and slow-burning
Smooth tobacco taste that blends perfectly with weed
Blunt paper is made from 24 Karat edible gold and tobacco leaf
Individually packed
Comes in a variety of flavors for great taste
5. High Hemp Filter Tips
If you like your weed blunt wraps completely nicotine-free, pesticide, fertilizer, and additive-free, then High Hemp non-tobacco blunt wraps are definitely going to be your new favorite thing. The High Hemp is one of the best blunt wraps made out of organic hemp. Like the classic blunt wraps, the High Hemp blunt wraps also come in a selection of sweet juicy flavors, such as the Maui Mango, Grape Ape, and Honey Pot flavor.
The blunt wraps are a bit more expensive than the regular tobacco cigarillos, but considering that they're made of hemp, totally organic, and 100% vegan, they're definitely worth that extra cost. For a great smoking session, these blunt wraps even come with their tips.
High Hemp blunt wraps organic wraps are domestically sourced and also contain a naturally occurring CBD. They wrap a bit thicker than the regular blunt wraps or cigarillos, but the filter tip makes rolling and smoking your weed a bit easier.
Pros:
Weed blunt wraps are completely nicotine-free, pesticide, fertilizer, and additive-free
Come in a selection of sweet juicy flavors
Made of organic hemp that is organic, and a 100% vegan
Come with their tips for a great smoking session
Contain a naturally occurring CBD
Wrap the bud a bit thicker than the regular blunt wraps
Cons:
A bit more expensive than the regular tobacco cigarillos
How to Get the Best Blunt Wraps?
A) Can you roll a blunt?
If you don't, then consider starting with a big rolling paper. Different rolling papers come in different sizes, the most common being the 1.0's, 1.1/4s, and 1.5s. 
These normally range from large sizes to small sizes. If you still can't do it right and still want a great joint, consider getting a rolling machine that helps you do this, but nothing beats a good old hand roll.
B) What type of blunt wrap/rolling paper do you like?
Rolling papers can either come as hemp papers, rice papers, or wood pulp and flax papers. Additionally, there are popular flavored papers like the Juicy Jays. You should probably try different ones before settling for one.
Frequently Asked Questions on the Best Blunt Wraps
1. What else do I need to roll a blunt?
For a great blunt smoking experience, blunt rolling requires that you gather all the necessary supplies, which include: 
Preferred cannabis strain
Either a cigar, cigarillo, or blunt wrap (beginner weed smokers should definitely consider the pre-rolled blunt wraps)
Weed grinder
Razorblade (optional, but helpful for those new in blunt rolling)
2. Which are the healthiest blunt wraps to smoke?
Generally, tobacco-free blunt wraps are the healthiest, which is a huge count, especially since many weed smokers are current or former cancer soldiers who should stay away from nicotine. The best tobacco-free blunt wraps include:
Twisted Hemp all-natural wraps
Kong Natural hemp wraps
Herbal Goods Co. pre-rolled cones
Hemp Zone cigar wraps
Kingpin hemp wraps
Kong Natural hemp wraps
Juicy Jays hemp wraps
High hemp wraps
3. Are tobacco-free hemp wraps better than tobacco leaf wraps?
Hemp wraps burn evenly, and don't canoe at all. Compared to the tobacco wrap, the only downside is the difficulty in actually rolling one. Generally, hemp wraps are much harder to roll, especially since most don't come with the glue strip like the tobacco blunt wraps, making them much harder to seal as well.
Latest posts by John Terry
(see all)