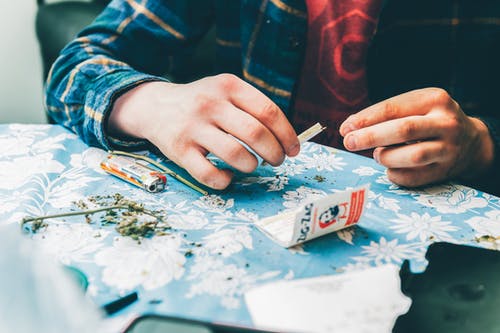 If you are the kind of person who does not like buying pre-rolled cones for your joint, you may consider buying the best rolling papers to roll in on your own for a perfect smoking experience. Rolling papers are made from specific papers which can hold your herbs firmly while rolling. They are also porous enough, and this feature makes them control the burning rate.
The best thing about using rolling paper is that you don't need to clean it afterward like a pipe or a bong. Rolling your blunt is less expensive and gives you full control of your smoking experience. There are different rolling papers, and we'd like to take you through them before we discuss the best rolling papers.
(i). Wood Pulp Rolling Paper
Wood pulp is the most popular rolling paper and comes with a rough texture that makes it easy to hold. It's available in two thicknesses; bleach, which comes with a white wood pulp paper, and an unbleached, brown one.
(ii). Natural Hemp Rolling Paper
Hemp rolling papers are made from organic hemp fiber. Therefore they are eco-friendly and help save the environment. This rolling paper is brown. It is thick and rough, hence very sturdy and easy to roll. It burns at a medium rate and can absorb humidity. Hemp papers do not spoil the fragrance of the weed, neither do they give an aftertaste.
(iii). Rice Rolling Papers
Rice papers are made from all-natural additives, like processed or pressed rice. They are thinner (therefore safer for your lungs) than other rolling paper types and require more effort to roll. It is also vulnerable to certain conditions like damp air. A good alternative to rolling rice paper is flax, which is usually used in rolling paper blends. However, some rolling papers are made from 100% flax.
(iv). White or Brown Rolling Papers
Rolling papers have different porosity to control the burning rate and ventilation. The paper can also contain substances that slow down the burning and stabilize itself, the smoke, and ash. White rolling papers have a chemical aspect due to calcium carbonate or chlorine. On the other hand, colored and flavored rolling papers contain chemicals or natural substances you do not have to inhale.
Now that you know the different types of papers, I would like to take you through the best rolling papers that you can use to improve your smoking experience.
1. RAW Unrefined Classic 1.25 1 1/4 Size Cigarette Rolling Papers
RAW classic rolling papers are ultra-thin and translucent. The thinness makes it safer to use. They burn slowly, and this makes them last longer. You will like that it is kept in a small pack so you can use it whenever you want as it is small and portable, hence can easily fit in your pocket.
The rolling papers are 100% unbleached, and this gives them a natural light brown color and ensures you don't inhale toxins. If you are vegan, you will love this rolling paper even more as it is made with all-natural vegan material, and the sticking gum is also natural.
You can never experience a run on one side of your joint when using a RAW rolling paper as it is designed with a Criss Cross watermark on each sheet for a more even burn when smoking. Rolling papers are generally inexpensive, but RAW, unrefined classic are even more affordable. You will get 50 sheets in one pack, and the taste is not only pure and natural but is also clean.
Pros
They prevent runs
The sticking gum is natural
The paper is a slow-burning
It is unbleached
They are sold at a low price
Cons
The gum can easily dry out and not stick
2. Elements 1.25 1 1/4 Ultra-Thin Size Rice Rolling Papers
Elements 1.25 is not just rice paper but a five-meter worth of ultra-thin paper for you to smoke with a clean drag. Elements rice paper provides a way for you to choose the exact size of your roll. It has a watermark that guides the burning and this, in turn, prevents runs that may ruin the smoking experience for you, and the best thing is that you can even refill the roll when you are done.
These papers have a magnetic closure mechanism that ensures the lip of the packaging stays closed always. This ultra-thin rolling paper uses natural sugar gum, so it only needs to be slightly moistened to seal the contents. You will also love this product as it does not leave any ashes except for the caramel that results from sugar gum burns, resulting from using a criss-cross imprint.
Pros
They are not harsh and have no weird flavors
Designed to prevent running
It does not leave ash
They are ultra-thin and
Cons
It may tear easily and will require a sticking agent
Stright watermarks do not always work efficiently
3. RAW Organic Unrefined Pre-Rolled Cones
RAW Organic Unrefined Pre-Rolled Cone 32 Count (1 1/4 Size)
Natural, unbleached, unrefined, organic hemp pre-rolled cones with tips
Perfect for people who don't know how to hand-roll
Patented criss-cross watermark burns smooth and prevents runs & natural…
Windmill powered, GMO free, total chlorine free, vegan friendly product
Produces clean tasting smoke that is described as light & pure
If rolling is not your thing, but you love smoking freshly rolled joints, this is the best product for you. These pre-rolled cones make your work easier because they are already rolled for you. You only have to ensure that the buds are broken down, fill the cone, and smoke enjoyably.
The cones have tips and are packed in a protective box to avoid losing their form. RAW makes vegan rolling papers; these pre-rolled cones are chemical-free and all-natural. The organic hemp used to make it is natural, unrefined, and chlorine-free, features that make it safe for you to use.
The greatest thing about these organic hemp papers is that anyone can use them, regardless of whether you know how to roll or not. They come in a nice box that you can also use to hold your rolled joints. Like most rolling papers and other RAW rolling papers, they have a criss-cross watermark that burns smoothly and prevents runs.
The sticking gum is made to match these RAW papers' burn rate, which makes them burn at the same rate. These pre-rolled cones produce light and pure smoke.
Pros
They are ideal for people who don't know how to roll
They are made of organic hemp paper
A windmill powers them
Cons
It can burn first if you don't pack it well
They need an extra tool for proper filling
They are more expensive than other rolling paper brands
4. Zig-Zag Rolling Papers
Sale
Zig-Zag Rolling Papers Hemp Organic 1 1/4 Size Unbleached Vegan (24 Booklet…
BETTER EXPERIENCE: Enjoy your handmade roll even more with our premium…
IDEAL SIZE: Each rolling paper has a medium 78 x448 mm size that is perfect…
EASY TO ROLL: These classic Hmp 1 1/4 papers have a special thin glue line…
SLOW BURNING: Our Paper wraps are made using natural flax plant fibers….
GREAT VALUE PACK: The pack includes 24 booklets with 50 papers each. That…
Zig-Zag papers are the best rolling papers when you want to enjoy a homemade roll as they are suitable for making regular rolls or raw cones rolled by hand. They provide a unique smoking experience as they are thin and durable. Each of these Zig-zag rolling papers has medium-size, which is perfect for your rolls.
Zig-zag paper wrappers are made of natural fibers of vegetable linen, which is 100% renewable and pure hemp fibers. The paper is classic and burns evenly to make you enjoy your smoking. These papers also provide finesse, strength and burn slowly. Another great feature is that they are flexible and easy to roll up, so you don't waste your cookies or herbs in the process.
These rolling papers have a special glue line that seals each roll. The natural gum, Arabic, is the one used, and it is completely non-toxic and durable. It does not contain any tobacco or nicotine. These rolling hemp papers are unwashed and vegan and come in a high-value package that includes 24 booklets with 50 papers each. The rolling paper brochures are lightweight, compact, and easy to store and carry in your pocket so that you can use them anywhere.
Pros
These papers burn slowly
They are affordable
These rolling papers are affordable
They are easier to roll
Cons
They are not as thin as other brands
5. Papers for Juicy Jay's Cigarettes of Various Flavors
This package contains six flavors of original 1 1/4 inch juicy jay's flavored cigarette roll papers. Each contains 32 papers; and four Doob Tube travel tubes for pre-prepared cigarettes and herb storage. Juicy Jay's papers have the best taste and give the best freshness with their different flavors.
The different flavors available include grape, cherry flavor, watermelon, orange flavor, chewing gum, vanilla ice cream, blueberries, milk chocolate, maple syrup flavor, pineapple, strawberry flavor, peaches, and cream, blackberry cognac, banana, coconut, and Jamaican rum. These papers are as fresh as possible and are only used for smoking legal herbs. They cannot be used with tobacco and taste better than any other flavored rolling paper.
The Doobtubes that come with this package are pocket-sized and are moisture and odor-proof. You can travel with them as they are pocket-sized. They are suitable for storing pre-rolled cigarettes. These hermetically sealed tubes are made of polycarbonate plastic and are made in the USA. In the pack come three small tubes and one large.
Pros
There are different flavors
Natural gum is used
The package includes Doobtubes for storing pre-rolled cigarettes
Cons
The sticking glue may not stick well
It leaves a lot of ash
Factors to Consider When Buying the Best Rolling Papers
If you love to smoke and enjoy rolling your papers, you may need to get only the best. However, different features make different rolling papers better than others. You will need to consider different factors to confirm that what you are about to buy is among the best rolling papers. In that case, we shall look into some of the most important features of good rolling papers.
a). Size
Rolling papers come in many different sizes, including single wide, one and a quarter, one and a half, double wide, and king size papers. The wider the paper, the easier it is to roll. So if you are still a learner and need to learn how to roll, the best size for you to start with may be the one and a half wide. If you start with a smaller size and still learn, it may take some time before you eventually learn the trick. On the other hand, if you are a pro at rolling papers, any size will work for you, and you enjoy smoking. The size will not be such a huge factor if you are already in the game.
b). Material
We had already discussed the different materials used to make rolling papers. They include wood pulp, hemp, rice, or a combination of these materials. If you want rolling papers that are thin and burn slowly, then rice and hemp papers are the best. In most cases, you will find the material used written on the package, so you will know when you take a look. On the other hand, wood pulp rolling papers have a rough texture that makes the rolling process as easy as one, two, three. Therefore, wood pulp rolling papers may be the most suitable for beginners who have not yet mastered the trick of rolling.
c). Brand
Some of the best rolling papers are manufactured by brands that have been in the market for years and are well known. If you want the best product, you may consider buying from a reputable brand as, in most cases, their products will always be of quality and better than those of new brands. The reason being, they do not want to taint their brand name, so they ensure that they produce only the best. Other newer paper brands may also make quality products, but you should always use what you know well if you don't trust a brand.
d). Price
Most rolling papers are cheaply priced. Therefore, price is not a huge issue when it comes to selecting the best rolling papers. However, pre-rolled cones are a little more expensive than the others. If you are on a tight budget, you may consider sticking to the rolling papers rather than the pre-rolled cones.
If you have read to the end of this article, I believe it has informed you, and you got what you were looking for. If you still have not found the best papers to use for rolling your joints, I hope you do.
Latest posts by John Terry
(see all)