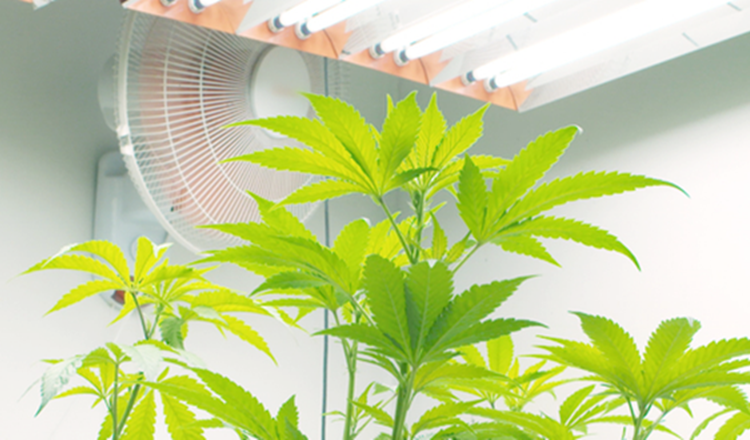 Take a look at your garden outdoor or the local park. You'll see how perfectly mother nature ensures an abundance of natural winds for plants. And as an indoor grower, you've to play the same role for your plants. At least, as much as you can.
To keep the airflow on, it's important to buy the right fan, set it on the right power and learn how long to keep the fan on in grow room. And that's what this post is all about.
For people who're in a rush, here is a snippet of what we'll be saying throughout the whole content-
When it's the light period, the usual advice is to keep all fans moving. Check the temperature outside during dark hours/night and set the scrubber fans accordingly. During flowering or seedling stages, ensure the abundance of dry air and CO2 by running inline fans. However, keep the oscillating fan rolling in every situation.
Interested in a more broken-down discussion? Here you go:
What Roles Do Fans Play In Ventilation?
Fans do play the most important role in the whole ventilation system of your grow room- no denial on that. Before you decide the on-off cycle of the fans, it's important to keep their functions in mind.
So let's have a glimpse at what it does for the whole system-
A) To Keep Plants Breathing
Plants respire by inhaling the CO2 around the leaves and grow through the process of photosynthesis. Additionally, the process is continuous on both nights and days.
In ideal growing environments, plants use up the CO2 surrounding their leaves every 20 or 30 minutes. So, you need to keep the airflow going to let the plants breathe. And fans are the only tool in rescue.
B) Keeping The Temperature Comfortable
Fans keep the air flowing, and that keeps the temperature under control. Lack of regular air exchange through fans will increase the temperature inside, which would be even worse due to the radiant heat from the lights(even when they are off).
C) Maintain the Correct Humidity Level
Too much humidity brings on unexpected pathogens to take hold. And what's the most frequent reason for such a rise in humidity? Poor airflow- you guessed it right! So fans are, once again, the tool you have to rely on to keep humidity levels under control.
Check Our Recent Buying Guide about  Grow Room Fan Size Calculator with Size-wise CFM
D) To Keep The Odor Under Control
Another secondary but important thing fans(especially exhausts) do is to keep the odor under control. But, again, if you've been growing for quite some time, you might be well aware of its importance. 
Oscillating or Inline Fans- Which Ones We're Talking About?
Fans are of two kinds in any grow room- inline fans for extracting/supplying air and oscillating fans to keep air circulation on. So as long as we're talking about keeping fans on/off, we need to define which one of them you're dealing with.
I) Inline/Extractor Fans
They're in charge of bringing/extracting air from or to the growing space. Another important role they play is to keep the temperature under control. And that mostly depends on the presence of lights.
So, the light/dark cycle of the plants plays a massive role in deciding when to keep inline fans on and when to shut them off.
II) Oscillating Fans
These do the job of moving the air around the grow room. Whether inline fans are on or off, it's important to prevent CO2 or humidity build-up around the leaves, and that's why oscillating fans are in.
Therefore, oscillating fans are likely to be running for more hours compared to inline fans. In most cases, it's 24 hours a day.
Case 1: Based On Light/Dark Hours
a) How Long to Keep Fans On and Why Light's Are On?
It produces a tremendous amount of heat and moisture while the lights are on in your grow room. So fans should be circulating at their level best throughout the hours.
i) Inline Fans
As long as the light system is on, you need to keep every inline air exchange system working- that's the rule of thumb.
The air exchange demand based on the heat and humidity produced can be determined through a cfm calculator. However, you should custom the fan speeds based on that.
ii) Oscillating Fans
Same as the inline fans. Keep them rolling throughout the entire light period. It's best to stick them to their maximum speed if it doesn't reach trouble with the plants.
b) How Long to Keep Fans On Why Light's Are Off?
As long as the lights are off, the heat production will be stopped. So although there will be radiant heat roaming around, that will diminish after a while.
i) Inline Fans
Right after 15-20 minutes after the lights are off, you can reduce the speed of the inline fans using a speed controller. Then, after a few hours(while the temperature and humidity are ambient) of doing so, you can run them on/off at a regular frequency.
Check Our Recent Buying Guide about  How to Raise Humidity in Grow Room Without Humidifier?
For example- you can keep using them for the first 15 minutes of each hour and keep them off for the rest of the hour. And keep continuing the process until the next light period.
ii) Oscillating Fans
When lights are no more on plants, no more heat is generated. And the photosynthesis process takes a break. However, plants keep breathing and leaving vapors around the leaves.
So, oscillating fans still need to be on duty. But you can deduce the speeds by a few degrees with the default speed controller they come with. And keep them rolling like that till the next light period. 
Case 2: Based On The Stage Your Plants Are In
a) How Long to Run Fan on Seedlings Stage
For growers who grow their plants, ensuring proper ventilation is a must from the very beginning. And it all starts from the seedling stage.
New seedlings are quite vulnerable to diseases sourced from damping-off air. So, you need to ensure regular air circulation around them 24/7.
Depending on the temperature and humidity, you may schedule the exhaust fans, but the oscillating stand-up or tower fans should always be rolling on. Thus, it can prevent the soil from being dry and keep a gentle breeze whining around the seedlings.
b) How Long to Run The Fan In The Flowering Stage?
Flowering is the most important part of the whole growing process, especially for cannabis growers.
As always, both exhaust and oscillating fans should be running during the light hours. But when it comes to dark hours, you need to do some quickie maths.
If you've 2-3 oscillating fans, 1 intake fan and 1 exhaust fan, keep the oscillating fans on for the entire dark period. And turn the other fans off after 1 hour after the light goes off. And turn them on again ½ hours before you turn the lights on again.
However, when your plants are in late flowering, they might stink with odor and embarrass the whole space. So, the best policy is to run scrubber fans 24/7 at the late flowering stage.
Case 3: Based On Night/Day
a) Should You Keep Fans On or Off at Night?
This is one question we noticed growers ask a lot.
Check Our Recent Buying Guide about  Inline fan Noise Reduction: The Best Guide so Far [Dec' 18]
Well, the answer is- it depends on how cold it is out in the night. To be more specific, colder nights would turn plants into a troublesome situation if you keep the fans on throughout the night. If it's a decent summer night, you may set a schedule to turn on and off the fans periodically.
The best solution is, set a timer to turn off the fans till halfway through the dark cycle. And turn them on again for the rest of the dark cycle. This will balance the whole scenario.
Note: We're assuming that you set the dark hours for your plants while it's the night.
1. AC Infinity Cloudline T6 -Best Overall Inline Fan
AC Infinity CLOUDLINE T6, Quiet 6" Inline Duct Fan with Temperature…
Designed to ventilate hydroponic grow rooms, transfer heating/cooling, cool…
Intelligent controller with temperature and humidity programming, fan speed…
Mixed flow design combined with a PWM-controlled EC-motor for a truly quiet…
Kit also includes corded sensor probe, AC power plug, two duct clamps, and…
Duct Size: 6" | Dimensions: 7.9 x 12.6 x 8.4 in. | Airflow: 402 CFM |…
Overall, the AC Infinity Cloudline T6 is the best inline fan for your indoor garden. It has such an impressive fan performance and even then by such a large margin. It's a powerful fan specifically designed with growers and indoor gardening in mind. It's relatively affordable considering all the features and value it brings as one of the best fans.
Most inline fans come in a simple make up, like the one you see in computer cases which just turn on and off, based on a thermostat. The T6, however, is much smarter, with killer features such as automated programming that makes it easy to set up and program depending on what is needed for optimal plant growth.
Many of these inline fans that need programming are known to be quite difficult to configure due to their complicated interface and multiple menus and screens. Still, the T6 comes with an automated programming that's much easier to use.
The automation causes a self-adjusting air flow for exchanging stale air inside to help keep things fresh in the grow room. Based on the parameters set, the airflow will either increase or decrease depending on the humidity or temperature.
The AC Infinity Cloudline T6 has a fan speed in 10 levels which may seem a little excessive, but if you have a medium-large grow tent, then you'll probably appreciate this feature. Of course, three-speed settings would not always be enough, depending on the environmental factors inside your grow room.
This tent fan comes with a wired precision sensor probe to give the LED screen real-time feedback from inside your environment. In addition, unlike many other tent fans that use a wireless sensor that usually disconnects, the AC Infinity Cloudline T6 doesn't disconnect, which further makes it the best fan for grow rooms.
Pros:
Wired sensor that doesn't disconnect
Auto-adjusting airflow
Relatively affordable for its great features
High powered fan for proper ventilation
Suitable for medium-large indoor grow tents
Great value for money
10 fan speed controls
2. Comfort Zone CZ16W – Best Oscillating Fan
16" Wall Mount Fan House Fan by Comfort Zone | 3-speed Options,…
3 SPEED OPTIONS: The Comfort Zone 16-Inch House Fan has three, speed…
WALL MOUNTED: Our Wall Mount Ceiling Fan is lightweight, easy to assemble,…
POWERFUL AIR MOVEMENT: With a powerful, quiet, and efficient motor, this…
VARIABLE LENGTH TIMER: There is a variable length time on our Wall Mount…
100% MONEY BACK GUARANTEE: Comfort Zone is so sure that our products will…
The Comfort Zone CZ16W is a 16-inch wall mount oscillating fan with 3 fan speed settings and an adjustable head. It oscillates to cover the entire grow space with fresh air for plant growth.
This wall mount fan is not a fancy fan for grow tents that comes with the humidity or temperature controls, like the others, but it's definitely a good fan that's simple and functional. It's built to help improve the direct airflow in a medium to small-sized grow tent. It's a sturdy, well-built grow tent fan that comes with no fussy tech to make things any more complicated for you or drive prices up, making it a top choice and the best oscillating fan for many growers.
But even for a simple fan, the Comfort Zone CZ16W still comes with features that help it stand out. Like most oscillating fans, it comes with three speeds and other features such as an adjustable tilt that allows fresh air to flow exactly where it's needed.
Unlike fixed fans with no tilt, this feature gives you more fan placement options to put it at the exact height of the plants as they grow. The oscillation is also nice and smooth and doesn't come with any annoying jerks as it's catching up to its oscillation motor.
Pros:
Simple operation using a pull cord control
Sturdy construction with metal safety grill
Ideal for medium to small-sized grow rooms
3-speed control levels
Adjustable tilt feature
Wall-mount design
Cons:
Doesn't come with a timer or auto-shutoff feature
3. AC Infinity Cloudline T8 –Highest Quality Inline Fan
AC Infinity CLOUDLINE T8, Quiet 8" Inline Duct Fan with Temperature…
Designed to ventilate hydroponic grow rooms, transfer heating/cooling, cool…
Intelligent controller with temperature and humidity programming, fan speed…
Mixed flow design combined with a PWM-controlled EC-motor for a truly quiet…
Kit also includes corded sensor probe, AC power plug, two duct clamps, and…
Duct Size: 8" | Dimensions: 8.5 x 11.9 x 9.2 in. | Airflow: 807 CFM |…
The AC Infinity Cloudline T8 is a pretty well-done high-quality option in the inline fan category. It's relatively pricey, but it's definitely one of the best 8″ inline duct fan options, in one of the best quality. It comes in a noticeably great build quality compared to similar fans in the same price bracket.
It's button-controlled and comes with features such as an LED read-out display and a wired sensor that sends temperature and humidity data of the surrounding air to your fan. It's specially designed for grow rooms and comes with 2 duct tape clamps as well, so you really won't need to buy a separate set; just clip on the 8″ ducts, and you can start operating it without any hassle.
Its pulse width modulated motor makes it an exceptionally quiet inline duct fan with no fan noise. The modulated motor also causes it to move at 807 CFM of air and use minimal power, which is quite impressive! To improve fan performance simultaneously, it can also connect with other AC Infinity inline duct fans in the same application grow space.
Pros:
Extremely quiet pulse width modulated motor
Standard 8″ fan size for a compact fan
Wired sensor for more accurate readings
Purchase comes with the duct clamps
Great construction
4. Hurricane HGC736474- Highest Quality Oscillating Fan
The Hurricane HGC736474 is a 20″ wall mount oscillating fan that comes in such high and durable quality. It's a high-velocity fan with blades that move extremely fast at high speed. To complement this, it also comes with a powerful motor to create a powerful grow room fan that's built to move such a massive volume of air.
Other than the high velocity at which these blades move, they are made of hard metal that also helps them move a ton of air circulating quite efficiently. In addition, it comes with an adjustable tilt and 90° oscillation range.
The adjustable tilt might not be as much as that of others, but the 90° oscillation definitely makes up for that bit. In addition, it comes in a decent budget that makes it one of the best grow tent fans.
Pros:
Durable construction with hard metal blades
Powerful motor to push air in crazy amounts
3 speeds that are controlled by a lever
90° oscillation range
ETL certified
Cons:
Relatively pricier compared to other wall mount fans
Not fully adjustable tilt compared to other models
5. Hydrofarm HORF8 Active Air 7.5W Ultra Quiet Brushless, 8″ Clip-on Fan -Easiest to Use
The ​Hydrofarm HORF8 Active Air 7.5W is an 8-inch clip-on ​fan that's ultra-quiet and brushless. It's uniquely designed in a sturdy clip-on design that can be attached to the grow tent poles of your indoor garden to prevent stagnant air and provide even ventilation for the optimal plant growth of your tent plants. 
The clips attached to this clip-on fan pole come with a 0.59-1 inch diameter which is designed to cling firmly onto the pole to prevent it from sliding down. In addition, the ​Hydrofarm HORF8 Active Air clip-on fan is ultra-quiet and securely built. The unit measures 1.5 pounds, while the fan measures 8.5 x 8.25 x ​6.75 inches with a ​7.5w output power. 
The Hydrofarm HORF8 clip-on fan comes in a 90° horizontal and 120° vertical oscillation range that you can use to direct the required airflow equal to what's needed. You can also direct it to any of the directions by using a shaking rod for extensive coverage.
As a grower looking for a study fan that comes in a compact design, the ​Hydrofarm HORF8 is one of the best clip on fans and definitely ​the ​right option for grow tents. With its unique features, it's designed to efficiently circulate air to keep the temperature and humidity in your grow tent at optimum levels.
Pros:
90° horizontal and 120° vertical oscillation range
Easier control using the shake rod for wider oscillation ranges
​7.5w watts output power that makes it perfect for versatile ​use
Minimal noise with a quiet fan operation
Use of shake rod and other safety features that make it safe for both the user and plants ​
Sturdy clip-on design that doesn't slip down the pole while operating
Cons:
​Electrical connections could be better to stop issues such as abrupt stopping after some time of use
6. SECRET JARDIN Monkey Fan 16W Fits 0.63″ – 0.83″ Inch Grow Tent Poles (2 Pack) – Best Value Pack
Sale
VIVOSUN 4 inch Inline Duct Fan 100 CFM, HVAC Exhaust Intake Fan, Low Noise…
HOUSEHOLD APPLICATIONS: Help to boost airflow in HVAC units to remove…
UPGRADED ADVANTAGES: Superior balanced Plastic blades for long service life…
SPECS.: Diameter 4 inch, Speed 2930 RPM, Air Flow 100 CFM, Voltage…
GROW ROOM APPLICATIONS: Used as intake fan to bring fresh air into grow…
NOTE: Max Operating Temp of Motor is 130℃ / 266℉; Max Ambient Temp is…
The SECRET JARDIN monkey fan comes as a 2-pack, in a sturdy construction and an engine that's made up of 100% copper with no alloys. With features such as these, you are guaranteed durability for use in your grow tent. Also, with a sturdy build and blade construction, this monkey fan comes in pretty handy when keeping the temperature and humidity in the grow tent at optimum levels.
The SECRET JARDIN monkey fans measure 12 x 8 x 8 inches with a 5-pound weight and strong clips that can be mounted and attached to a pole in the grow tent. After identifying where you need the steady airflow in the grow tent, you can easily fix your fans on poles to direct ample airflow to your plants. Note that each fan can suitably fit on 0.63-0.83-inch poles.
This is an ideal value purchase with the 2 monkey fans that also come at an affordable price. By attaching the fans at different points in the grow tent, you can be sure to maintain steady air circulation. In addition, the SECRET JARDIN monkey fan comes with 16 watts of power to adequately cover a large area in your grow room.
So, if you are a grower who's looking for value in a budget-friendly fan, this is an excellent fit that's also conveniently easy to assemble without the need for an expert.
Pros:
​Light in weight so its easier to reposition in your grow tent​
Comes as a 2-pack monkey fan
​Easy assembly
User-friendly
Sturdy adjustable clips that can be mounted on different diameter poles ranging between 0.63-0.83 inches
​Affordable grow tent fan​
Cons:
Doesn't oscillate
16 watts of power output is not strong enough for some grow tents with too much space
7. Vivosun 4 Inch Inline Duct Fan- Best Budget Inline Fan
Sale
VIVOSUN 4 inch Inline Duct Fan 100 CFM, HVAC Exhaust Intake Fan, Low Noise…
HOUSEHOLD APPLICATIONS: Help to boost airflow in HVAC units to remove…
UPGRADED ADVANTAGES: Superior balanced Plastic blades for long service life…
SPECS.: Diameter 4 inch, Speed 2930 RPM, Air Flow 100 CFM, Voltage…
GROW ROOM APPLICATIONS: Used as intake fan to bring fresh air into grow…
NOTE: Max Operating Temp of Motor is 130℃ / 266℉; Max Ambient Temp is…
The Vivosun 4″ inline duct is a cult favorite budget option. It's a simple inline duct fan that can also be used as an intake or exhaust fan. The 4-inch size means it's compatible with the popularly used 4-inch duct tubes.
Unlike other fans that are made of plastic, it's entirely made of metal and runs at 2930 RPMs. It's a reliable pick, so you can be guaranteed that there won't be any speed or thermostat switches on it. In addition, it is quite light and requires little to no maintenance unless, of course, something gets caught in the fan blade.
It's a small fan that's built to move 100 cubic feet per minute of air and 12 watts of power output. For such a small fan that's built to move this much air, it's a reliably built budget pick that should be easy to use. However, note that it does have a maximum temperature of 266°, which shouldn't be a problem for a regular grow tent.
The Vivosun inline duct also comes in a 6/8-inch version, but the 4-inch version is the most popular because it's generally large enough to cater to most small-medium-sized grow tents.
Pros:
Durable and simple all-metal design
Small but powerful blow power that moves a lot of air
Suitable for small-medium sized grow tents
Easy to use and works reliably well
Affordable inline duct fan
Cons:
Needs to be connected to a power switch to be turned off
8. PELONIS PFT30T2ABB-V –Best Budget Oscillating Fan
PELONIS Oscillating Table Air Circulation Fan, 12-Inch, Black
COMPACT TABLE FAN: The PELONIS Table Air Circulation Fan has 3 speeds and a…
SMALL BUT POWERFUL: PELONIS Table Fan Air Circulating design delivers an…
INCREASE YOUR COMFORT: Using this table fan for air circulation in your…
SAFE AND DURABLE: Built for long-term durability and safe use, this small…
MANUFACTURER WARRANTY: Pelonis offers a 1-year manufacturer Warranty.
For a budget pick, the Pelonis PFT30 is a pretty decent oscillating fan that comes in a simple 12-inch construction that can move a large volume of air for such a small fan. It was originally designed to be a table fan, but it can also be used as an oscillating fan that's placed on the floor to move some of that hot air that settles down low in your grow tent and replace it with cooler air.
It's surprisingly powerful for a small fan that just stands less than 19″. It has a 3-speed operation with minimal noise. Each of the 3 operating speeds has its button control. For a budget pick, the PELONIS PFT30T2ABB-V is a simple oscillating fan that also comes with sturdy construction that still requires care for durability.
Pros:
Small but powerful fan that moves a lot of air
Stands at less than 19″ tall so that it can fit almost anywhere
Adjustable speed and tilt
Comes with a 1-year warranty
Relatively sturdy construction for a budget pick
Cons:
Not as sturdy as the pricier options
Doesn't come with a wall-mount option
9. Tjernlund M-6 Booster Fan- Best Inline Duct Booster Fan
This is a mounted exhaust fan that's the first of its kind on the list. This is a booster fan, so it doesn't run independently. Instead, it's hooked to the ventilation system in your grow tent. It comes with many regulation options; for instance, the remote control is used to regulate the speed.
Since it's best used to exhaust and not air intake, you'll probably have to mount it outside the grow tent to control conditions such as moisture build-up. But, overall, it's a great fan for air circulation in the grow tent, especially when used in tandem with other smaller fans, like the first two on this list.
It needs such a small amount of power to keep it running. In addition, it has a relatively low noise output in operation. Most growers who've used this fan review it as a product that is worth your while but with some level of maintenance annually.
Pros:
Great booster fan that works with other fans for air circulation
Works great as an exhaust booster fan
Needs a little amount of power to run
Has many regulation options, such as a remote control that's used to regulate the speed
Cons:
Doesn't work as a standalone fan
Operation requires other items that are sold separately
10. VIVOSUN Clip-on Oscillating Fan
The VIVOSUN oscillating fan is a small but pretty good fan that will help keep the air moving in your grow room. It has two different speeds that let you choose how much of the circulation you need and whether you'll want to have the fan stationary or oscillating in the grow tent. The head is adjustable, meaning it can be moved back and forth.
So the adjustable head feature and the fact that you can move the mount itself means that you can achieve almost 360° of movement all around the tent. It's a versatile fan with multiple applications; for instance, it was also built for home use to keep you cool during that hot summer heat. It's not the most powerful product for house use, but it's definitely much better as a grow room fan than it is for use in the house.
Pros:
Easily clipped on
Versatile use
Affordable
Gives you options such as leaving it stationary or oscillating
Small and light making it portable
Adjustable head and movable mount to achieve almost 360° range of movement
Cons:
Burns out quick if left to run for long
How to Select the Best Grow Tent Fan for Your Plants?
A) Is It Noisy?
Deciding on the best fan for your grow room also requires considering how much noise you can handle and whether it's co-habitable, especially if you have neighbors. Of course, there are a couple of reasons that favor having a quiet or low noise fan.
The first reason would be the fact that you don't want some loud, endless humming going on in your house every other time. The other reason would probably be the fact that while growing some plants, such as cannabis plants, is becoming more common, many people still prefer to maintain some level of discretion in this.
B) What's the Size of Your Grow Tent?
You may need either one tiny fan, or a whole bunch of small fans, or exhaust fans, depending on the size of the grower room you're operating from, the number of plants you may have, and the type of plants you're growing. For instance, growing cannabis plants need a particular fan performance and a fan with features such as a carbon filter.
Mostly, it's the size of the operation that dictates just how much you will need to spend on the fan. For example, having many plants might need you to spend more on good quality fans that will help keep the temperature controlled and help create enough ventilation. However, if you just have one or a few plants, there's no need to get anything more than a tiny desk fan that you can mount from above it, looking down on it.
C) Does It Also Come With A Warranty?
Like any gadget, it's always advised that look into the warranties that come with the product, even if it's a product that you got at a low price. Additionally, it's also best to look into the brand reputation and after-sale services, such as the customer service team you might also have to deal with. Some reputable companies even offer refunds and actually seem to care more about their customers since they're always prompt in helping.
Other Things to Keep An Eye On
Throughout the entire article, we've crafted this entire note on how long to leave the fan on plants. But there is no rule of thumb in this case. Instead, it depends on a few other factors such as:
a) How Powerful The Fan Is?
You can't run just any random fan 24/7 just because it looks cool. Too much energetic air movement may backfire and induce branch breakage or stem.
b) Is The CO2 Scrubber Stopped for A Long Time?
CO2 filters do play a role that's mandatory for the plants. And technically, when air intake/extraction is stopped, CO2 also stops working. Sometimes, it may bring on the troublesome situation when you keep the extract fans off for a few hours.
Few Bits of Advice
Occupy the fan that provides the exact airflow you need.
Use a fan controller to set the fans' speeds as you want. 
Never keep the fans off for a few hours in a stretch.