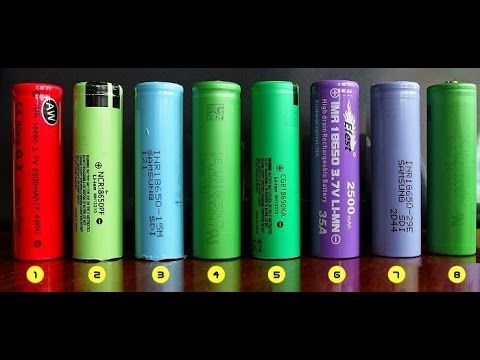 Batteries, especially the 18650 models, are the power source behind the best performance vaping devices. The best vape battery should be reliable, and one that pushes high wattage outputs to last you long. Also, when looking for these cells, ensure they suit your device as well as your style of vaping. Before we can check out the best 18650 batteries for your oil cartridge vape pen or vape mod, let's understand what a vape cell is.
What Are Vape Batteries?
Vape batteries are replaceable lithium-ion batteries, unlike any batteries, you find in your closest store; however, it's still a standard battery. Though these vape batteries are specific to vaping, they're the same types of batteries people use in other electronic devices such as flashlights, laptops, radios, lanterns, electric bikes, electric cars, and even electric cars.
With the best vape battery, you are assured that it will last you for up to six months before replacing. So, now that we are informed let's look at the best batteries for vaping that you can use with your vape mods or vape pen. Keep reading!
The Police P26A 18650 Battery is our best-rated 18650 cell on the market. It features a CDR of 35A and a capacity of 2600mAh. Though it's ideal for virtually all applications, it shows its true color in high-drain devices. If you are vaping up to 75W per cell, this cell is highly recommended. Though you might get a shorter cycle life at the listed amperage, the cell is designed to withstand that type of load without issues.
The cell is very fresh and come directly from the factory through NPE Distributors, and are of total Grade-A quality. Therefore, you are assured of peace of mind since the cell is authentic and Grade-A guaranteed. Furthermore, the cell is one of the best all-around in the 18650 form factor size for Ultra-High drain.
Pros
Great high-drain vamping
Very fresh and come directly from the factory
Comes at a budget-friendly price
High-quality cell
Cons
Has shorter cycle life sometimes
Samsung company has a reputation in electronics. So, it makes sense that their 18650 batteries are among the top in vaping. This Samsung 25R (INR18659-25R) cell has a capacity of 2500mAh. It can output a continuous 3.6V with a full charge of 4.2 V. Also, the 25R cell comes in a two-pack and can power up to 250 power cycles before reducing output. Furthermore, it uses a flat-top design and is perfectly good for high-wattage devices.
This 25R cell is great at up to 20A since it operates at a cool, moderate temperature that'll not impact the cell life. It's also a great hard-hitting 18650 cell that requires less frequent charging. Besides, it maintains a safe operating temperature throughout.
Pros
Comes with a long life cycle
Ideal for high-wattage devices
Comes with tough, durable wrapping
Lightweight and easy-to-use on a vape pen
Sony is not left out in making the best vape pen batteries. The Sony VTC5A 25A Cell is the best cell for high-drain vaping. The pair comes with a listed maximum current rating of 30 A. Nonetheless; testing suggests that the pair has a maximum of 20A. Both of these cells can exceed these ratings, and you can use them at 30 A as the manufacturer suggests, but for durability, it is better to keep the current slightly lower.
Besides being one of the best vape pen batteries, it's also one of the most trustworthy and balanced cells on the market. The capacity can last you through the day. It's also a great cell for use with regulated mods. In addition, the VC5TA comes with a budget-friendly price.
Pros
Ideal batteries for regulated mods
Comes at a budget-friendly price
Great for high-drain vamping
Comes with a long life cycle
Cons
Has shorter cycle life sometimes
Another pen battery to count on from Samsung; the Samsung 30Q 18650 Battery. The 30Q comes with 15 amps of continuous discharge. It's an excellent option for a user who likes high capacity without forgoing drain lots of discharge. Also, it's an ideal cell for usage in vaping, power tools, and other high-performance devices.
However, this cell is unprotected, but you can use it in protected cell packs and not as a standalone product. To operate safely, it must have extra protection in the form of a protection circuit board (PCB) or battery management system (BMS), which is not usually included. Besides, its value is fantastic, plus it's ideal for you if you're on a tight budget.
Pros
High capacity cell
Ideal cell for vaping
Comes at a budget-friendly price
High-quality cell
Cons
The cell is not protected.
When looking for the best batteries on the market, you can't miss coming across LG HG2 15650 from LG company. The cell is great for a vape pen and comes with a 20A continuous output. Moreover, it is very lightweight, weighing about 48g, and stands at 65mm. With these measurements, you can place it well to different power single or dual-18650 devices like vapes. Moreover, the cell has a capacity of 3000mAh.
The HG2 cell is made with high-wattage vapers in mind. It has heavy-duty wrapping and is resistant to wear and tear. Also, it's not vulnerable to damage from charging before being discharged though it will degrade at about the same rate as your phone cell.
Pros
It takes a short time to recharge
Ideal for dual-18650 devices
Made with high-wattage vapers in mind
Has a heavy-duty wrapping
Simple Precautions to Follow When Handling Vape Batteries
1. Always use plastic cases to store your extra vape batteries
2. Never remove the cell wrapper unless when unwrapping
3. Avoid storing loose batteries in pockets or purses
4. Don't push the limits of your battery
5. Never use or charge when the cell is extremely cold or hot 
6. Rewrap or discard batteries with damaged wrappers
7. Always buy from trusted and reliable brands
8. Recycle batteries when it is time to discard them
9. Don't force batteries if they don't fit well
What Are the Factors to Consider Before Buying the Best Batteries for Vaping?
1. Capacity
Before you can pay for the best vape battery, you need to be sure that the battery's capacity will last you long enough; you don't want a battery that'll need to be disposed of in a week or so. Capacity is calculated in milliampere-hours (mAh), and it signifies the running time. One mAh equals the charge transferred by a stable current of one milliampere flowing for 60 minutes. Though this rating is occasionally overstated oncell wraps, this does not happen as frequently as it does with discharge ratings.
Besides, going over the ratings of trusted manufacturers, you'll notice a pattern: there is always a trade-off between capacity and CDR. For example, there is no 18650 with a CDR over 30 amps. Concurrently, no 18650 with a capacity over or at 3000 mAh will have a CDR over 20 amps. Therefore, any battery not rated according to these thumb rules can be assumed to be falsely rated.
When buying the best 18650 batteries, try to avoid rewraps since the batteries used for them might change at any given time. Besides, with 18650s batteries being readily available, finding a battery from a trusted manufacturer should be a priority too.
2. Continuous Discharge Rating (CDR)
Continuous discharge rating means the maximum current that a battery can discharge safely and continuously without reducing its capacity or taking damage. So, when buying the best 18650 battery, remember to consider these ratings. A high discharge rating is very crucial if you want to use it with a low-ohm device. For instance, imagine you have a bottle full of water; the bottle size would be the battery capacity, while the opening level of water would be the maximum discharge rating.
As we mentioned earlier, the CDR is used by trusted electronic manufacturers. Therefore, it's an important factor to compare battery discharge. However, some manufacturers will sometimes overstate the CDR or even use other ratings. For example, the rating on the wrap might be the maximum current that a battery can discharge in short intervals, which isn't the actual CDR of the battery. Therefore when buying the best 18650 batteries, don't just look for the CDR since it can be misleading sometimes.
Another factor to consider before buying your best vape battery is whether you need a button-top battery or a flat-top battery. This feature refers to the positive end of the battery. As the name implies, a flat-top is a flat battery surface and may seem too short if your vape mod requires a button-top battery. Conversely, a button-top battery has a protruding surface that enhances the battery's length and might not fit in a vape mod or pen that requires a flat-top battery.
4. Voltage
"Hitting harder" in a battery usually refer to the voltage at which the battery can withstand midway through its cycle, also referred to as voltage sag. For example, some vape batteries can remain around 3.7V midway throughout the cycle, while others drop to 3.2V or lower when drawing power, resulting in sag in power.
5. Operating temperature
When hunting for the best 18650 batteries, it's wise to check the battery's operating temperature. However, it's hard to recommend which operating temperature is suitable for your 18650 cells. This is because the battery emits heat itself, and the surrounding temperature must be considered. When 18650 batteries usually generate heat which has an impact on the battery performance. Besides, overheating batteries always have less lifespan.
If your battery is steadily getting hot, this is a warning sign that you might be pushing the battery too hard. A battery that's consistently rising past 45C has a shorter lifespan than a cool running battery. Besides, they can be dangerous as the potential for bursting increases greatly with a high-temperature lithium-Ion battery. We recommend you choose a battery with a higher CDR rating.
6. Manufacturer or brand
When choosing the best vape battery, you will realize that considering the manufacturer or brand is important as considering the CDR of the battery. As we mentioned earlier, not all brands are made equal, and regularly, you'll find some of the manufacturers are not trustworthy in their battery ratings. The main goal of any manufacturer or brand is to sell as tons of batteries as possible; however, some companies have been known to overstate their ratings to appear to provide a better product than others.
Fortunately, the battery mooch, the watchdog team in the lithium-on industry, usually offers thorough testing and exposes these companies for their illegal practice. There are five main brands and manufacturers that you can rely on to offer quality, consistent and trustworthy batteries. Those brands are; Samsung, Molicel, Sony/Murata, LG Chem, and Panasonic/Sanyo. Fortunately, you'll regularly see the best vape battery outdo the manufactures ratings claimed by these brands.
What Are the Advantages of Vaping?
1. No awful smell
With a vape, you can eliminate the awful smell of traditional tobacco smoke by switching to vaping alternative with a long-lasting odor. Besides, studies have shown that vapor exhaled by vape users breaks down within seconds.
2. Less toxic than smoking
Smoking is one of the leading causes of preventable illness as well as avoidable death. Conversely, vaping is 95 percent less harmful than smoking, according to Public Health England.
3. It Will help you save money.
Regular tobacco is heavily taxed, and this makes them very expensive in the long run. So when you shift to vaping from tobacco products, you're guaranteed to see the difference in the amount of money you spend regularly.
4. Help you stop smoking.
Though smoking is a hard habit of quitting, according to a study released in 2019, smokers who vape are very likely to stop using cigarettes. Vaping has been proven to be a healthier alternative and very safer than traditional cigarettes.