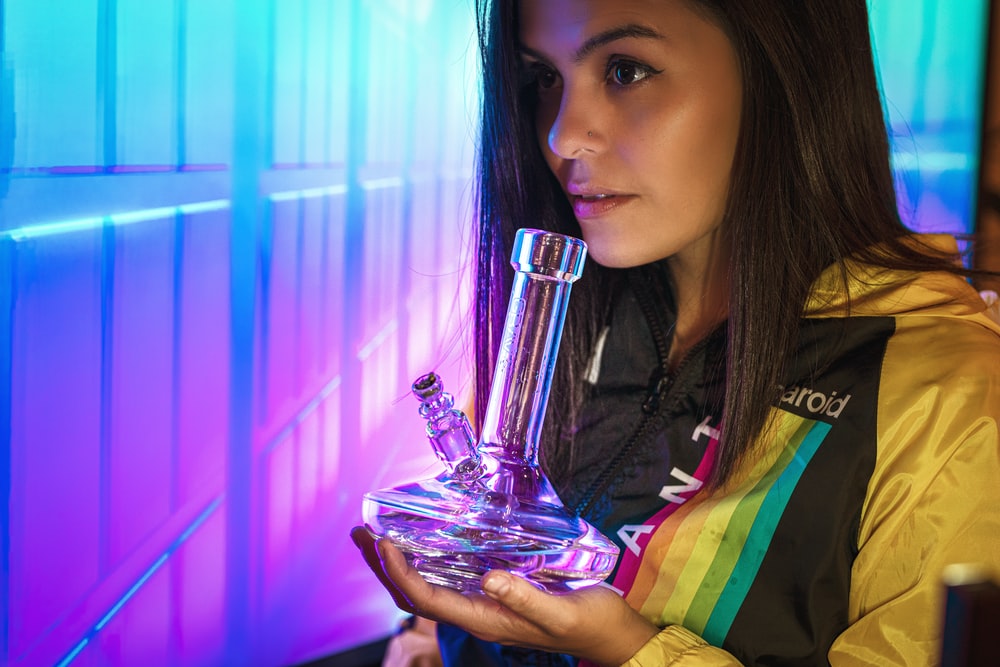 There are many ways to consume cannabis, thanks to the spread of marijuana legalization. The original blunts, joints, and bongs are popular among die-hard weed smokers and have a culturally significant standing for cannabis consumption. In addition, a water pipe is a must-have for every stoner's collection. On the other hand, glass is not all made equal. Glass experts and casual bong users alike have various best bong brands and online head shops to pick from.
What is a Bong?
A bong is a gadget that filters and cools the smoke produced by cannabis combustion. There are many different varieties of bongs. From simple bongs with a chamber and bowl to artistic masterpieces, there's something for everyone. It's a popular way to consume dried marijuana flowers. It can, however, be used for a variety of herbs.
Bongs usually have a small bowl for the cannabis and a part for the water. Marijuana combusts when it is lit. The water in the bong percolates as the user inhales. The smoke rises through the water and bong chamber as a result of this. The smoke eventually reaches the mouthpiece, where the user inhales it.
The majority of bongs today are glass bongs. You can, however, purchase ones made of wood, plastic, or bamboo. The bong, often known as a water pipe, is now at the forefront of cannabis culture. Some people even name their glass bongs! Bongs adorned with costly stones like rubies and metals like gold are also available.
These are the brands that will most likely enhance your flower-combustion experience. They range from a basic setup to high-quality smokable glass art. Unfortunately, it can be difficult to determine which brands are worth your time and manufacturing inferior glassware. That's why we've compiled a list of the best bong brands that both glass enthusiasts and eager beginners should be aware of.
1. It's 4:20 Somewhere
Its420Somewhere strives to provide the greatest online purchasing experience possible for its customers. Its420Somewhere has a wide range of items and smoking accessories. They are one of the best bong brands as they keep all of the products they sell in stock and do not rely on third-party vendors to fulfill orders.
They're a dependable tobacco business with quick shipment making them one of the best bong brands. They carry over 50 brands and hundreds of goods. ROOR, GRAV, Puffco, RAW, Medtainer, Shine, Chameleon Glass Products are more well-known brands.
Bongs, water pipes, dab rigs, hand pipes, rolling papers, and vaporizers are all in this category. They have over 250 bongs ranging in price from $14.99 to $977.00. Check out their 4:20 Generic Label product line if you're looking for a cheap bong. It's their in-house brand, and it stands for uncompromising quality.
This 4:20 Generic Label USA 6 is from the United States of America. The Circular Bottom Water Pipe has a distinctively round bottom. The water pipe is 6 inches long in height and was painstakingly constructed from the finest glass available. Although this water pipe is little, it is certain to give the user the most pleasurable smoking experience conceivable.
Pros:
It is an effective glass bong that works well
Each piece is handmade with love; hence they are unique
The products are fairly priced yet made of high-quality material
It is made of high quality and durable material
They have great customer service that is very responsive to all your inquiries
Cons:
They don't use third parties to ship their products
2. Grasscity
Grasscity is one of the best bong brands as it is one of the oldest and most reputable online headshops. They first opened their doors in the year 2000 under the moniker Coffeeshop-Amsterdam. As a result, Grasscity.com has one of the greatest assortment of smokeshop and headshop items globally.
Some of the most well-known brands are Dr. Dabber, KandyPens, EYCE, Blazer, and Santa Cruz Shredder products. They have a wide range of affordable bongs, dab rigs, and hand pipes.
For as low as$11.99, you can acquire a Rasta Flag Glass Bong. Get this Jerome Baker Designs Mini Mothership on sale for $629.10 if you're a bong fanatic. Visit their inventory for smoking accessories and items.
The beaker base ice bong from Glasscity is made of high-quality glass at extremely low rates. This tiny piece measures 25.5 cm / 10 inches in height. It is composed of clear, heat-resistant borosilicate glass. 
A 14.5mm male herb bowl with a borosilicate glass handle for easy lifting, a slitted inside-cut diffuser downstem, and an 18.8mm ground joint. To keep the diffuser downstem in place, you'll get a black keck clip with your purchase. The smoke is divided and filtered as it passes through the hidden slits of the downstem.
The three ice slots allow you to drop a few ice cubes in the bong's tube for an extra chilly toke. This filtration and chilling produce a smooth, pleasurable hit that's still flavorful but is gentle on the throat and lungs.
Pros:
The capacious beaker bong base allows the smoke to cool down faster hence provides excellent stability
It has a broad, ringed mouthpiece that is pleasant to use on lengthy sessions
The glass bong is neatly packed with bubble wrap and packing peanuts to ensure it doesn't break during shipping
It hits incredibly pleasant and smooth thanks to the ice cubes
Cons:
The mouthpiece of this glass bong is too narrow to fit most ice in it
3. DankGeek
DankGeek Online Headshop has been operating Since 2008. It is one of the best bong brands as its goal is to provide people with the most inexpensive, functional, and unique glass available. In addition, all active military and veterans receive lifelong discounts from DankGeek.
They provide thousands of goods from all of the top brands. Chameleon Glass, Pax, KandyPens, Dr. Dabber, and Empire Glassworks are some of the most well-known brands. Bongs, water pipes, dab rigs, hand pipes, rolling papers, and vaporizers.
Affordably priced bongs start at roughly $40 on DankGeek. They have a total of ten gorgeous color choices from which to choose.
The Eyce Beaker you're familiar with now has a companion. The Eyce Mini Beaker is a new product. The Mini has the same platinum-cured quality as its bigger brother but in a smaller, ready-to-roll container. Measures 7.25″ in height
It has a platinum-treated silicone Body and a large hidden container. It also features a 14mm borosilicate glass bowl, and platinum treated percolated down the stem, an ice catcher, and stainless steel poker.
Pros:
It is a handy little glass bong that is portable; you can take it with you anywhere
The glass bong is long-lasting; hence you don't need to keep replacing it
The glass bong is easy to clean as it comes with a metal toothpick
It's the ideal size for concealment when traveling
It's worth your money as it is excellent for frequent use
Cons:
It is quite small hence limiting when sharing with friends
4. Snoop Dogg Pounds
Snoop Dogg has released a line of glass bongs, which comes as no surprise. The Snoop Dogg Pounds collection includes a variety of water pipes. Each has its purpose. One pipe, for example, is designed for dry herb, while another is ideal for concentrate oils and dabs.
It is 6 inches tall and is the smallest member of the Snoop Dogg Pounds glass family. It's one of the tiniest pipes on the market, and it's made for dabbing. It comes with two types of nails. A bubble dome and nail and a quartz bucket. A tiny Inline ruffle percolator is also included.
It does an excellent job of filtering and cleaning the smoke, resulting in just the smoothest hits. A fixed downstem with a 14.5mm male joint is included in this component. A herb dish made of dried herbs, vapor dome with a concentration nail made of glass, tool for dabbing glass, and a bucket for quartz concentration
A perforated honeycomb disc is used in the Battleship's design. This disc is wedged between two tornado percolator discs in the straight body of the bong. The three discs work together to filter the smoke as it passes through the maze of holes and openings. When the smoke reaches your lips, it's cool and filtered, with a flavorful and calming hit.
Pros:
The base of the bong is easy to clean because it easily disassembles
It is an effective water pipe that works perfectly
The flared mouthpiece is properly oriented for ease of usage and comfort
The small touches on the bong are stunning
When you set the pipe down, the thick and solid base ensures stability and firm.
The construction quality is exceptional, and it consistently generates incredible hits
Cons:
A lot of third-party sites are selling it and lowering their rates
5. Daily High Club
The Daily High Club Online Head Shop was founded in 2015. Daily High Club has grown to become one of the most prominent online head stores in the world. Their purpose is to provide folks with high-quality smoking equipment at a low cost.
What sets them apart is that they have a whole crew dedicated to curating glass 24 hours a day, seven days a week. In addition, their glass bongs are blown in-house to a significant extent. As a result, they have some amazing bargains on quality items because much of their glass is blown in-house.
Brands like Myster, ROOR, MJ Arsenal, Clipper, Grenco Science, and RAW. Bongs, water pipes, dab rigs, hand pipes, rolling papers, and vaporizers are all in this online shop.
This mini glass water pipe is ideal for smoking on the go. It has fantastic four-hole puck perc for smooth rips and includes 5″ in height and 14mm joint Female. It is small in size hence portable, travel size heavy hitter. The smooth function includes a 14mm premium flower bowl.
Pros:
The piece is quite easy to clean, and the hits are silky smooth
Dabs and little hits are no problem.
It is a handy little bong for smaller hits
It is portable, so you can take it with you everywhere you go
It is discreet and light, yet the size and functionality are ideal
Cons:
It is quite small hence limiting when sharing with friends
Frequently Asked Questions(FAQs)
1. What to Look for in the Best Bong Brand?
There are so many personal aspects at play. Do you want glass that has been blown by hand? Do you want to use a dab rig or a flower bong? Do you want a bong that can hit dry marijuana and concentrates? Do you like bongs that are bigger or smaller?
These are a few of the various questions you'll have to consider before choosing a bong. All of the bong brands listed here provide excellent customer service and high-quality glass. Everything on this page is intended to assist you in deciding where to begin your search for your next or first water pipe or dab rig.
2. What Kind of Bong Should I Look for?
1. Hand-Held Pipes
They'll execute their job well and deliver a hit. However, if you don't want to develop a throat tolerance, it may not be the best choice because it hit hard.
2. Mini Bongs
If you're looking for a cheap bong, the portable mini bong is the best option. Minis as little as six inches in height and several are available for under $60. A carb mechanism is used in the majority of tiny bongs. Because of the reduced price, they are usually made of thinner glass that is more easily broken.
3. Bubblers
Bubblers have a minimum amount of water filtering as they move up a weight class. However, any quantity of water filtration can elevate your smoking experience to new heights. So if you're looking for something tiny and easy to handle, this could be your best option.
4. Water Pipes or Glass Bongs
Bongs are now more expensive. They are available in a few subcategories and have many aspects to consider. Here are some of the important points to think about:
a. Beaker Bongs
The down stem of the beaker straight tube pipe is inserted into the base. Borosilicate glass is used in the majority of cases these days. They'll hit hard. But you will have a considerably harsher smoking experience with these bongs than with a bong with percolators. It is perfect for a seasoned stoner searching for a high-quality piece.
b. Water Pipes
The percolator is the main distinction between a "waterpipe" and a beaker bong. While beakers don't have any percolators, water pipes provide far more filtering for your water and weed. Resulting in a much more comfortable smoking experience. Most water pipes are made of thick borosilicate glass of exceptional grade.