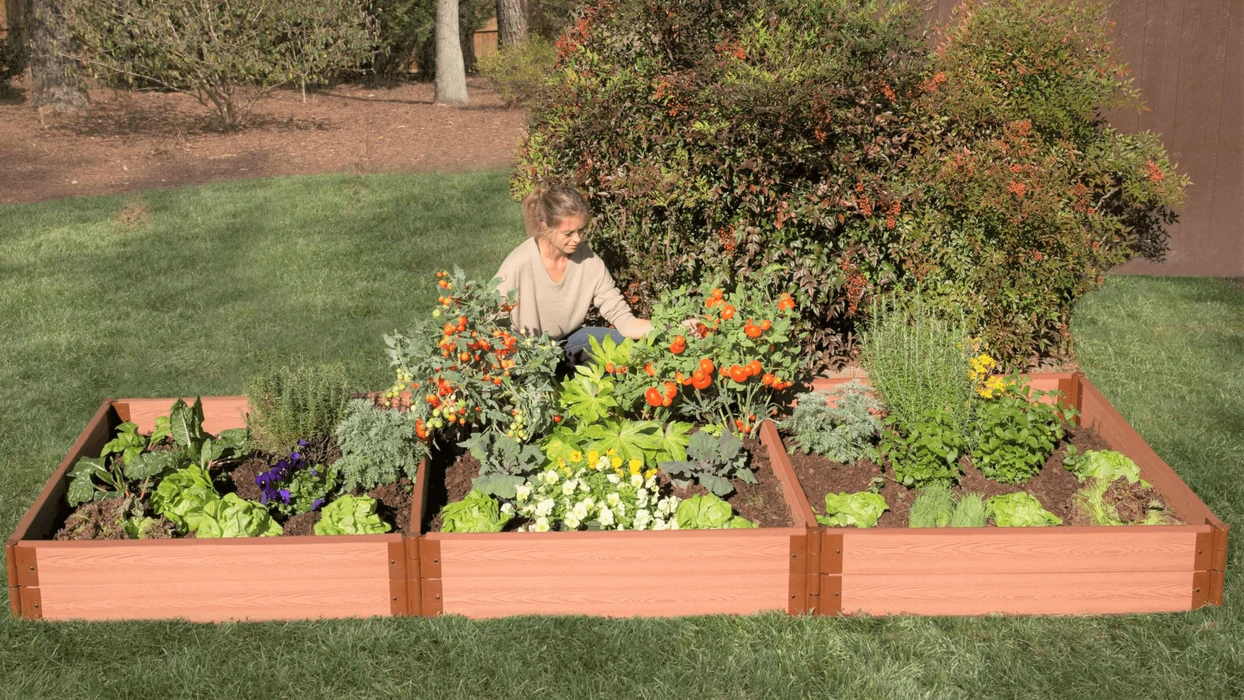 In the past, gardening was often associated with planting vegetables and flowers directly to the ground, making it inaccessible for people without a large property to work on. However, the best-raised garden kits were designed to solve that issue as they allow you to plant your garden almost anywhere from your patio to a small patch of grass.
The best-raised garden beds have gained popularity since they are great for anyone, including beginners because they allow a gardener to control their garden's size and the soil conditions. They are an easy way for new gardeners to experiment, try new things and get their feet wet without getting overwhelmed. Some will say it's like gardening but with training wheels.
So, have you been dreaming of starting your garden in a raised garden bed? you are in the right place. Below is a review of the best-raised bed kits with their pros, cons and a buying guide on choosing the right one to fit your needs.
What are Raised Bed Kits?
A raised garden bed is a plot set on a platform up off the ground instead of planting herbs, flowers and vegetables directly into the ground in your yard. It is most often a kind of box made of metal, wood and sometimes plastic that allows you to stimulate a garden bed with solidity around the edges and protection like when you plant flowers in a window box. A raised garden bed holds anything from your favorite roses to vegetables, and there are many advantages of using this planting system.
Why Purchase and Use Raised Garden Bed Kits?
Planting a garden in a raised garden bed provides all kinds of advantages for gardeners, from easy control of soil quality to ease of use because of the increased height. Most people enjoy investing in raised garden kits since they come with everything you need from the start, and they are included in one place and for one price. In addition, the pieces for bottoms, edges and stands are measured already, and it has simple instructions to help you out.
People choose to buy a raised garden bed kit instead of making one from scratch, and some kits have some bonus features such as:
Built-in irrigation systems
Extendable legs for different heights
Protective gates
Attachable greenhouse covers for certain plants or times of year
1. Greenes Fence Cedar Raised Garden Bed
Greenes Fence Cedar Raised Garden Bed is among the supported raised garden beds that make a perfect size for small garden spaces, kids who love to garden and beginner gardens. It is built in the US and is made using high-quality cedar wood, making it naturally insect and rot-resistant with no chemicals used in treating the wood.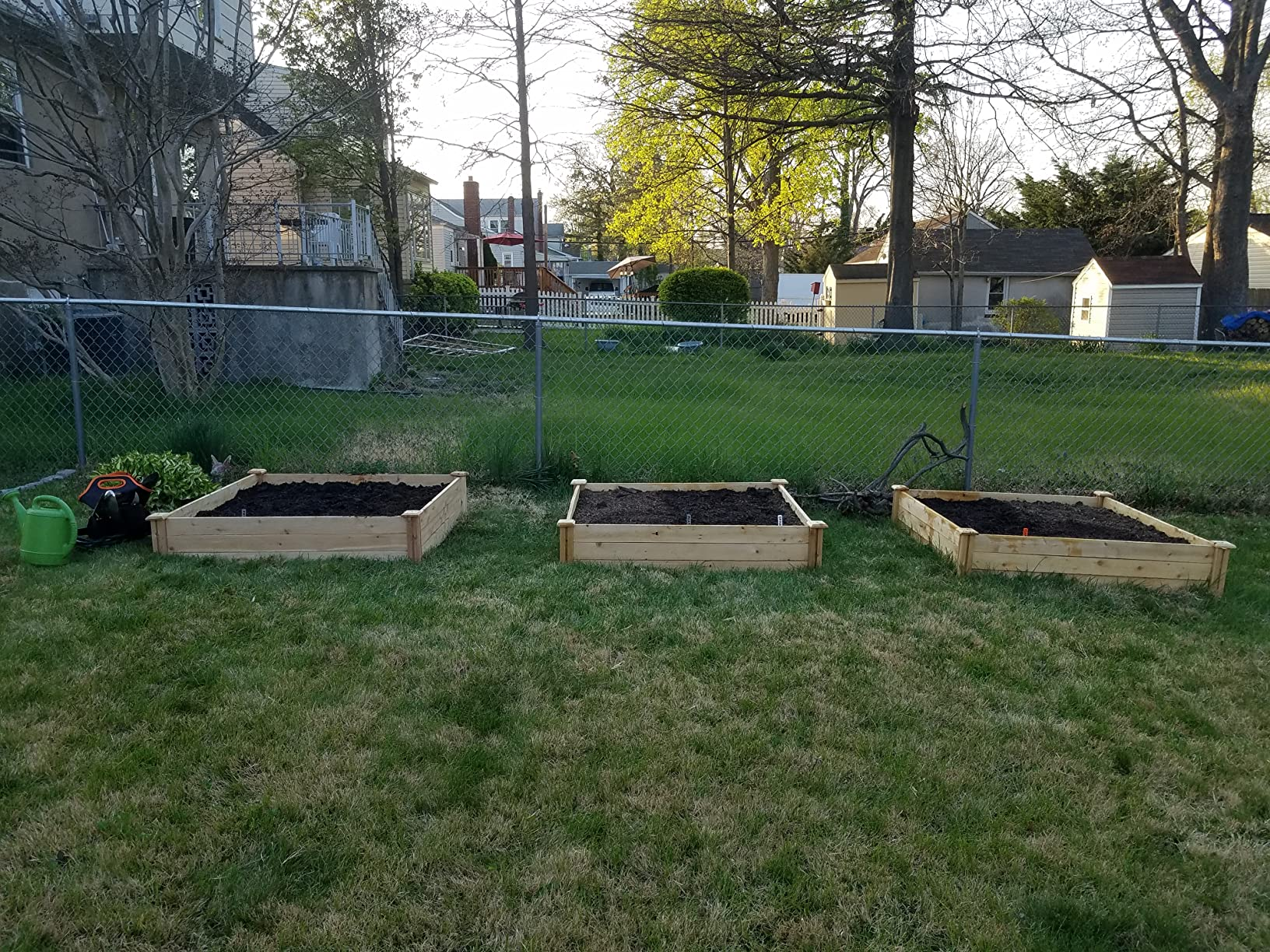 Image Credit: Greenes Fence
The raised garden bed has a flexible design, and it can be made higher, meaning it will reduce the need of bending while working in your garden and tending to your vegetables. It is among the best-raised garden beds since it can be made for a larger growing area, and it comes in three different thickness options to fit your budget and needs.
The Greenes Fence attractive raised garden bed is easy to install thanks to the interlocking joints, and some elbow grease may be needed to slide some of these boards in place. To secure the decorative tops, use a screwdriver, and once the raised garden bed is assembled, it provides plenty of room for growth, making it perfect for small gardens.
Pros
An easy to assemble raised garden bed
Sturdy boards enough to support the weight of wet soil
Well designed and attractive model
Available in three different thicknesses to suit your budget and needs
Insect-resistant and naturally rot-resistant
Cons
The included screws are super wide for the end caps
2. FOYUEE Galvanized Raised Garden Bed
FOYUEE Galvanized Raised Garden Bed is a supported raised bed that measures 8 feet long and 4 feet wide, providing enough space to plant a large garden. The garden bed is built with a thick galvanized metal, and the brand says the bed features an anti-rust coating and crossbars to stand up to the elements one season after the other.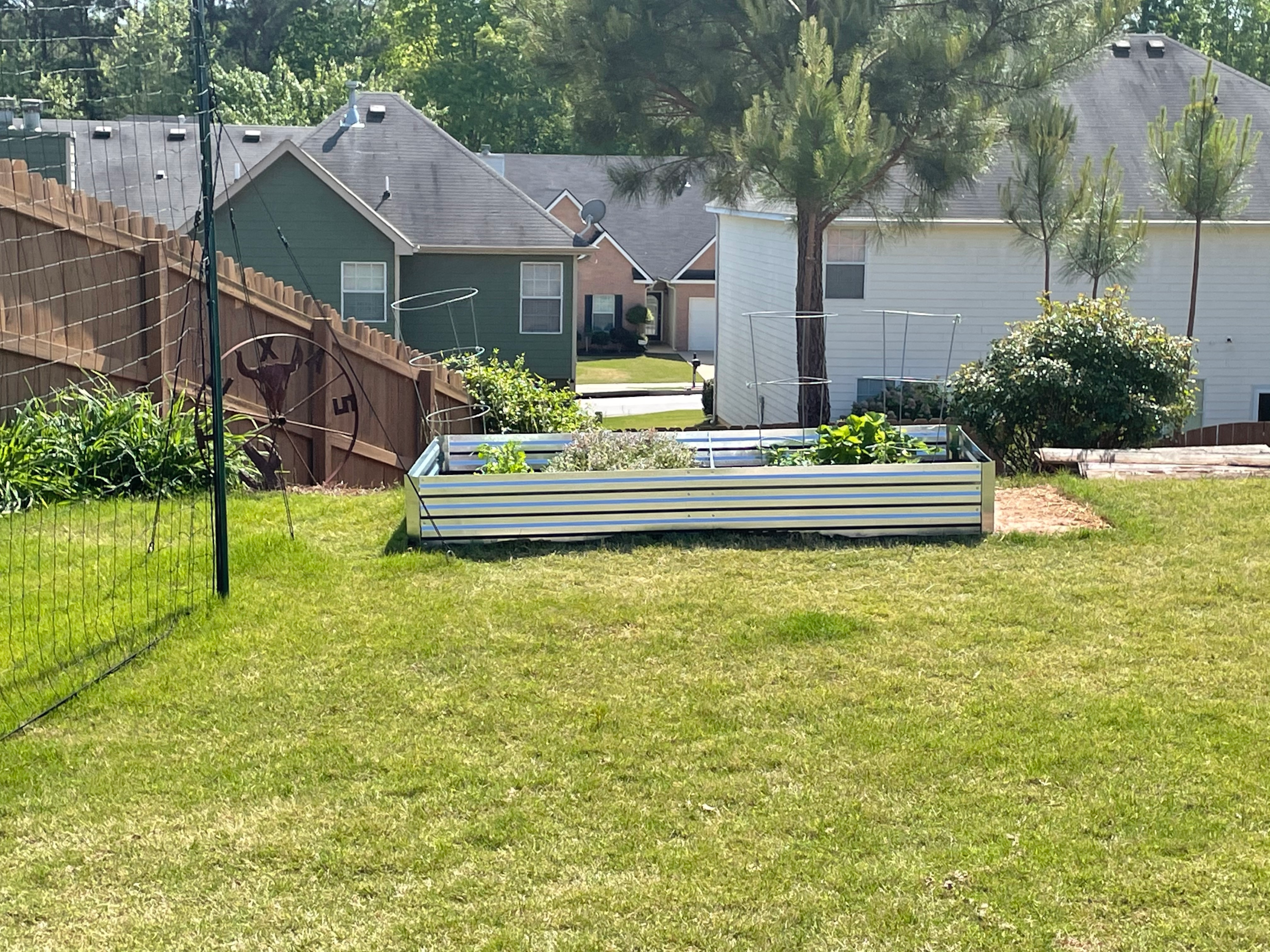 Image Credit: FOYUEE Galvanized
The garden bed has an open-bottom design that allows good drainage while keeping fresh vegetables and plants with fewer weeds and no pests. It also has an eco-friendly coating that protects the environment by preventing soil contamination while protecting your family by providing you with safe and healthy vegetables.
It is one of the best-raised garden beds that will offer you as much space for your deep-rooted plants. In addition, the garden needs minimal setup, and some customers have said it takes about five minutes.
Pros
Easy to assemble, and it will look good.
Provides an extra-large growing space to raise herbs, flowers, vegetables and other crop types
Clear assembly instructions which look good because of the finishing shine
An eco-friendly and anti-rust coating that will last a long time
The length can be adjusted because the side panels easily fit together, and you can drill some new holes and seal them with silicone
Cons
You may find it challenging to clear plastic off the parts
It has a large footprint making it unsuitable for small balcony spaces or yards
3. Yaheetech Wooden Outdoor Raised Garden Bed
Yaheetech Wooden Outdoor Raised Garden Bed is the best choice if shopping for a multifunctional unit. The raised garden bed is made of non-toxic fir wood. Since it's easy to assemble, it can be separated into two growing areas to practice crop rotation in the different raised bed gardens easily.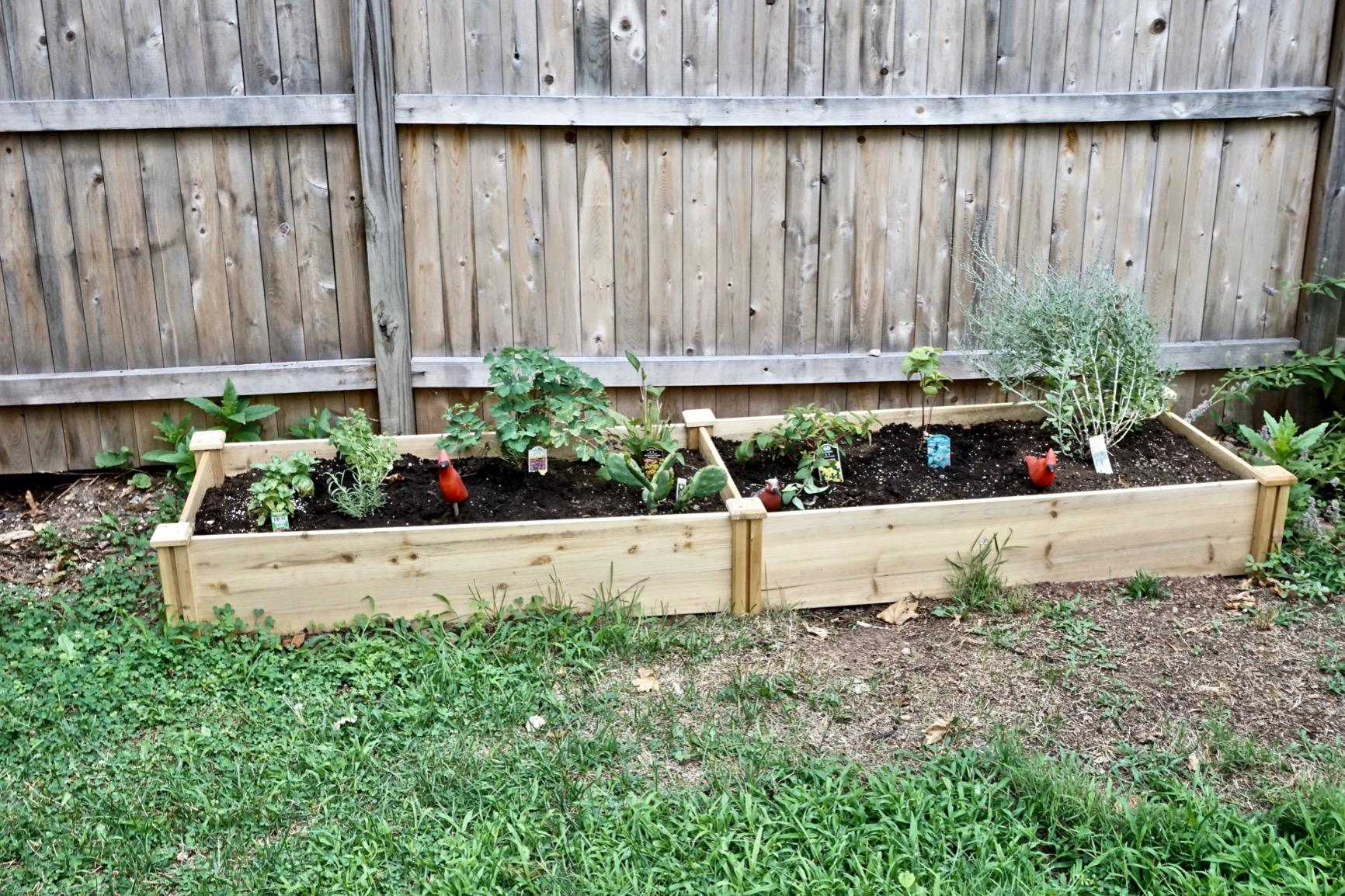 Image Credit: Yaheetech Wooden
It is the best-raised garden bed where you can connect more than one garden to achieve a highly raised garden bed to enjoy a non-toxic garden to grow your herbs, fruits and vegetables. In addition, the open bottom frame can be placed on the ground directly, on the patio or the paving. However, if you choose a solid surface, you might need to line the bottom to prevent soil from washing out.
Pros
Lightweight and sturdy
Multifunctional unit because of the middle separator
Easy to assemble
It is made from non-toxic fir wood
Cons
The quality is not the best
4. Jumbl Raised Canadian Cedar Garden Bed
Jumbl Raised Garden Bed is made from cedar wood, and it prevents wood rot, damage from insects and warping. It comes with necessary parts and hardware you may need to assemble it, and it stands at 30 inches above the ground. In addition, it comes with a fiber-mulch liner that helps retain small bits of potting soil that would otherwise be washed out the bottom between the wooden slats.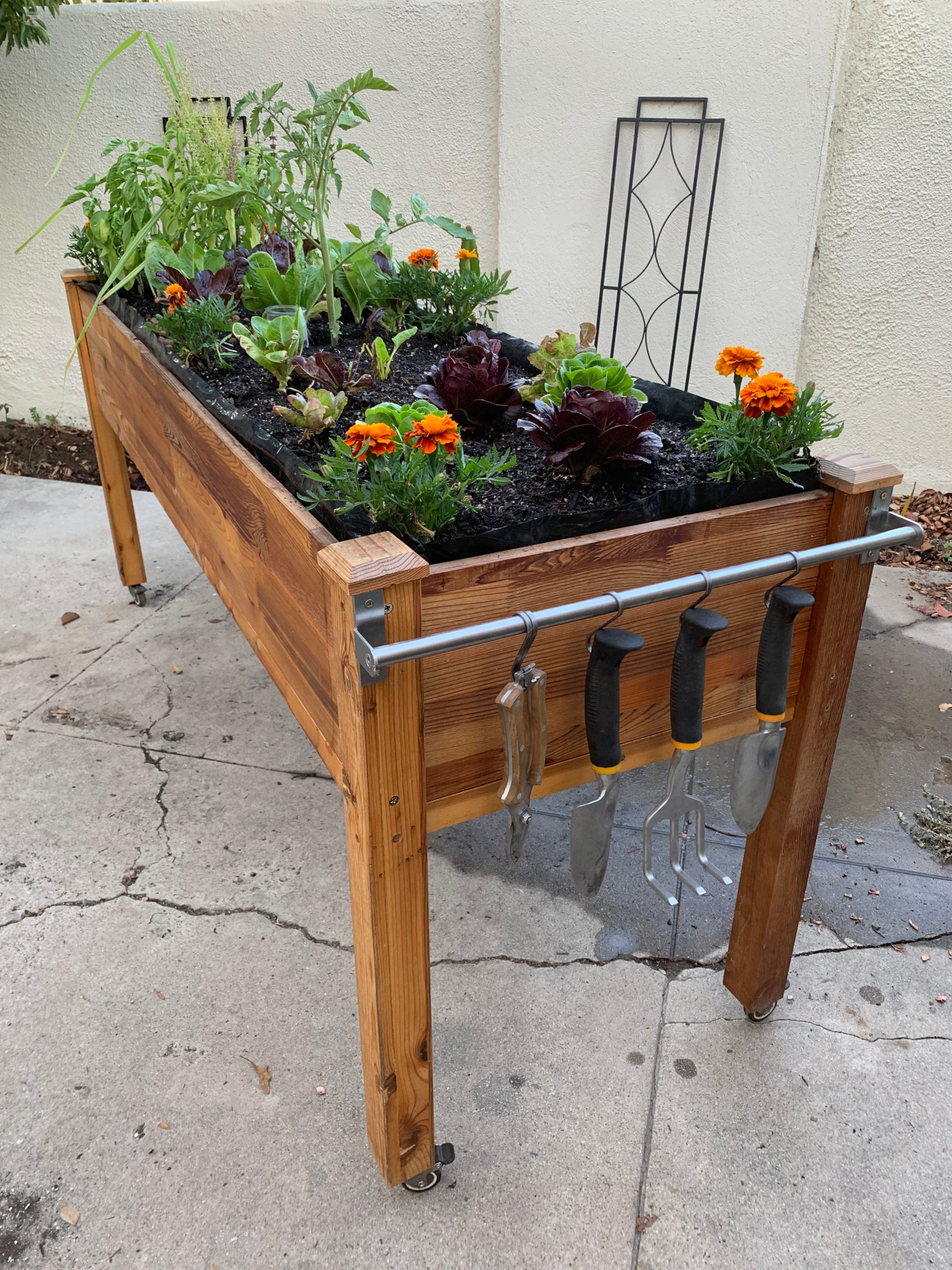 Image Credit: Jumbl Raised Canadian
The garden bed's legs are milled from a single cedar post eliminating the joints between the legs and the bottom of the bed, making the unit solid and sturdy. One of its unique features is its dowel assembly that holds the top post caps on, and since there isn't a need to insert screws, there is less risk of the screws discoloring or corroding.
Pros
High-quality natural wood
Sturdy enough to be placed on paved patios, garden pathways
Dowel assembly to hold the top post caps on
Large enough to grow small flowers and vegetables
Cons
Some slats were too long, and they had to be cut to fit
5. Best Choice Products Outdoor Metal Raised Garden Bed
Best Choice Metal Raised Garden Beds are among the best-raised garden beds made with alloy steel, and you will need a screwdriver to assemble them. It has a compact size that will grow many plants, and it's rust-resistant, meaning it will give you years of service. If you want to start your vegetable garden, this raised garden bed is a great place to start.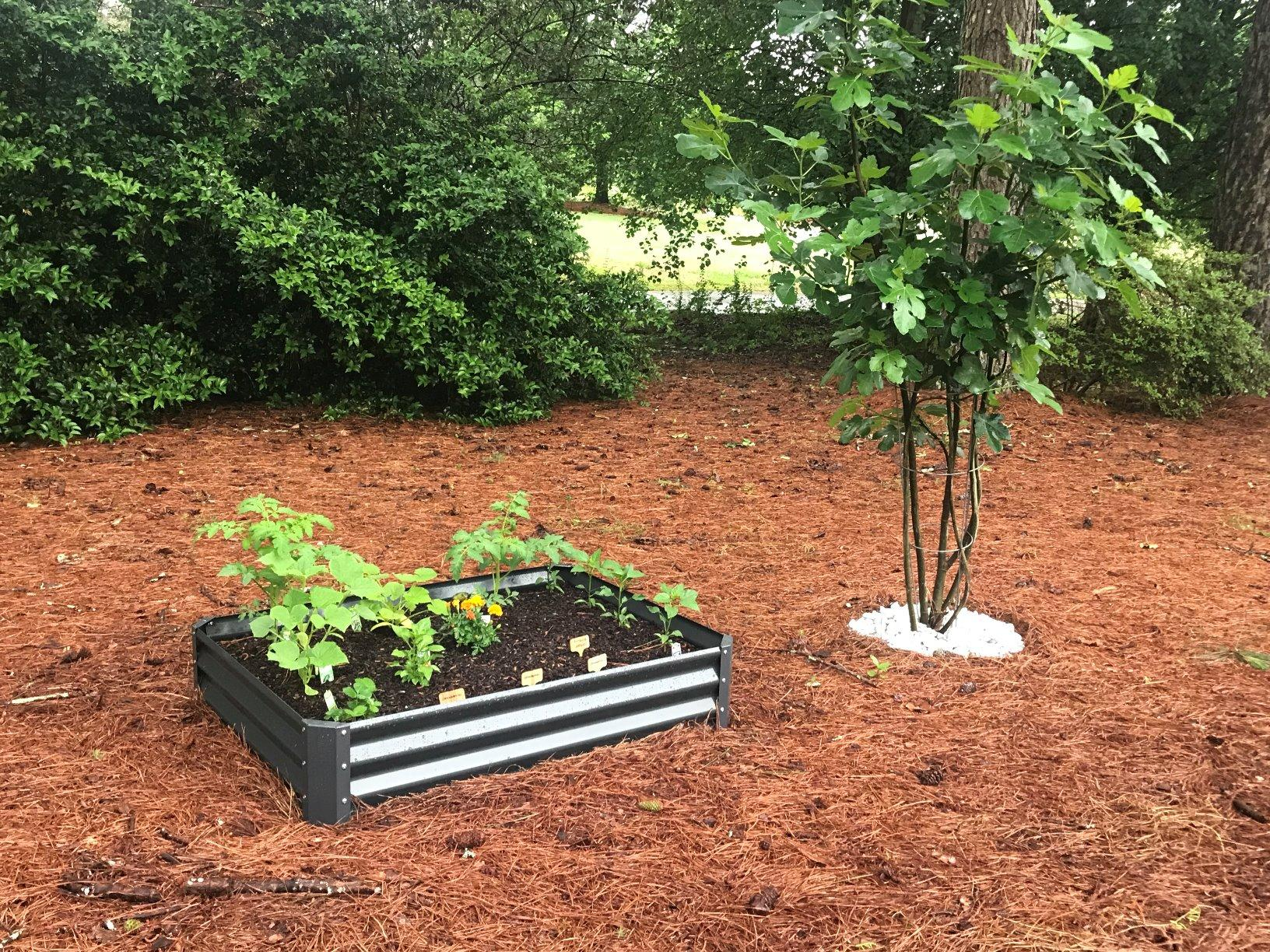 Image Credit: Best Choice Products
Thanks to its open bottom, the raised garden bed is placed on a level surface, and it could be lined with a landscape fabric if you are placing it on a hard surface. Place the raised garden bed on your ground and fill it with the best soil when ready to plant your new garden bed.
However, it's not good to put pressure on the bed's sides to ensure it doesn't bend and offers great value. Lastly, it's the perfect size for children and beginners starting gardening.
Pros
It is the perfect size for beginners
Long-lasting
Easy to assemble
Suitable for beginners and children
Cons
What are the Types of Raised Garden Beds?
Before you shop for your raised garden bed, you need to decide the best type for your space. While some designs of raised garden beds can overlap, there are four main types. They include:
1. Raised Ground Bed
A raised garden bed is a simple version of the raised bed with flat-topped mounds about 6 to 8 inches high, and it needs no additional materials apart from the soil. They are the simplest above-ground gardening option since they need less to start, and they are sometimes called built-in raised beds.
Raised ground beds are ideal for gardeners with large areas to plant but avoid the additional expense of building the support frames.
2. Containerized Raised Bed
When people hear of raised garden beds, they mostly think of them as essentially large pots or planters. Containerized raised beds to have taller sides that are 10 inches or more, and they can be placed anywhere, including on the decks, walkways, and lawns. They take more soil to fill raised garden beds, but they are super versatile, making them ideal for people with accessibility issues and high traffic areas.
However, you should ensure that where you put the raised bed can accommodate its weight and also the moisture it might give off.
3. Supported Raised Bed
Supported raised beds have a frame or an edge that surrounds the bed keeping the soil, and it's made of plastic, wood, stone or metal. These supported raised beds are ideal for uneven or sloped yards, and they give your garden bed an attractive yet finished appearance.
4. Elevated Raised Bed
Elevated raised garden beds are similar to the containerized raised beds, but they sit higher, supported on legs that bring the growing area to a comfortable standing height. These beds are super handy for people struggling with mobility issues.
Factors to Consider Before Purchasing the Best Raised Garden Kits
It can be challenging to decide on the best-raised garden bed with countless options on the market. However, comparing some features will help you decide by allowing you to wade through the options easier.
1. Material
Materials chosen depend on personal preference. For vegetable garden beds, it's advisable to avoid using pressure-treated lumber since it can leach heavy metals into the soil. Instead, several materials are used to create the best-raised garden beds, including metal, wood or plastic.
a). Wood
Planters made from wood have a natural feel and look that is harmonious with nature, but their garden beds are prone to weathering and rotting over time, meaning the type of wood you choose will matter. Cedar wood is naturally rot and insect-resistant, which gives you about 10-15 years of use even though it's expensive. Another popular alternative to cedar wood is fir wood, and it will still function and look well for about five or seven years of usage.
b). Metal
Metal garden beds come in a polished yet modern appearance, but you will need to choose the galvanized steel one or one labeled as rust-resistant to ensure your raised garden bed kit remains pristine for a long time. The metal garden beds are risky as they can trap heat, benefiting mild climates. However, if you live in an area on the hot side, you will need to consider the placement and watering needs for raised bed gardening.
c). Plastic
Weather-resistant and durable plastic raised bed gardens usually look new throughout their lifetime, which will last longer than wood. Apart from the ecological footprint, plastic containers have a disadvantage, and they are more pliable as they bend and do not break under the soil's weight.
d). Fabric
The best-raised garden beds are made from high quality yet porous fabric since they are the most breathable of the kits and support your plant's oxygen supply while aerating the soil. Although fabric is among the most affordable options, they are not as aesthetically pleasing as other best-raised garden beds.
2. Ease of Assembly
Assembly is where the best-raised garden beds outshine the DIY raised garden beds. Building a raised garden bed will need shopping for materials and cutting them into the right size. However, the best-raised garden beds will come with everything needed to put them together, and some can be ready for use within a few minutes. Depending on how much work you desire to do, there's a raised garden bed kit to match every skill level.
Some of the best-raised garden beds will need no special tools to assemble, and they need to slide and click together. On the other hand, others need a screwdriver or a cordless drill. As a result, some installations will take less than 15 minutes to complete, while others can take up to an hour.
3. Size
For the size of a raised garden bed, you should consider how much space you are working with and the space constraints. Length is limited by the yard's size and the building materials, while the width is determined by how far the user can reach.
Gardeners should be able to reach the bed's center from either side of the frame without needing to step into the raised garden bed, which could compress your potting soil. For most gardeners, the most suitable width is about 4 feet.
Most of the best-raised garden beds are between 6 and 12 inches tall, but the height can go as high as 36 inches. Notable, the raised garden beds with taller sides since will need more soil, but they will be easy on the user's back, and there will be no need to bend far to reach the plants.
4. Drainage Holes and Liners
While researching for the best-raised garden beds, many options are built with drainage holes or come with liners. Some gardeners don't advise using liners unless there is a reason, and this can range from tree roots and soil contamination to aggressive weeds on the surface you are planning to house your raised garden bed on top. All in all, liners are also beneficial, especially if you put the raised garden bed on a stone, wood or concrete surface, which will help protect the space from staining.
Like indoor pots, outdoor planters like containerized raised beds will need drainage holes to allow extra water to drain from the bottom. This ensures that water will not gather at the planter's base, meaning the plant roots might rot or bacteria and fungus to build up. The lack of drain holes will put the plants at risk of staying wet for long periods, and too much water is as harmful to plants as little water.
5. Special Features
Raised garden beds include myriad features. Some bed features are wheels for easy portability, while others have built-in trellises, storage shelves, irrigation systems, legs that elevate the bed, and removable greenhouse covers.
Another unique garden bed feature is stackability, where some raised garden beds can be stacked to offer a different configuration or more depth. So no matter the growing environment, there is a raised garden bed that will work for any situation.
Image Credit: frameitall.com