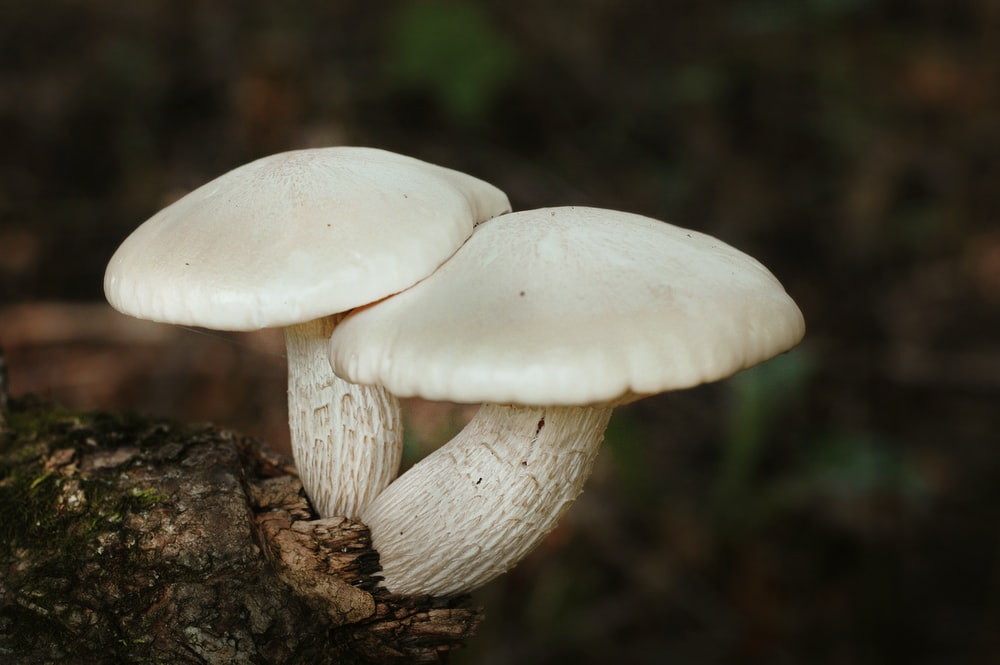 If you love taking mushrooms and have always wished to grow them in your living or backyard, there are several edible mushrooms that you can grow. With the best mushroom growing kit, you can cultivate smaller quantities in a controlled setting and select your favorites as you go.
Are Mushroom Growing Kits Worth It?
Yes, mushroom growing kits are worthwhile if you pick kits that continue to develop long after the flushes have stopped indoors. Some kits may grow into a mushroom patch in your garden, providing mushrooms all year.
Growing gourmet mushrooms like Morel is worthwhile if you do it properly. Depending on the season and quality, these mushrooms may fetch anywhere from $30 to more than $100 per pound.
1. Back to the Roots Organic Mushroom Growing Kit
Growing your mushrooms is simple and enjoyable. It's even better if you can customize your kit's color and size. This Back to the Roots Organic Mushroom Growing Kit has a delicate but strong flavor. Unfortunately, this package requires an additional step of overnight soaking.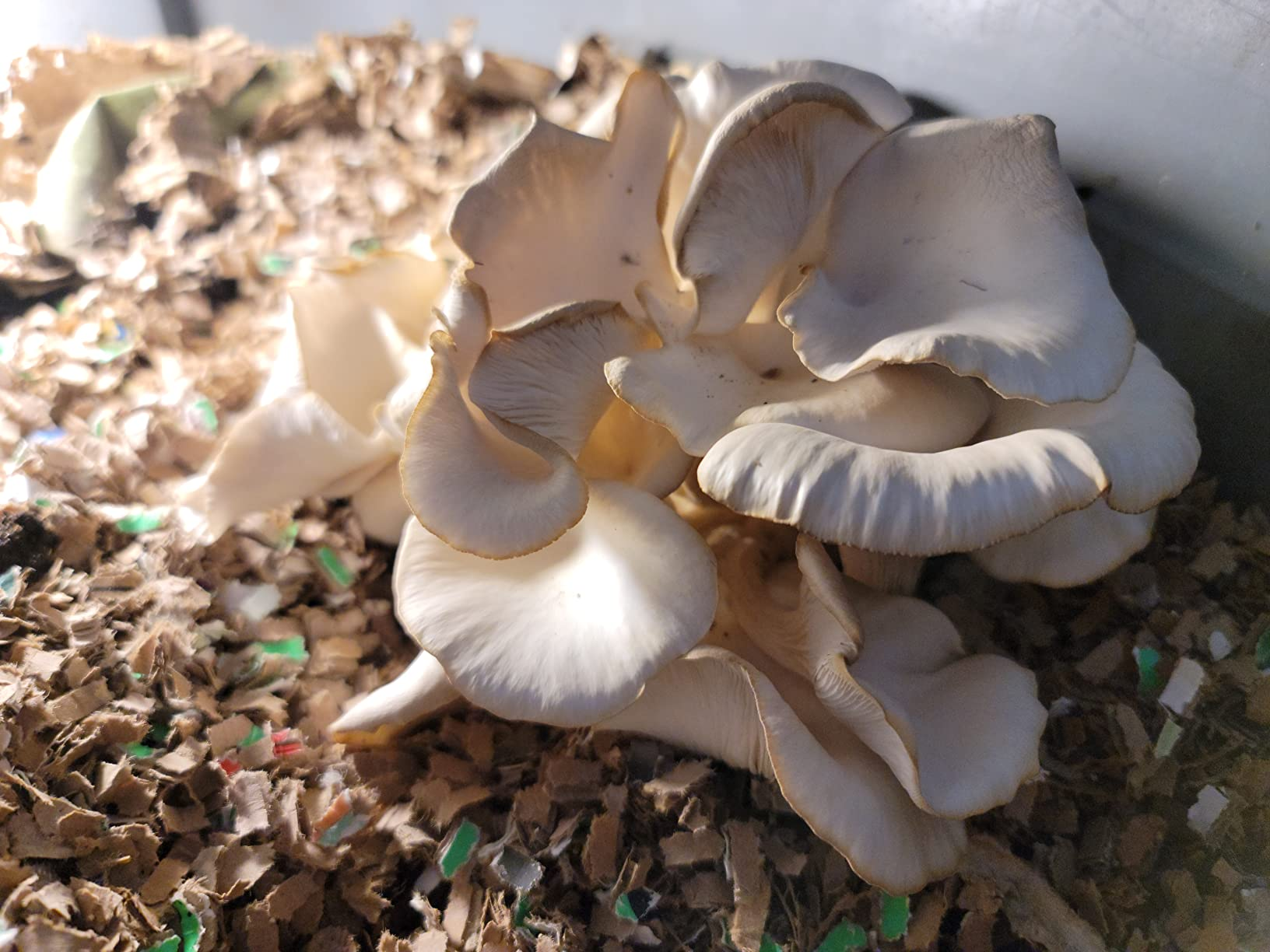 Images Source: Back to the Roots
So, how exactly do you cultivate this best mushroom growing kit for beginners? This best edible mushroom growing kit comes with everything you need right out of the box—including a spray bottle! Soak the mushroom bag overnight on the first day. Mist the growing mushroom kit at least twice a day from days 2 to 6.
After seven to ten days, you should have enough tasty mushrooms to serve a family of four. Then, repeat the technique on the opposite side to obtain a second flush of fresh mushrooms.
2. Michigan Mushroom Fully Colonized Lion's Mane Mushroom Kit
Numerous gardening tasks result in a visually appealing layout. Growing mushrooms is, unfortunately, not one of them. As a result, this configuration has the most shoddy packing on our list. However, as the saying goes, don't judge a book by its cover.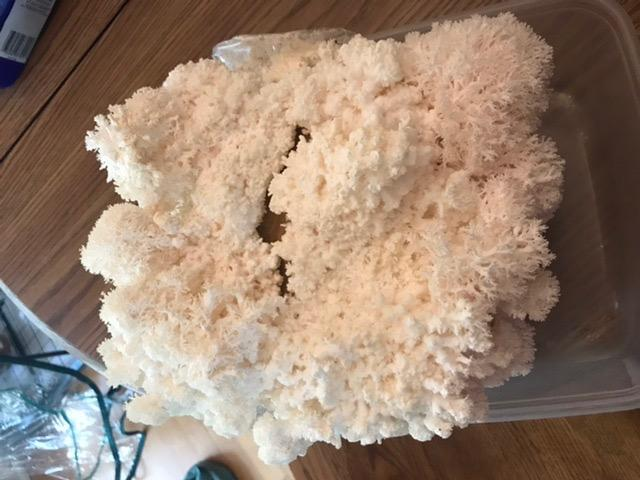 Image Source: Michigan Mushroom
The plastic bag approach is effective enough to yield four pounds of Lion's Mane mushrooms in two months. However, it requires more attention and patience than other types and setups. The secret is to mist your lion's mane growing kit twice a day.
Another useful trick is to press out excess air before beginning a new flush. Your clusters should grow outside the inoculation bag, where there is ventilation. If you do everything correctly, you can grow mushrooms at home up to four times.
3. Root Mushroom Farm- Shiitake Mushroom Growing Kit
Root Mushroom Farm makes growing a shiitake mushroom on logs simple. Their shiitake mushroom growing kit contains a large inoculated log and a mushroom box that also functions as a humidity grow tent. The straightforward setup allows you to grow mushrooms inside in the most natural way imaginable.
However, its all-natural structure attracts a typical shiitake mushroom – green mold. These uninvited guests can quickly outnumber your shiitake mushrooms, causing them to die. The kit includes a step-by-step instruction manual and some ideas for getting the most out of a single log.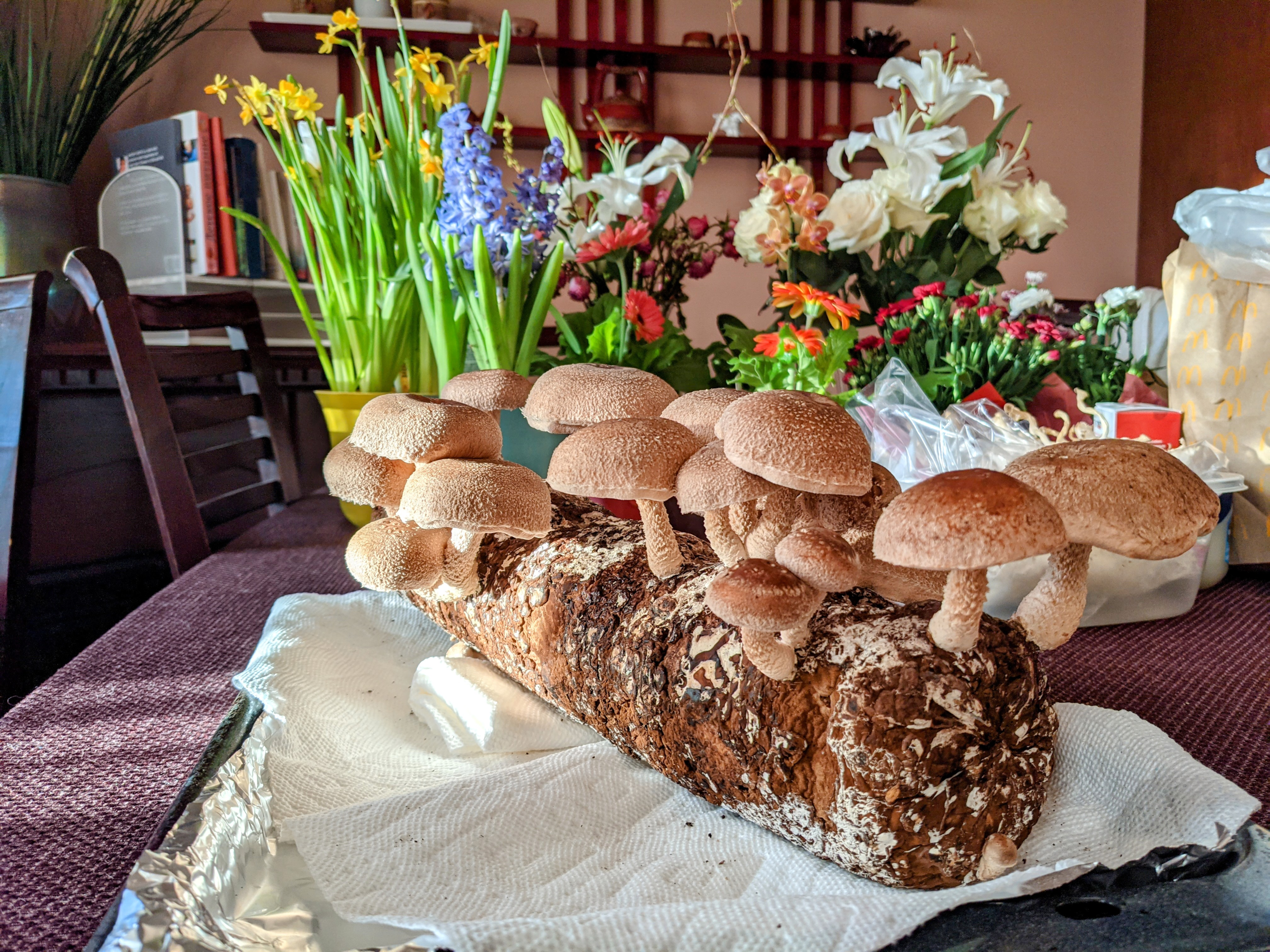 Image Source: Root Mushroom Farm
In reality, you get less yield for your time and effort than a simple shopping run. However, the flavor of homegrown shiitake mushrooms is by far superior. Rather than quantity, you pay for the experience of producing your mushrooms and getting the freshest taste.
4. Forest Origins Pink Oyster Mushroom Grow Kit
Pink Oyster is a beautiful mushroom that is very delicious. This mushroom, which grows swiftly in clusters, begins in a brilliant coral pink hue and fades as it matures. After around seven days, the mushroom caps will curl as they grow.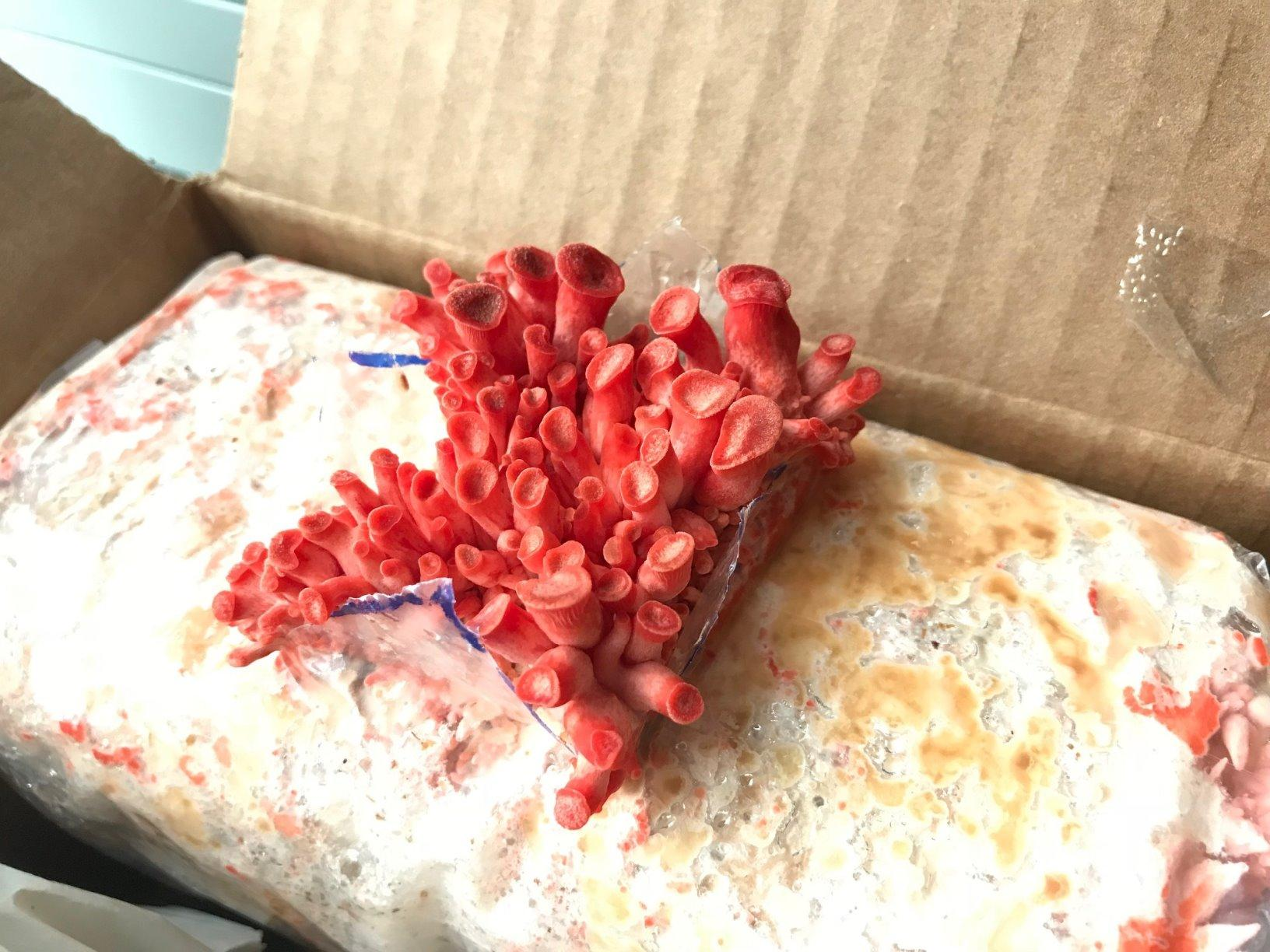 Image Source: Forest Origins
This Forest Origins Kit Pink Oyster Mushrooms, which comes on a "log," requires frequent watering, especially as the development accelerates. Once they're ready to harvest, expect a great mushroom that tastes a little like seafood.
5. North Spore Lion's Mane Mushroom Spray & Grow Kit
We highly recommend these mushroom growing kits if you're tired of the same old earthy edible mushrooms. Unfortunately, this kind is difficult to locate in the grocery. However, this grow-your-own-mushrooms-at-home kit is simple to assemble.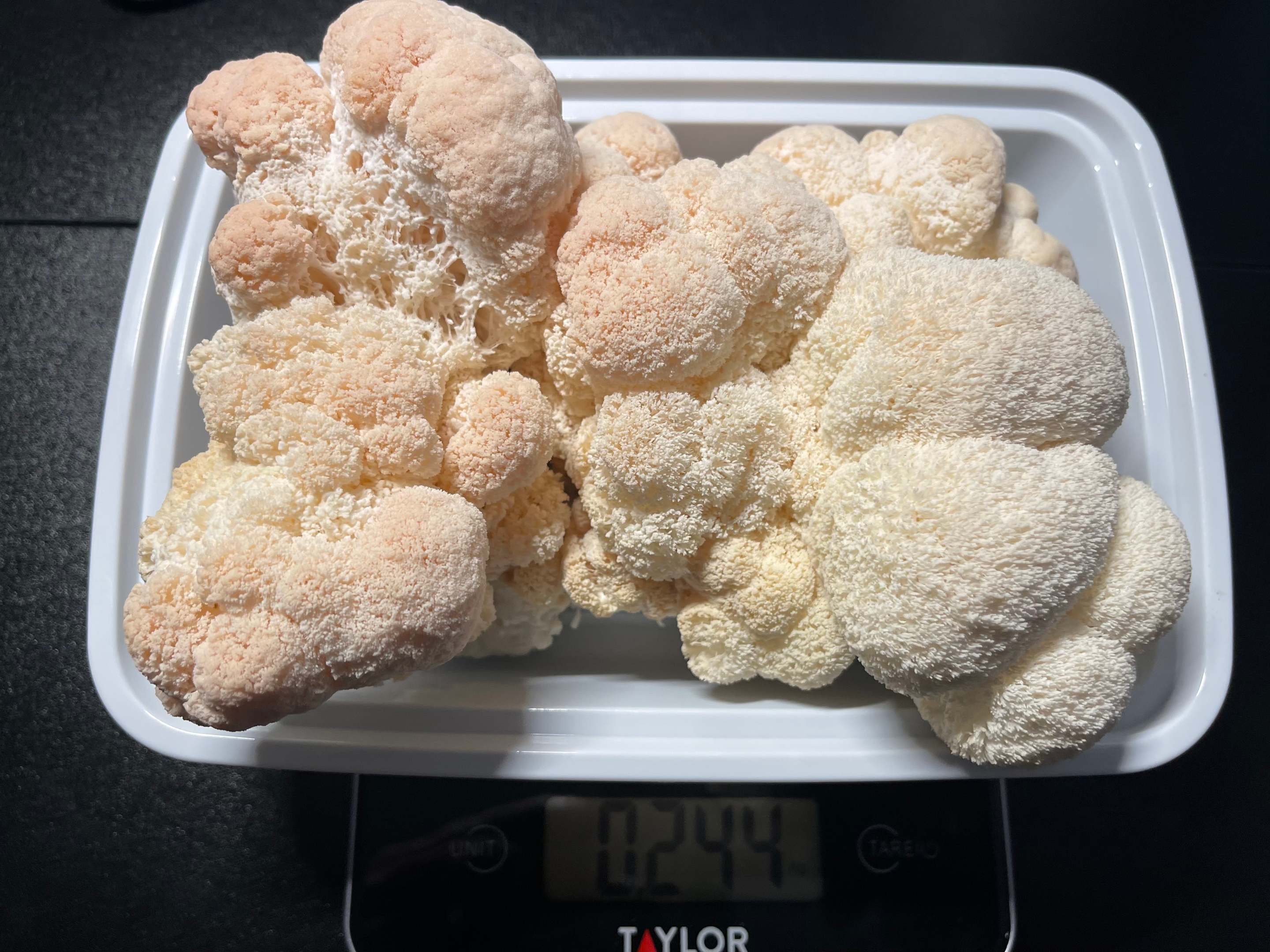 Image Source: North Spore
Simply open the box flap, use a sharp knife to cut through the plastic, then spray the mycelium block. Other types available at North Spore include pink oyster mushrooms, blue oyster mushrooms, and golden oyster mushrooms.
Since the mushroom grows in large clusters, it takes many weeks to notice any results. However, your patience will be rewarded with several harvests. Unfortunately, it falls short of being the perfect kit because you have to remind yourself to take care of the mushrooms as they grow.
6. Root Mushroom Farm—Golden Oyster Mushroom
Root Mushroom Farm's all-in-one kits, particularly their golden oyster mushroom, are outstanding. Unlike the ever-popular shiitake mushrooms, no soaking is required. Instead, you place the log in the humidity tent and spray it daily. You also don't have to keep it in the dark spot because of this mushroom-like indirect grow light.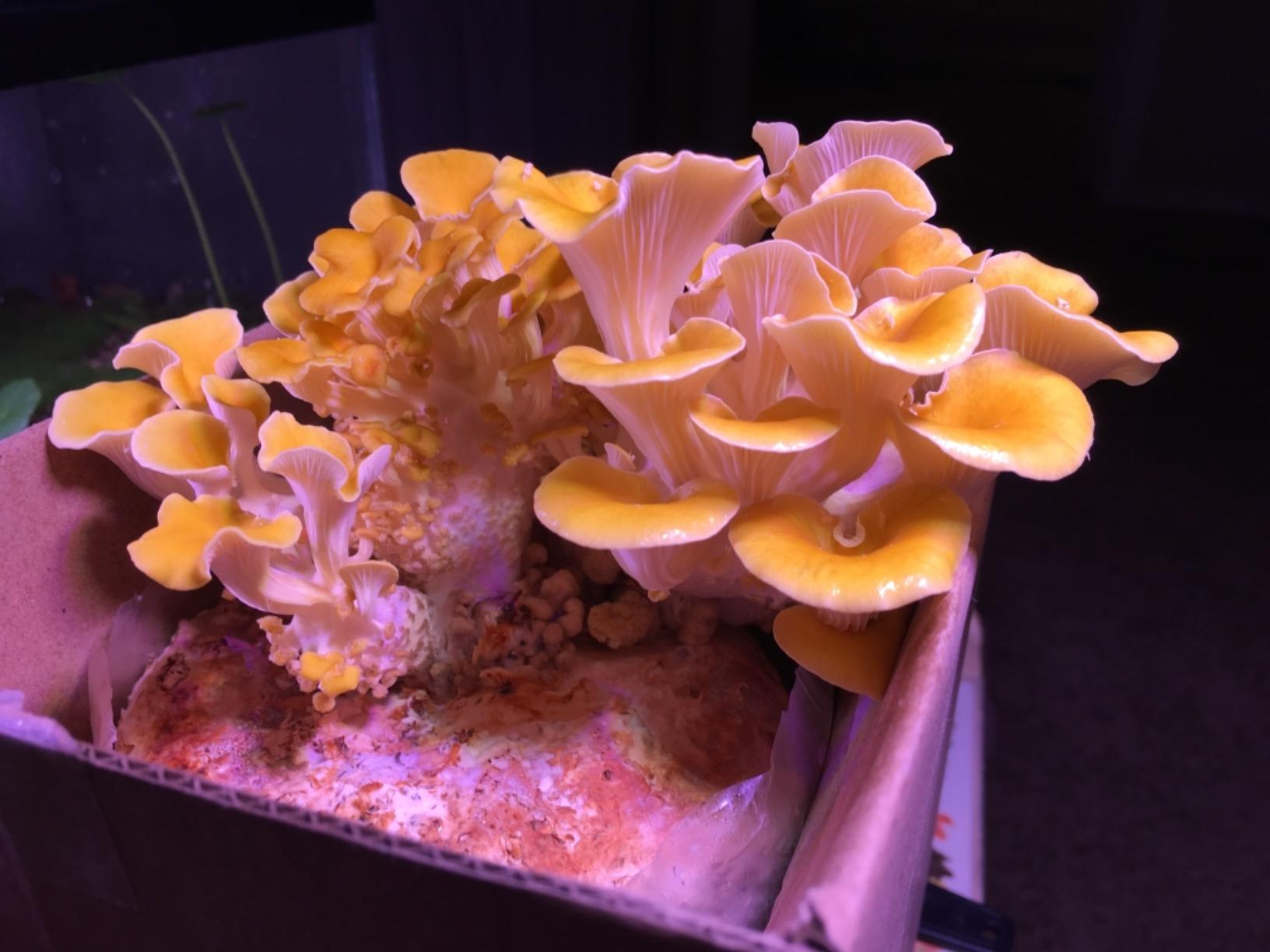 Image Source: Root Mushroom Farm
This kit is an excellent gift with how low-maintenance and attractive it is. You can also obtain a lot of tasty mushrooms from this log. However, the major problem with this mushroom growing kit is the enormous harvest that your log can't handle.
7. Forest Origins Specialty Trio Mushroom Grow Kit
This oyster mushroom trifecta is the way to go if you want to grow indoors. You receive three different species of oyster mushrooms, each with its distinct flavor and texture.
The growth of all three simultaneously is simply because they have the same growing requirements and time. However, don't crowd them together, or you'll have more spores drifting around.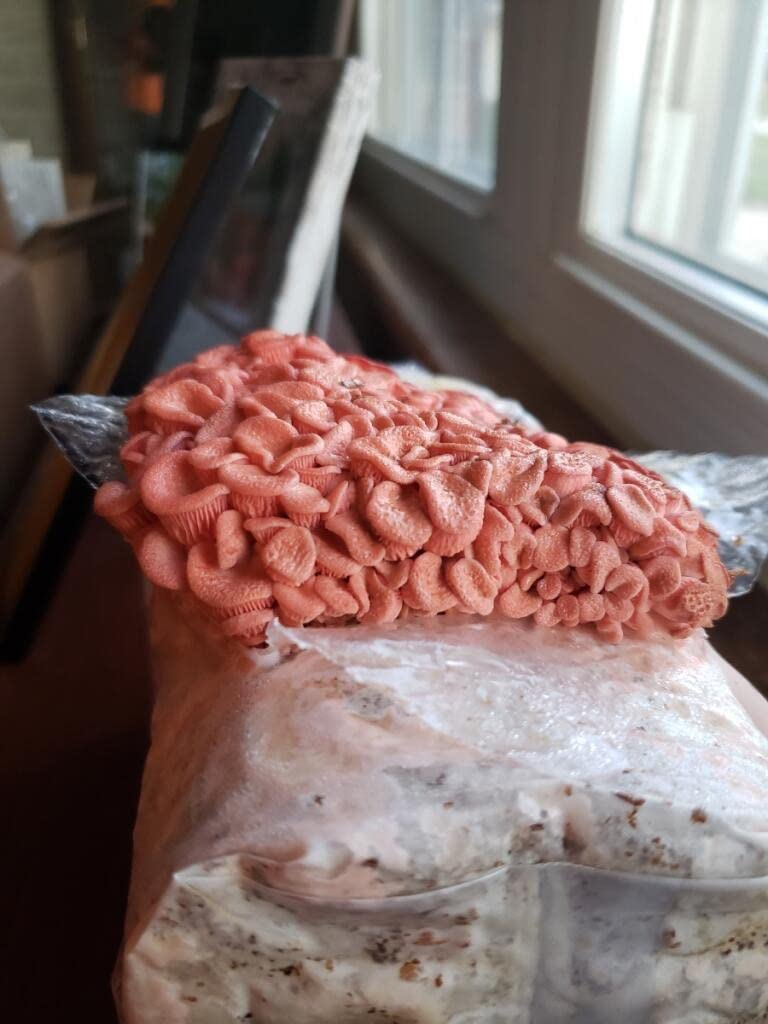 Image Source: Forest Origins
This is one of the best mushroom growing kits for mushroom enthusiasts. It's a fun and tasty way to learn about the various species of oyster mushrooms. It develops quickly and at large, but it also drains your bank account.
8. Dave Mushroom Oyster Mushroom Growing Kit
The Dave Mushroom Oyster Mushroom Growing Kit will give you a large oyster mushroom harvest in less than a week. It also includes up to three more flushes over a few weeks. It is a budget mushroom growing kit, but you must make some sacrifices for any budget purchase.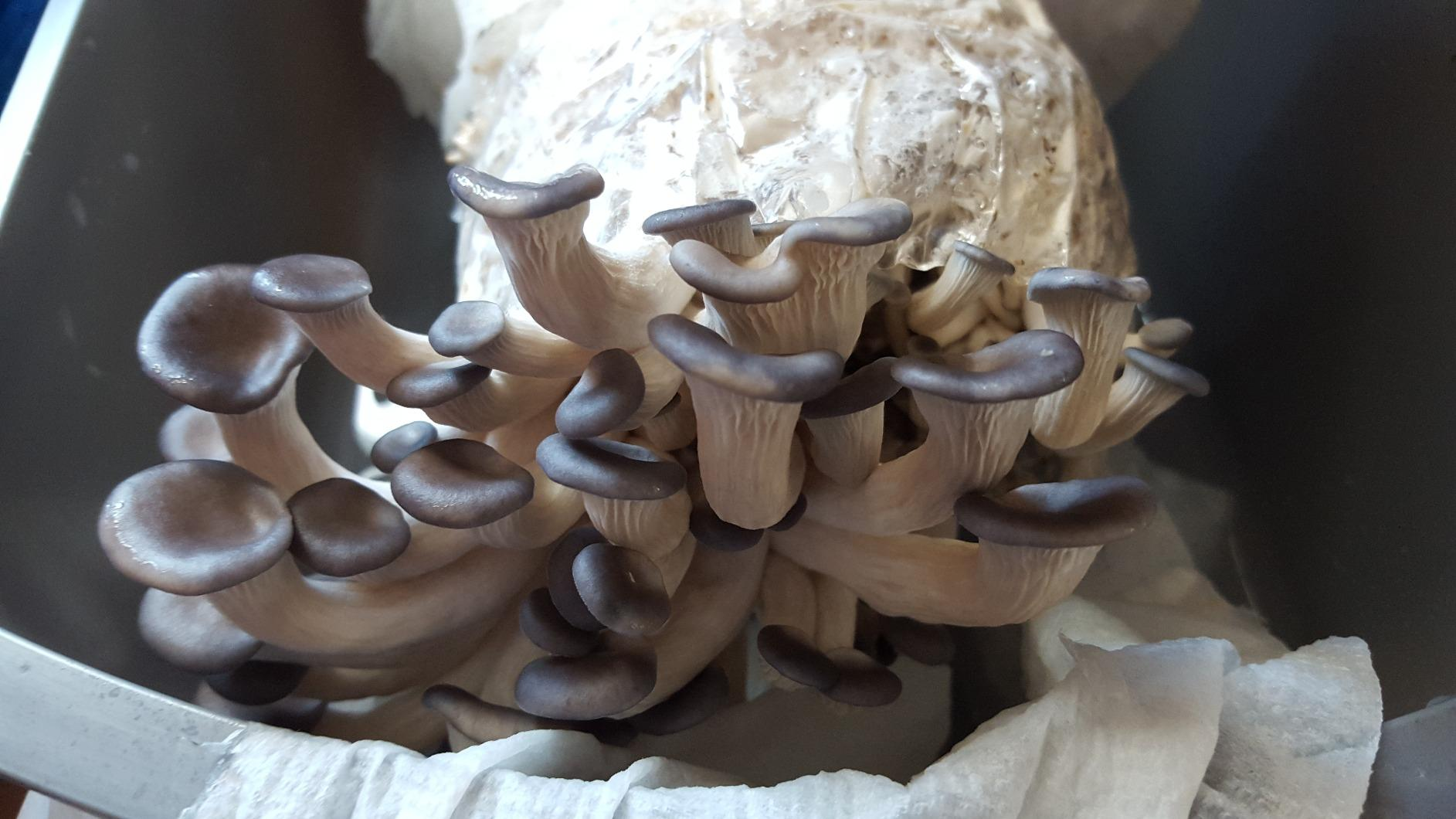 Image Source: Dave Mushroom
All you receive is a growing log, a spray bottle, and illegible instructions. We understand that there isn't much to go on. Your major concern will be assembling the mushroom growing kit. Remember to dip a paper towel corner into the water. It helps to keep the paper towel tent from drying out.
Also, ensure you place the setup of your grow mushrooms in a shaded section of your room, and everything will work pretty well from there.
Types of Mushrooms
1. Enoki
With their small caps and long, slim stems, enoki mushrooms (Flammulina velutipes) are great in soups and salads – and they're simple to produce at home.
2. Lion's Mane Mushrooms
Another lovely species with a fun, unusual look used in Chinese medicine for generations is today beloved as a delectable seafood-flavored complement to meals. Lion's mane (Hericium Erinaceus) is a fascinating edible fungus that you can cultivate at home, with clusters as large as a baseball.
3. Morel Mushrooms
Morels are not only visually appealing, with their cone-shaped pine look suggestive of a fairy house or other enchanted destination, but they also make a delightful complement to a variety of cuisines.
They are delicate when plucked fresh and can be cooked whole, stem, etc. Their flavor has a nutty and earthy flavor with a meaty texture. Don't forget that dehydrating mushrooms is an excellent choice if you want a big harvest!
4. Blue Oyster Mushrooms
Oyster mushrooms are popular in Asian cuisine and come in a wide range of colors, with some variation in flavor and texture. Black oysters have a strong flavor, especially when compared to white oysters, and the flavor and color may be enhanced even more if they are exposed to some sunlight while they grow.
5. Gray Oyster Mushrooms
Another common type is the gray oyster (Pleurotus oystreatus). Fresh air and adequate humidity are necessary for healthy development, and growing in arid areas is not suggested.
6. Pearl Oyster Mushrooms
This lovely and lush mushroom has a velvety texture and a mild taste. If you prefer pearl oysters, you're in luck! Pearl oyster mushrooms are named by their thin and flattened crowns, which resemble mollusks. They have a mild flavor and a velvety texture.
7. Pink Oyster Mushroom
Pink oyster (Pleurotus djamor) is another fascinating alternative for an exotic look with a wonderful tint.
8. White Oyster Mushrooms
White oyster mushrooms have a light hue and a mild flavor, generating a huge output. The white button mushroom is the most frequent. You probably got them from the shop to utilize in various recipes. White button mushrooms are delicious in soups, stir-fries, and anything.
9. Yellow Oyster Mushrooms
Do you like the yellow variety? These bright mushrooms (Pleurotus citrinopileatus) have a bold color that makes a terrific accent or focal point in your indoor garden space – you won't be able to miss it.
10. Reishi Mushrooms
This mushroom type has garnered a lot of recognition in recent years for its medical characteristics connected to immunological health, and it is commonly used as a nutritional supplement.
Though we cannot speak for these claims, this variety has long been utilized in Japanese and Chinese traditional medicine. Its popularity as a tea or powdered supplement continues to this day. The flavor of the red and brown fungus is powerful and unique.
11. Shiitake Mushrooms
If you wish to cultivate this earthy and rich type, 2funguys sells ready-to-grow pre-inoculated 12-inch logs. This variety is ideal for first-time outdoor gardeners due to its strong yields. And if a rest interval is permitted between each fruiting cycle, many harvests are possible.
What Do You Consider When Purchasing the Best Mushroom Growing Kit?
1. Mushroom Variety
First, decide what kind of edible fungus you want to produce. Many species, including shiitake, enoki, lion's mane, and oyster mushrooms in various colors, are easily available in kit form.
If you like mushrooms, you probably have a list of your favorites. However, this is an excellent opportunity to expand and try something new. Mushrooms with long white stems and sparkling gray caps emerge from a white substrate that has been coated with plastic to keep moisture in.
Some individuals enjoy the delicate but intense flavor of hedgehogs or black oysters, while others enjoy the meatiness of morels or shiitake mushrooms.
2. Experience
You should consider your level of mushroom-growing experience. Some kits are one-step: open the packet (you may need to soak it with water first), and development begins instantly. This kit requires no additional materials, equipment, or experience.
On the other hand, if you prefer a more hands-on approach, other kits may need the seeding of a separate substrate that is not included with the kit.
3. Growing Conditions
While some kits are designed to be grown outside, others can be grown indoors as unique edible flowers. While you grow mushrooms indoors, find a generally warm position with indirect sunlight out of reach of youngsters and dogs.
Close-up vertical shot of brown mushrooms with gray stems emerging from a cardboard box filled with growth material and encased in transparent plastic, with a red and burgundy patterned carpet in the background.
Indoor mushroom growing temperatures are normally between 65 and 70°F. Keep in mind that fungi grow slowly or may not spawn in temperatures regularly below 60°F and high grow room temperatures above 75°F. Precise moisture requirements vary by species. The package will indicate the demands of the types you choose.
4. Size
Consider how many mushrooms you'd like to get. Some kits generate a single harvest of mushrooms, while others can produce many flushes.
5. Warranty
Buying from a reputable brand or company gives you some sort of warranty and guarantees that the mushroom kits are of the best quality.
Frequently Asked Questions on the Best Mushroom Growing Kits
1. Do mushroom growing kits go bad?
Yes, mushroom growing kits may go bad. Examine the packing for mycelium viability. On average, mushroom grow kits can live for a few months before dying. Keeping the kits in the fridge enhances their shelf life. However, it is best to start growing mushrooms as soon as you receive the packet.
2. Are mushroom kits safe for use?
Yes, as long as you don't have spore allergies, mushroom kits are safe. If you live in a tiny place, it is also advised that you cultivate mushrooms one at a time. You may start many mushroom growing kits at once. However, do it in a room or place where you don't spend much time.