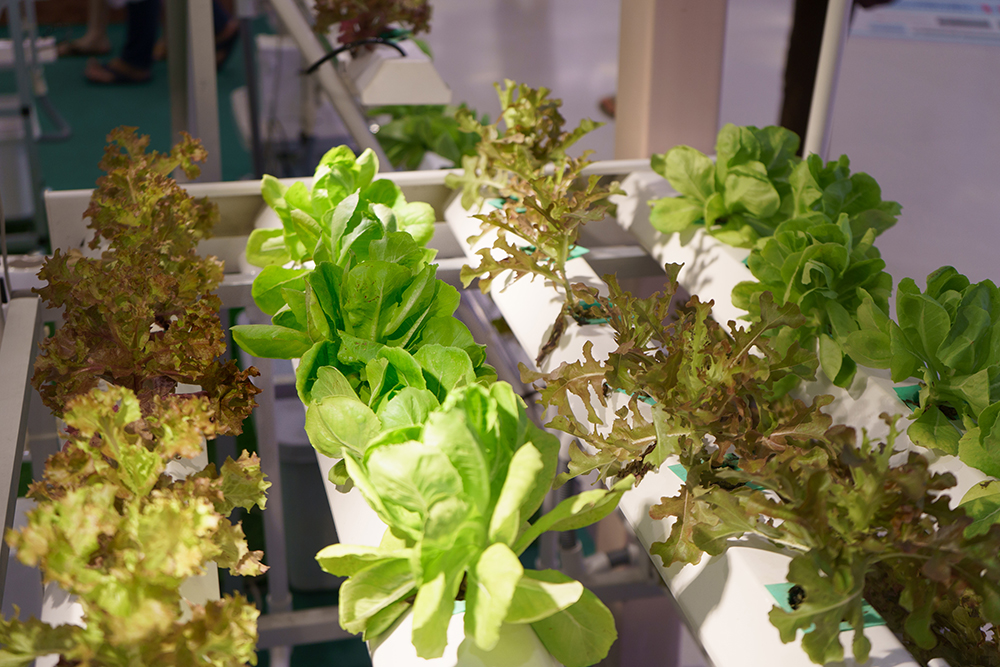 If you are someone who loves gardening or growing their own little stash of herbs, fruits, and vegetables, or even flowering plants then you should consider investing in a reliable indoor grow system, especially if you lack proper space. 
These work for congested places and are suitable for individuals who do not have access to a rooftop, balcony, or backyard, or do not have appropriate sunlight or temperature conditions. 
In this article, we'll talk about indoor grow systems and why they might be the right choice for you.
Let's start:
They'll make your life easier by allowing you to grow plants without any mess.
Indoor grow tents are ideal for beginners who do not have a green thumb but still want to try their luck at gardening and do not want to make a big deal out of it. 
They are a single solution to all your plant growing problems. You will no longer need to be 'guessing' about the perfect conditions for the type of plant you are growing. 
You'll need to set it up once and your plant will grow without you having to worry about anything. The system will itself take care of all the factors including lighting, nutrients, and temperature. 
To start growing your own batch of indoor plants, there are a certain number of things you need to have. These include flowering seeds, fruit seeds, or vegetable seeds, depending on your desired requirement. 
Once you have the seeds with you, it is the time to research different sorts of grow systems and look for the ones that best suit your circumstances. 
A complete indoor grow system must include grow light, grow tent, inline extractor fan, ventilation ducting, carbon filter, duct support tape, fabric grow pots, seed starters, cycle timer, thermo hygrometer, grow room humidifier, grow room dehumidifier, pH meter, UV protection glasses, magnifying glass for inspecting trichomes, gender ID kit, and some basic nutrients. 
Of course, buying all of this can be a little intimidating, especially if you are a beginner at indoor growing. This is why it is best to invest in a basic indoor grow tent, and once you have enough experience dealing with it, you can always upgrade by adding more diverse equipment to your indoor grow tent.
Not all systems come with these tools and you may not require all of these equipment. This is important because indoor grow tool kits can turn out to be very expensive, especially if they contain all the features or equipment discussed above.
The good thing is that there are a variety of products on the market for all kinds of budgets. However, picking the right one can be tricky if you do not know much about indoor garden kits.
To make it somewhat easier for you, we have researched tirelessly to compile a list of the top-rated indoor grow systems. 
If you want an overview for them, you can find it in the table below, and if you want more information about any of them, you can further scroll below and find the specific details about them.
Let's start:
Best Indoor Grow Systems: Comparison Chart
32 inches x 32 inches x 63 inches
Full Spectrum 600W UFO LED Grow Ligh
18 inches x 7 inches x 7 inches
32 inches x 32 inches x 63 inches
LED 300W Full Spectrum Grow Light
11.1 inches x 4.3 inches x 14.8 inches
21 inches width, 13.1 inches depth and 14.4 inches height
Patent Pending Adjustable LED Grow Light
Top 5 Indoor Hydroponics Systems Reviews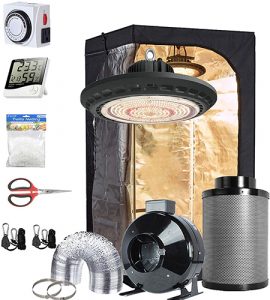 The TopoGrow Indoor Growing System is perfect for all sorts of plants in all seasons, including herbs, fruits, vegetables, and flowers. 
The system supports almost all growth cycles including germination and seedling due to the use of the real full spectrum. You will not have to worry about changing the source of light. 
The indoor grow system package includes a full spectrum UFO LED 600W grow light, a four inches fan filter ventilation kit, a grow tent, and a hydroponics indoor plant accessories kit. 
The lights use 200W of power and will run for about 50,000 hours. This is important because some lights suck up a lot of power and can end up being very costly.
We must also mention the fan, which works silently and efficiently. Its carbon activated filter is pretty impressive. The machine can work in extreme conditions (-20 to 65 Celsius) without any problem.
The grow tent is made up of highly reflective waterproof diamond Mylar and lightproof oxford cloth. The double stitching of the grow tent prevents any light leaks, while the multiple vents ensure fans and filters are correctly placed. 
It has a high-performance self-heating dissipation system, which does wonders to ensure the plants grow well.
Effective odor control by the fan and filter combo

Quite easy to handle at about 48 pounds

Efficient and energy-saving lighting system, which reduces the overall running costs

Perfect for beginners
Lacks some features hence not a complete system
The TopoGrow Indoor Growing System provides the best value for money as an indoor grow system. It is easy to set up and on the affordable side making it one of the best indoor grow systems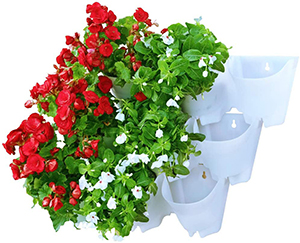 The Worth Garden Self Dripping Vertical Garden Wall Planters helps you make the most out of a small gardening place. This is unlike other grow kits out there because it does not include lights or fans for temperature control. This is why it is not suitable for all kinds of plants and should only be purchased for indoor use to grow plants that do not require sunlight and can grow in your room temperature.
It has three lightweight propane polymer units, where each of the units is further divided into three individual pockets. Hence, you get nine pockets in total. 
Why we chose to include this product here is due to the automatic dripping system that lets you water your plants more efficiently, as you only have to water the top row. 
The excess water moves down subsequent rows and ensures that no plant is overwatered. Also, the planters are easy to mount and dismount as only two screws hold a single unit in place.
According to reports, it is suitable to grow flowers; however, since the size is small you may not be able to grow all kinds of plants here.
Join several units to create a wall

Comes with a 3-year warranty

You can customize to create unique designs
Drip irrigation tubing is not included
The Worth Garden Self Dripping Vertical Garden Wall Planters can be a good pick for someone looking to find an indoor grow system for plants that do not require sunlight. You can buy external fans and lights to make it a complete grow system, but that may add to the cost.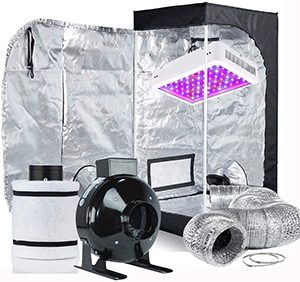 The Supergrower Grow Tent System for Indoor Plants is best suited for individuals who understand indoor gardening and have used a similar system before as it comes with some advanced features. 
The indoor grow system includes a 32-inch x 32-inch x 63-inch indoor grow tent, a 4-inch inline fan carbon filter kit, and a 300W Full Spectrum LED grow light. Additionally, the package also includes two fabric grow pots, of size three-gallon each, one pH tester, and one set of 60mm Bonsai shears, which ensure that you have all the necessary equipment with you.
It uses coal Based activated carbon for better results. The machine can work for up to 16 hours a day without any problem. However, be careful as it uses a lot of power and can turn out to be expensive in the long-run.
On the positive side, it is said to be suitable for all grow cycles.
Full Spectrum light does not generate any heat even if it works for 18 hours a day

Grow tent can also work as a clone tent

Fan Carbon Filter Kit provides increased ventilation and airflow
Only suitable for 1-2 medium-sized plants
The Supergrower Grow Tent System for Indoor Plants is among the best indoor grow systems as it is a single buy for all the equipment you need to start growing your own plants.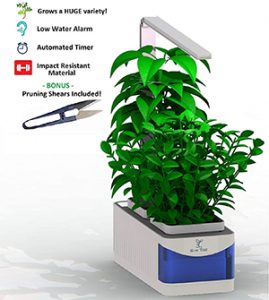 The Blue Tree Ltd Hydroponics Indoor Smart Garden allows you to grow your own culinary herbs all year long without worrying about constant weather changes. 
The features that make this smart garden different from the other options include full spectrum red, blue, and white LED lights, automated water shortage alarm, two growth options in one unit, and the weather independence. Moreover, a pair of pruning shears is also included in the package, which ensures that you are ready to grow your first batch of herbs.
It supports a variety of seeds and works well. One of the best features of this is the 'low water alarm' that'll let you know when it is time to add water. This feature makes management a piece of cake.
You can switch between a hydroponic media with a nutrient-rich solution or a seed starter soil with water

Made up of impact-resistant material

Very easy to maintain
The light timer is not adjustable
The Blue Tree Ltd Hydroponics Indoor Smart Garden is the best indoor grow system due to the variety of features it offers for the price. However, it may not be suitable for all kinds of plants and is best used for herbs and small plants.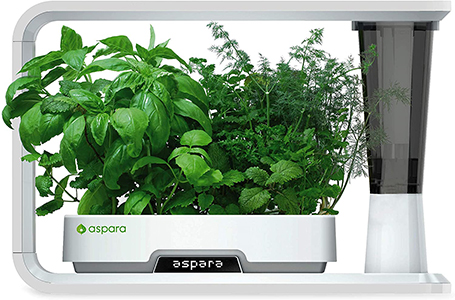 The PerfectPrime Hydroponics Growing System is a high-tech smart grower that can grow up to 16 plants at a time. 
What we liked the most about this beauty is how easy it is to use. This one involves no soil, hence there's no mess. It entirely relies on the ebb and flow technology, which directly provides oxygen to the plants' roots. 
The intelligent patented 60w LED lights ensure plants grow well. It features smart sensors that keep an eye on the plants' growth conditions and can also adjust them if needed. 
They accelerate the growth of the plants, slow it down, or even alter their appearances. You can manually set these conditions by just a single click through the interactive touch panel. Moreover, there's a mobile app for ease of use.
Automated self-watering system makes management easy

Ten smart sensors to monitor the growth conditions of your plants

iOS and Android supported mobile notifications for changes in temperature, nutrients, water, humidity, and light
No seed kit included (has to be bought separately)
The PerfectPrime Hydroponics Growing System is a one of its kind. We consider it the best indoor grow system due to the level of automation it provides by efficiently making use of all the high technology present.
Best Indoor Grow Systems: Conclusion
These were some of the best indoor grow systems. We have covered a variety of systems to help you grow all kinds of plants including weed and herbs.
While these work like a charm, remember that best indoor grow systems are made to support a limited number of plants and may not be able to handle large plants or trees.
Look at your requirements and compare all the options highlighted above so you can easily pick what fits you the best.
Latest posts by John Terry
(see all)