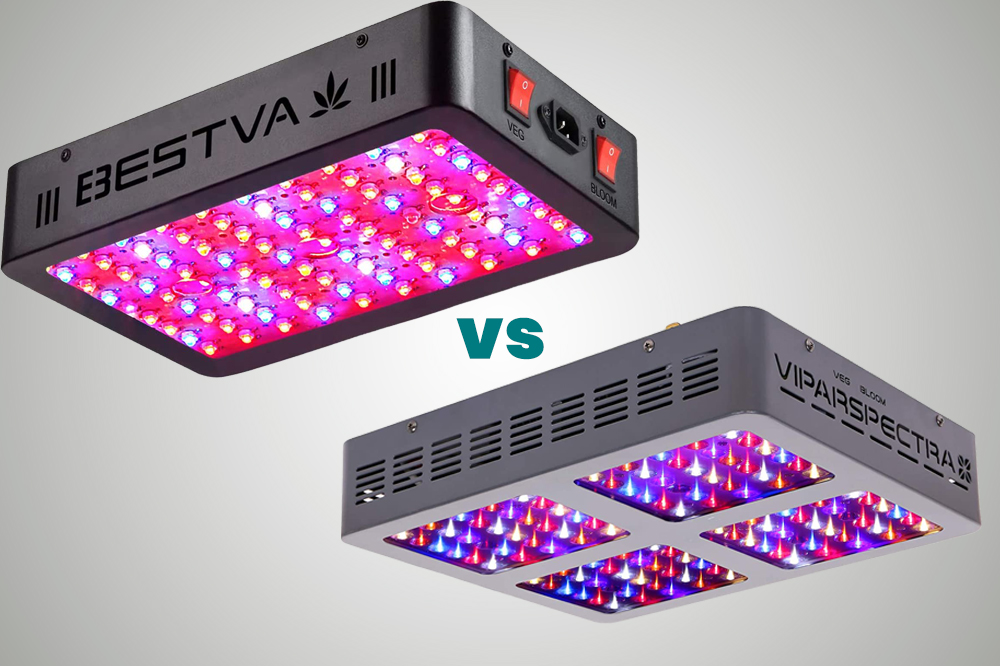 Grow lights are imperative because they are vital components in any modern grow room design. Plants need quality light if you want to get the best yield. With so many models and brands available on the market, choosing the ideal type can prove to be a hassle. Why? It's because the range and availability of products available on the consumer market are extensive.
Fortunately, we have an excellent suggestion for you!
In this Bestva vs. Viparspectra LED grow light review, you will get a different perspective into some of the best-LED lights on the market. We have identified a pair of top-notch lights and identified the key aspects of these lights you need to consider.
There are various positive aspects to like about this light. The most notable would be that it's relatively compact (7Lbs) compared to its counter the Viparspectra (12lbs). While it's compact, the light still produces quality light and can be suitable for your 4 X 2 or 4 X 4 grow tent. The light is also simple to set up, and the heavy-duty finish means that you will have this unit with you for several years. Below is a list of some of its remaining likable features: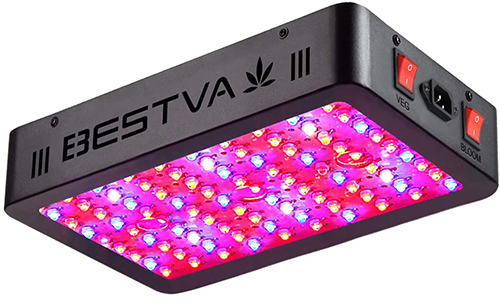 The Bestva light comes with innovative technology, which will provide more light than the conventional 3W and 5W LEDs you may find on the market. It will give the best PAR/LUMEN output per watt ratio you have ever come across on the consumer market.
To deliver high-quality lights, this unit features as many as nine different bands of LEDs. These all combine to make up the true full-spectrum light, which is suitable for various applications. You can use it for plants, vegetables, and to flower indoor growing at multiple stages. The best part is this technology works in the same way as natural sunshine. To be specific, the VEG function works for growing, while the BLOOM function is for seedling or flowering.
LED lights are powerful, and this can sometimes lead to the production of excessive heat. In this case, the BESTVA LED light features a durable construction that will ensure years of reliable performance. To be specific, the light features a 3mm thickness aluminum plate radiator for optimal heat dissipation. You will also be pleased with the unique holes and the glass plate that can produce heat convection. Thus, the LED can run 45-70℉ lower than any other LED.
According to the makers of this unit, it provides the same light quality as a 600-watt HPS, while only consuming 185 watts. Yes, that's right! This unit will provide adequate coverage over an area than the reflector light series. As such, the light is perfect for growing at 24" height, and it can even avoid the daisy chain.
Comes with dual chip 10W LEDs

Equipped with nine different bands of LEDs

Has a powerful cooling system

Offer excellent coverage over small spaces
Dimension: 12.4×8.27×2.32 inches

Replaces a 400-watt HPS/MH

Item Weight: 4.0 pounds

LEDs Angle: 120° 

100pcs Dual-Chip 10W Bridgelux/Epileds LEDs

Avg. Power Draw: 185W

Input Voltage: AC85-265V

Working Temp: -65~102℉

Frequency: 50-60Hz

Lifespan: 120,000 hours
Viparspectra LED Grow Light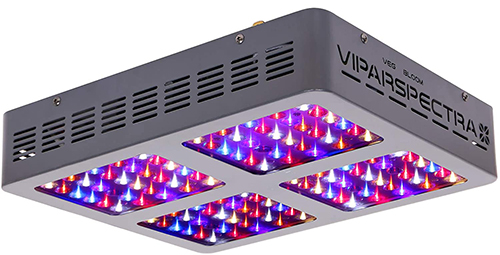 Optimal Spectrum and VEG/BLOOM Switches
The critical component of this grow light is that it's a full-spectrum light, perfect for plants at various stages of life. It does not matter whether it's the flowering, germination or more, this light works well. As such, you are always sure of a better yield and even buds while enjoying high energy efficiency levels. The light also has the VEG and BLOOM switches, which are perfect for the growing phase. To make things better, the upgraded aluminum cooling heat sinks and high-speed fans provide optimal heat dissipation.
Daisy Chain Function and Excellent Coverage
As you would expect with all high end grow lights today, this unit also features a unique function that you won't find on most grow lights. Equipped with a high-performance daisy chain function, you have a powerful light, which lets you connect several other lights. To make this possible, the light is available with a power cable, which works for powering the light, and for the daisy chain connection. Yes! You won`t need any additional cords for this process, and you connect the light to the second light outlet.
The unique reflector design of this unit means that this unit can increase the output by 50%. As such, you are sure of a light that offers an excellent light balance and optimal coverage. You will also be pleased that light reflects more light to the plants, and it's also not overly concentrated in the middle section of your grow area. As such, you are sure your plant won't be prone to such problems as stunted plant growth or sunburning issues.
Excellent Coverage Area and Hanging Height
Designed to be robust and easy to set up, this light offers excellent coverage. It's suitable for use in both 3 x 3 and 2×2 spaces. According to this unit maker, the best coverage area should be at a hanging height of between 28" to 40", with a running time of 18 hours. It's an amount way more than what you would expect when using the conventional LED light. You will also find it easy to adjust the height of the light accordingly, to suit the desired level of your plants for the best results.
Safety is a crucial factor when it comes to investing in LED lights. Thus, you will be pleased to know this light is UL Certified for optimal safety. To be specific, this means that it has passed various UL and rigorous testing procedures for the best results. Also, it's a certification you will find on it that guarantees longevity in use.
Comes with VEG and BLOOM switches for ease of use

The daisy chain function makes it easy to connect many lights

Offers an excellent coverage area and hanging height

Delivers an exceptional PAR output level
Using the daisy chain connection requires caution to ensure safety
Dimensions: 15.3×12.8×3 inches

Item Weight: 11.6 lbs

Replaces a 400W HPS/MH

Vegetative Coverage at 32″ Height: 3×3 ft

Flowering Coverage at 22″ Height: 2.5×2.5 ft

Actual Power Draw: 260W±3% at 120V

Amperage: 2.17A at 120V, 1.18A at 220V

LED Bulbs: (120pcs) High Intensity 5W Epiled/Bridgelux LEDs

Input: AC100-240V, 50-60Hz

Lifespan: ≥100,000 hours
Factors to Consider When Buying Growing Lights
Grow lights are designed to provide the same intensity as that of the sun or deliver a suitable spectrum for a specific type of plant. Plus, it's a mechanism that lets growers mimic various outdoor conditions such as the temperature, spectral outputs, varying color, and intensity. Various come into play when choosing a good grow light, such as the type of plant, stages of cultivation, and the photoperiod time for the plant.
Three Key Aspects of a Good Grow light
There are a few key factors you have to consider when getting a good grow light. Below is a simple guide to help get you started:
The PAR
PAR is an acronym for Photosynthetically Active Radiation. Specifically, it's an effective spectral aspect of plant photosynthesis, and it exists in solar radiation. The wavelength of PAR ranges between 380 ~ 730 nm, which is similar to visible light.
The Coverage Area
This refers to the space or light intensity of your chosen LED. A good LED should provide optimal coverage in your grow room, and ensure you check your chosen light for this feature. Sufficient light means that all the plants in your car can perform photosynthesis.
The Spectrum
Remember to go for a light with a "full-spectrum" rating. Why? It's because such a light provides high-quality light, which is perfect for photosynthesis. To achieve this, most brands incorporate their lights with as many as 10 LEDs or more to form one light.
How Should I Compare LED Grow Lights?
A simple search on grow lights will expose various factors and features you have to consider when investing in the light. You are likely to have come across multiple types of metrics that brands use to market their products. While there are numerous facets you have to consider, it all boils down to one perspective – a good light offers high-quality light for plants. An excellent way to compare grow lights would be to evaluate the metrics of the light. For instance: 
Avoid Over Focusing on LED Grow Lights
Do you have 5W, 10W, or 15W LEDs? It's a common question that many growers ask, especially those who are on the hunt for a good light. However, the wattage of the LED won't provide any useful information because such light's efficiency varies largely. 
Remember that LED wattage refers to a system input, and it would be much better to ask about PAR output. Thus, a lighting system that features a 10W or 15W LED won't necessarily provide lighter than a 5W LED.
Avoid Over Focusing on a Single PPFD Measurement
You can only do this if you are growing a single plant directly under the light. That said, a single PPFD measurement won't be sufficient if you have several plants. Most brands cluster the LEDs tightly and use narrow beam optics to deliver high PAR levels for plants under the fixture. That said, unless you were growing a single plant under this space, it would help if you would also inquire about the PAR levels.
Key Questions to Ask When Buying Grow Lights
How much is instantaneous PAR from the fixture available for the plants under the fixture? (Metric is PPFD)

What is the amount of PAR under the entire light canopy?

How much wattage does the fixture use to produce light for the plants? 
Bestva vs. Viparspectra LED Grow Light Comparison: Final Thoughts
Taking good care of your indoor garden is an important facet of your harvest next season. There are various things you have to do and buy, but it's all to ensure you get the best yield. Once you get the hang of it, you will find it easy and fun, which is why we recommend we have this Bestva vs. Viparspectra LED Grow Light comparison. 
Both of these lights provide excellent functions, with Bestva being a relatively compact and serious contender for the weightier Viparspectra LED. The former light is suitable for small grow tents, while the latter is suitable for large spaces. That said, both lights are serious performers in light production.
Latest posts by John Terry
(see all)