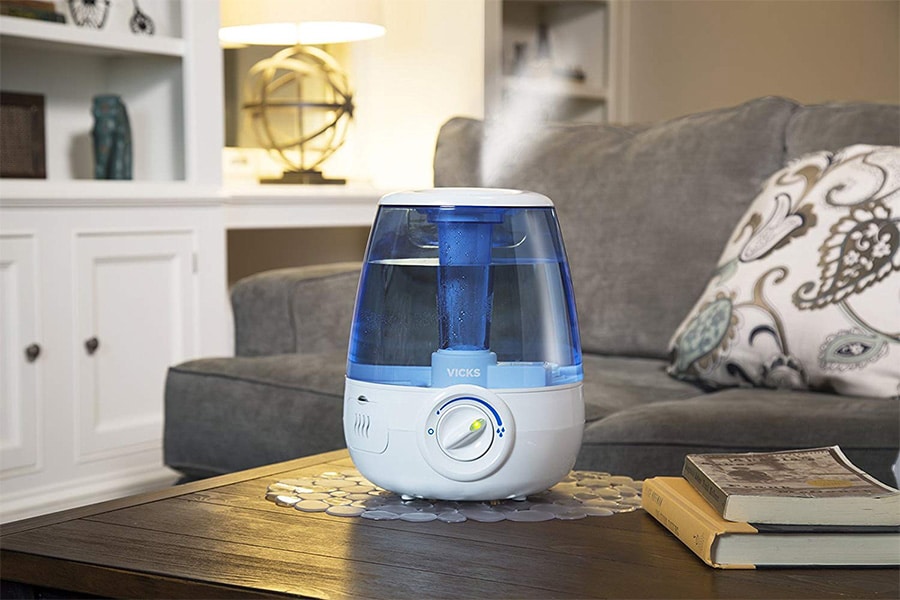 The best ultrasonic humidifier should create a soothing condensation level indoors to help soothe cracked skin, difficulty in breathing, irritated nasal passages, itchiness, and other symptoms brought about by cold or dry air. This happens mostly during the winter months when the humidity levels take a dip, and you slowly begin to feel the effect of drier air around you.
A humidifier can either be an evaporative humidifier or an ultrasonic humidifier. Evaporative humidifiers work by drawing air through the moist filter and then create and release mist back into the air, while ultrasonic humidifiers use a high-frequency vibration to create moisture droplets that are automatically distributed into the air. Ultrasonic humidifiers are quieter, more durable in the long term, and much easier to clean than evaporative humidifiers.
Some ultrasonic humidifiers even come with a 1-gallon reservoir that lasts all day without refill. An ultrasonic humidifier can come as an ultrasonic cool mist humidifier or as a warm mist humidifier. Warm mist humidifiers generate and use steam to moisten the air around, while the heating process eliminates the distribution of bacteria that may grow in the water holding tank. An ultrasonic cool mist humidifier, on the other hand, will quietly release a cooler mist output into the air.
Evaporative humidifiers are less messy and are less likely to over-humidify the place. The downside, however, is that you'll need to replace its wicking filter regularly, and the fact that it features a fan might not be the best idea especially for people who have particularly dusty homes or keep pets.
1. LEVOIT 6-Ltr Warm and Cool Mist Ultrasonic Humidifier
Sale
LEVOIT Humidifiers for Bedroom, Smart Wi-Fi Cool Mist Essential Oils…
A Helpful Gift: Share the Classic 200S with your loved ones to help them…
Perfect for Nurseries: With low noise levels and a certified-safe design,…
Aromatherapy: The Smart Ultrasonic Cool Mist Humidifier doubles as an aroma…
Help With Insomnia: Turn the display lights off, switch the humidifier to a…
For Every Room: With a 1.05 gal / 4 L tank, this humidifier lasts up to 40…
With a spacious water tank and plenty of options, the ultrasonic humidifier LEVOIT is a solid performer for any room to keep you and your family comfortable. This humidifier can put out 500 mL per hour of either cool water vapor or warm mist. You can always adjust its humidity levels using the digital control pad or remote control on the humidifier.
In addition, it has an automatic setting that lets this humidifier monitor the humidity for an optimal humidity level and cycle, without the need for constant monitoring until the water tank is dry. Most mist humidifiers will need you to constantly refill the water tank; however, this warm and cool ultrasonic humidifier features a 1.5-gallon water tank large enough to run about 60 hours at a low mist setting constantly.
The LEVOIT LV600HH is designed to operate very quietly. Additionally, you can disable all the light settings using the control pad, making this mist humidifier suitable to use in the bedroom. It is suitable for adding moisture in rooms that are about 750 square feet. This popular mist humidifier uses an unobtrusive white casing with silver accents that is sleek and blends in while also enhancing the humidity level.
Pros:
It has a sleek design
It features excellent controls
It is easy to use
It is extremely quiet
The settings can be set using a remote control
Cons:
The stream tube cap is not very secure
2. Magictec Cool Mist Humidifier
Cool Mist Humidifier, Magictec 2.5L Bedroom Essential Humidifier Diffuser,…
LARGE CAPACITY, ENJOY OVERNIGHT OF COOLING ATMOSPHERE: Get the most sleep…
360° NOZZLE SPRAY + ADJUSTABLE MIST OUTPUT COOL HUMIDIFIER: Our nozzle…
DISCRETE MIST + POWER SAVING AUTO SHUT-OFF MECHANISM: Nothing is more…
HUMIDIFIES EVERY LIVING SPACE, FRESH AIR QUALITY FOR THE WHOLE FAMILY:…
PREMIUM QUALITY + AWESOME GIFTING IDEA + ZERO RISK PURCHASE: Constructed…
Here is a simple way to adjust the mist in the air around you without necessarily draining your pocket; an affordable humidifier from Magictec. Unlike other cool mist humidifiers, the Magitech cool mist humidifier comes with a 2.5L water tank (0.66 gallons) that runs well up to 24 hours at a medium mist setting. When the tank goes dry, the humidifier has an automatic shut-off.
It operates below 30 decibels and is a great choice for any of the rooms in the house, which include bedrooms, living spaces, or home offices. It has a 360-degree nozzle that allows you to direct the cool mist output at whatever angle that suits your space or needs.
Pros:
It is super affordable
It is lightweight
It is a 360-degree mist for all-around humidification
It has a wide storage tank that stores up a 2.5L capacity
It can run up to 24 hrs of humidifying
It has an adjustable functionality that changes the amount of mist flow by adjusting its dial knob
It is a super quiet mist humidifier at less than 30dB
 It is constructed with durable ABS materials
3. Dyson Pure Humidify+Cool PH01
Dyson Pure Humidify+Cool Air Purifier, Humidifier + Fan – HEPA Air Filter,…
Connected Purifier. Humidifier. Fan. In one.
Dyson technology helps create a cleaner, healthier home – Our vacuums and…
Purifies: Allergens and pollutants can build up in your home. The Dyson…
Humidifies: In Auto Humidify mode, the machine automatically maintains the…
Circulates: Air Multiplier technology mixes and circulates purified,…
The Dyson Pure Humidify + Cool is a high-tech option and one of the most advanced mist humidifiers currently on the market. It is equipped to cool, humidify, and purify the air in any of the rooms. The Dyson Pure Humidify + Cool comes with a water tank that lasts up to 36 hours on a single fill.
The Dyson brand is generally known for producing both quiet and hygienic appliances, and this mist humidifier is definitely splurge-worthy. The humidifier is quiet during normal operation and only gives off a soft white noise when on the high. It has night mode settings and light display settings that work perfectly for your bedroom and won't disturb you or your baby's sleep. 
It has a UV light in its water tank to eliminate 99% of bacteria, activated carbon, and HEPA filters to capture particles that also include bacteria and viruses that are as small as 0.3 microns in size. The Dyson water droplets humidifier features a self-cleaning cycle that sets it apart from other ultrasonic humidifiers. 
This humidifier ultrasonic air multiplier evenly distributes the purified and humidified air through the room. This also reduces the chances of white dust being deposited around the hose, which may occur s with cheaper mist humidifiers. It is recommended for large rooms that are up to 400 square feet in size.
It is also quiet, efficient, and versatile in operation, making this mist humidifier worth every penny of the splurge. 
Pros:
It is multi-functional (it purifies, humidifies, and cools)
It UV light, activated carbon, and HEPA filters to remove bacteria, viruses, and particles
It has a self-clean cycle
It has an efficient water management system
It can last up to 36 hrs on a single fill
It is super quiet
It is suitable for large rooms that are up to 400 Sq. feet in size
It evenly distributes the purified and humidified air eliminating the chances of having white dust
Cons:
It is relatively pricey
It requires a remote or app to run
4. Frida Baby 3-in-1 Humidifier with Diffuser and Nightlight
Sale
Frida Baby Fridababy 3-in-1 Humidifier with Diffuser and Nightlight, White
COOL MIST HUMIDIFIER: Uses the power of ultrasonic vibration to turn water…
DIFFUSER: Add Breath Frida Vapor Drops or any aromatherapy-grade essential…
COLOR CHANGING NIGHTLIGHT: Equipped with a range of nightlight colors for…
AUTO-STOP FEATURE: Designed to automatically turn off when the water runs…
3-IN-1: Use humidifier, diffuser and nightlight all together, or…
A cool mist ultrasonic humidifier is generally considered the best choice for nurseries since they don't have the heating element and can injure the baby due to the steam. However, Frida Baby 3-in-1 ultrasonic humidifiers are great options, especially if you're looking for quiet operation and safe humidifiers for the baby's room and your home.
This particular humidifier model stands out due to its simple design and multi-functional abilities since it operates as a humidifier, optional diffuser, and even as a night light. The ultrasonic condensing technology gives a quiet and steady production of a cool mist. You can use a knob to adjust the amount of mist released. 
It is designed for humidity rooms that are up to 320 square feet with a 0.5-gallon water capacity tank that operates for up to 12 hours straight. You can also choose to add aromatherapy drops to the water or essential oils for a soothing and relaxing sensory experience.
Unlike other larger types of humidifiers, the water tank on this humidifier has a small opening that makes cleaning the humidifier a little more tedious. But overall, the fact that it is both a night light and mist humidifier makes this humidifier a popular pick by many parents.
Pros:
It has a simple design
It has multi-functional abilities (humidifier, diffuser, and night light)
It has an extremely quiet operation
It is a safe option
It comes with a night light
Cons:
It takes longer to clean up due to the small opening
5. Crane Ultrasonic Cool Mist Humidifier
It's not only an adorably fun addition to your kid's nursery, but it's also great at adding cool moisture into the air surrounding air of your baby's nursery to help your baby breathe easier. It comes in 16 cute kid-friendly designs that include unicorn, monkey, and alien themes. In addition, it operates very quietly, so it won't wake up the baby or any light sleepers in the house.
With the one-gallon tank, this ultrasonic cool mist humidifier for babies adds mist to the air in rooms that are up to 500 square feet. It is easy to clean, with a base that can easily be cleaned and an auto-shut-off sensor that detects low water levels. This takes the constant worry and guessing out of the equation.
Pros:
It has variable output settings with an adjustable 360-degree mist lid
It perfectly humidifies rooms that are up to 500 square feet
It runs a whisper-quiet operation making it perfect for light sleepers and babies
is made with clean control anti-microbial material, which reduces mold and bacteria growth by up to 99.96%
It has a 1-gallon tank that fits well under the standard bathroom or kitchen sink and runs up to 24 hours
It has an easy to carry handle at the top
It is filter-free but offers an optional demineralization filter (HS-1932) for households with excess minerals in their water
It is easy to clean since it features a detachable bottom fill tank, water level sensor, and cap
Cons:
It doesn't have the warm ultrasonic humidifier function
Factors to Consider to Get The Best Ultrasonic Humidifier
A) The Size
The size of the humidifier will largely be based on the size of the room you're looking to add moisture to. Basically, there are 3 sizes of humidifiers: portable (tabletop), console, and whole house.
Portable humidifiers are tiny and have small water tanks, meaning you'll need to refill them a lot more often. However, they're also more affordable and can be easily carried.
Console humidifiers are large units that sit on the floor and have large-capacity water tanks that require less frequent filling compared to portable humidifiers. Console humidifiers are a great choice for spaces up to 1,000 square feet.
B) Tank Capacity
Closely related to the humidifier size is the tank capacity. Look for the estimated run time from the manual to see how often you'll refill the tank. 
C) UV Filtration
Moist and humid conditions quickly become a breeding ground for bacteria, mold, and all sorts of pathogens which is why some humidifiers are equipped with UV light. This specialized light filtration system eliminates microbes that might be growing in the humidifier's water tank, preventing them from being released into the air together with the mist.
D) Humidistat
For an optimal humidity level, look for a model with an in-built humidistat, a feature that monitors the room's humidity and shuts off the appliance when the room's air moisture level hits the set target. While it may not be an essential feature, it does take some of the guesswork out of operating your humidifier. This can also prevent excess moisture in the air from fogging up windows or creating a musty odor in the room.
E) Run time
Beyond selecting the type of humidifier that's right for you, there are other attributes to think about. Some can only operate for a few hours before refilling, while others can go a full 24 hours. For ones that require more frequent refilling, an auto-off feature is good to have so that the humidifier won't try to continue running when the water runs out.
Frequently Asked Questions on The Best Ultrasonic Humidifier
1. How does a humidifier work?
Humidifiers are home appliances that are used to add moisture to the air in your home. They work by releasing moisture in the form of mist or steam. They help maintain the set humidity level that prevents it from getting dry.
There are both cool and warm air humidifiers and some that are capable of both. Generally, humidifiers take in the air from the surrounding and add moisture into it using the in-built fan, then help disperse the humid air out into the room.
2. Why should I get a humidifier?
Generally, the best humidifiers are used to soothe the conditions caused or agitated by dry air. These include having itchy skin, nose bleeds, difficulty breathing, chapped lips, respiratory symptoms from having a cold, or even allergies. People who live in dry or cold climates especially find humidifiers helpful remedies to help them breathe, sleep, and overall feel better.
3. How do I clean my humidifier?
Besides draining and drying the humidifier's reservoir before refilling it each time, the water tank should regularly be cleaned to ensure that the harmful bacteria and microbes don't breed and grow. It is recommended that you descale and clean your humidifier using vinegar and sanitize it using bleach or a specially formulated cleaning agent for a humidifier.
Some humidifiers can be safely tossed into the dishwasher, but different humidifiers come with special requirements, so it's best to know and follow the manufacturer's instructions. It is recommended often that you use distilled water, and the models that use a filter will need to get their replacements after every few months or as the manufacturer suggests.
Latest posts by John Terry
(see all)