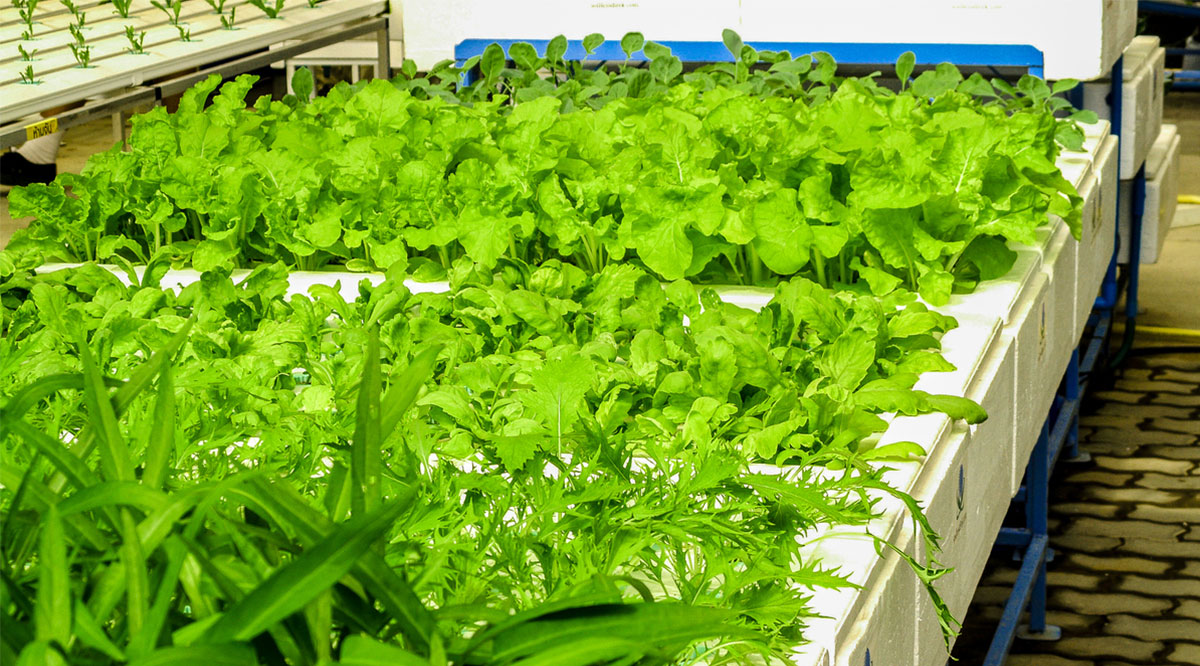 If you are interested in gardening then consider hydroponic kits. Not only are they convenient and revolutionizing, but they are also operational all year round. 
You no longer have to worry about soils and fertilizers, as a nutrient-rich and pH balanced water will replace it. Not only this, but your plants will grow 30% faster and offer a higher yield. 
If this intrigues you, go for the hydroponics kits available on the market. We have picked some of the best hydroponic starter kits to grow everything from cannabis to your favorite fruit.
Let's have a look:
Hydroponics starter kits are more straightforward to use than traditional gardening kits. You no longer have to worry about over-watering or under-watering. 
You can grow seasonal fruits all year round without worrying about insects, weeds, and plant diseases. The entire process of growing your fresh herbs, fruits, and vegetables become simpler and less time-consuming.
For people who know nothing about gardening, and by nothing I mean not even basic knowledge, hydroponics starter kits act as lifesavers. 
There is no limit to what you can grow in your hydroponics starter kit. You can produce anything ranging from greens to vining plants and roots crops, and from fruits and herbs to pretty looking flowers.
This all might seem overwhelming in the start, but we have compiled a list of easy to use hydroponics starter kits, which you can purchase right away to begin your healthy and organic journey.
Best Hydroponics Starter Kits: Comparison Chart
17.25 x 11.25 x 15 inches
Germination within 7-14 days, Ready for harvesting in 4-6 weeks
12 pots, which are expandable to 48 pots
16.6 x 10.6 x 10.3 inches
7.68 x 7.48 x 5.35 inches
18.4 x 17.9 x 14.3 inches
13.75 x 13.75 x 12.5 inches
Roots will appear in 3-5 days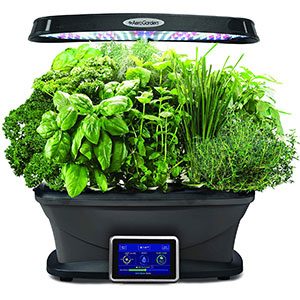 This system by AeroGarden is one of their best. It has six pre-seeded grow pods indoor kit, which means you can grow 6 of your favorite herbs in it at a time. 
It comes with pre-seeded herbs including Genovese basil, curly parsley, dill, thyme, Thai basil, and mint. 
The Black Bounty kit has a 24 inch grow height, 40W LED grow light system and a water bowl that is the largest ever for a countertop garden. 
The water bowl contains specially formulated liquid plant food for optimal germination.
Non-GMO, no herbicides, no pesticides.

100% germination guarantee, with a free replacement in case of non-germination

Soil free, mess free, indoor growing all year round
Loses settings every time the power goes out
The AeroGarden, Black Bounty, garden kit is among the best hydroponics starter kits. It works well, you only need to drop the pods into your AeroGarden, add plant food, and watch them grow!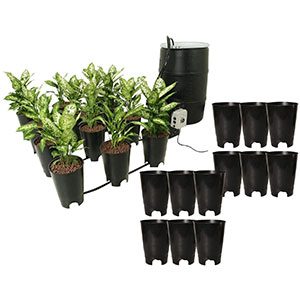 This hydroponic kit by Active Aqua is the most efficient ebb & gro system on the market. 
It has fail-safe overflow protection with an emergency shut off valve and adjustable gloat ladder. It is available as a 12 site complete system. You can also modify it by purchasing individual components, as it has a capacity of connecting 6 to 48 growing modules with a single system. 
Each growing module consists of an inner bucket attached to an outer bucket. The water pumps operate on 120 V, with 13 mm tubing and fittings.
Easy to program controller unit, with a "set it and forget it" system

Reliable and efficient as pumps do not overwork

Fail-safe overflow protection
Output grommets might leak over time
The Active Aqua Grow Flow Ebb & Gro 12 Site Hydroponic System + (12) Expansion Pots is one of the best hydroponics starter kits as you just have to set the fill drain cycles and the controller unit does the rest.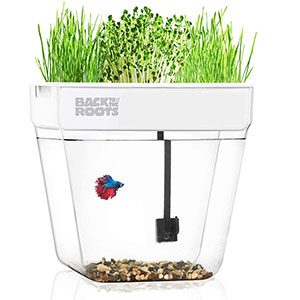 This kit by Back to the Roots is an all in one mini-ecosystem for your home, in which the water garden acts as an aquarium, and the top grows organic microgreens. 
The entire process is an aquaponic self-cleaning cycle, in which the fish provide fertilizers to the plants, and the plants keep the water clean. 
After purchasing this kit, you would not need to buy anything else as it comes with everything you need to get started. It includes organic microgreen seeds, D-Klor and Zym-Bac, growstones, fish food including a coupon.
Self cleaning hence easy to maintain

100% guaranteed to grow, with a free of charge replacement or 100% refund available

A sustainable and efficient way to grow food
Needs to be cleaned weekly
Back to the Roots Water Garden has made it to the list of best hydroponics starter kits as not only it is a scaled-down hydroponics system, but it also comes with easy to follow instructions. You are good to go with it even if you lack a green thumb or familiarity with fish.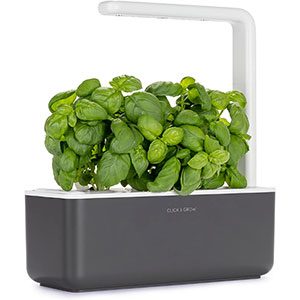 Smart Garden 3 is a lightweight and portable indoor garden that can grow fresh and flavorful fruits, vegetables, and herbs. 
Plant pods of your choice are included with the kit, and an energy-efficient LED bulb is attached, so your plants thrive and grow. 
It has a hassle-free installation and maintenance process that requires only three steps:
 Insert the capsules

Add water to the water tank

Plug in the kit to an electricity outlet
The perfectly calibrated automated system will take care of everything from watering to lighting, and nutrients.
Biodegradable plant pots that care for the environment

More than 50+ plant varieties to choose from

100% replacement warranty
Mold grows in the water tank
Click and Grow SGS8US 3 Smart Garden, Grey is one of the best hydroponics starter kits out there because it is not only easy to use but is also easy to maintain due to its smart soil technology, which makes the soil full of nutrients, pH, proper aeration, and moisture.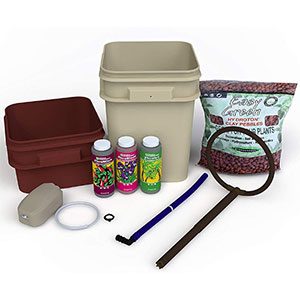 This hydroponics drip system is ideal for beginners. 
It allows growers to pack modules together to create large, high-density installations without any trouble. The kit is all-inclusive and can be used to grow small, medium, and large-sized plants.
It comes with everything that you need to get started including a growing chamber, reservoir, drain level tube, an Elite air pump, clay pebbles, and Flora series nutrients. 
We loved the build as well. The WaterFarm is made of high impact plastic, which assures a long life cycle.
Large water capacity and low water requirements ensure that you do not have to refill the water tank often

Reliable, simple and efficient

100% manufacturer's warranty in case of a damaged product
Water splatters out of the water tank
The General Hydroponics WaterFarm Complete Hydroponic System Grow Kit | GH4120 is among the best hydroponics starter kits as it is designed for beginners due to its execution as a system. Not only is it compact and portable, but it comes with all necessities to start right away.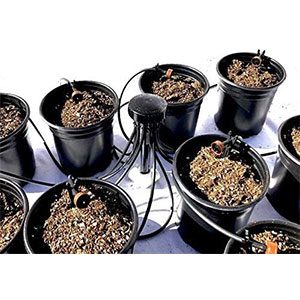 This hydroponics starter kit by PowerGrow Hydroponic System includes premium pressure compensating drippers with check valves. 
The drip consists of tubing, manifold, emitters, caps, converters, and stakes. It also includes step by step instructions for hydroponics, greenhouse, and propagation. 
The kit supports indoors and outdoors in any medium with a 12 outlet drip irrigation manifold, which is perfect for potted plants such as herbs, berries, flowering plants, and some veggies.
Easy to install and maintain

Pressure regulated, self-flushing drip emitters with built-in check valve 

Helps save money by lowering costs
Plastic pots sold separately
The Deep Water Culture (DWC) Hydroponic Bubbler Bucket Kit by PowerGrow Systems (4) 5 Gallon – 6" Buckets is among the best hydroponics starter kits as it precisely waters up to 12 plants at once and comes with a three-year warranty. Hence, you will be covered if anything goes wrong.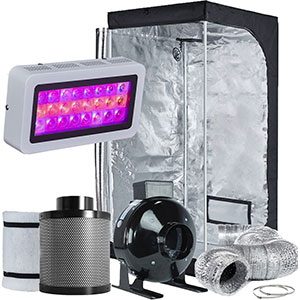 The Grow Tent Room by TopoLite is a complete hydroponics kit. It has a LED 300W full spectrum growth light, 24 x 24 x 48 inches indoor growth tent, and 4 inches inline fan carbon filter kit. 
The LED growth light contains a grow panel light, a power line, and stainless steel hanging kits. Similarly, the grow tent includes a tent cover, a set frame of rods and connectors, a removable floor tray, an assembly instruction, and nylon belts. 
The filter combo consists of a carbon air filter, a changeable Velcro pre-filter, a silver ducting, an inline fan, steel hose clamps, and elastic ropes. It is one of the few options out there that are said to be suitable to grow weed. 
The Grow Tent Room comes with three types of assembly instructions, depending upon your needs. Here are your options:
The fan and the filter inside the growth tent

The fan inside and the filter outside the growth tent

The fan outside and the filter inside the growth tent. 
All three of these feature a user-friendly full spectrum design and are suitable for plants in any growth cycle.
Durable because of heavy-duty lightproof oxford cloth, white paint coated metal rods, and large, heavy-duty zippers

Best heat dissipation for best stability and most extended lifetime

Environment friendly due to the use of coal-based activated carbon
The light burns out with time
The TopoLite Grow Tent Room Complete Kit Hydroponic Growing System LED 300W/ 600W/ 800W/1200W Grow Light + 4″/ 6″ Carbon Filter Combo + Multiple Size Dark Room (LED300W+24″X24″X48″+4″ Filter Combo) is one of the best hydroponics starter kits. It caters to all growth cycles of the plant, including germination, cloning, and seedling. Moreover, it is suitable for all sorts of fruits, vegetables, and even flowering plants. It is ideal for beginner growers with limited growing space. However, it is a little expensive.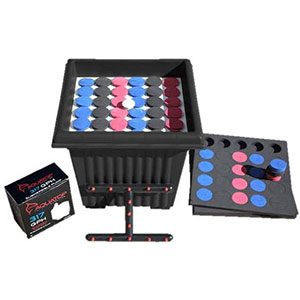 The aeroponic cloning machine by Clone King is a complete 36 site system that comes with a reservoir, lid, spray manifold with misters, submersible pump, and inserts. 
As a user, you only have to add lights, and you are good to go with your planting experiments. 
This time tested design also has 13 irrigation spray heads, which lead to success with a multitude of plant species and varieties. 
The plants root in half the time of a conventional system. You will not face problems such as wilting as it takes care of all elements including humidity.
 The Clone King 36 can easily adjust anywhere between 1 to 25 plant cuttings at a time.
13 spray heads for an unmatched coverage of a system of this size

Easy to follow detailed instructions to make your first steps even easier

Consistent 100% success rates
Water temperature and pH need to be continuously regulated manually
The CLONE KING 36 Site Aeroponic Cloning Machine. Expect 100% Success Rates! is one of the best hydroponics starter kits as it is perfect for broader cultivation and cloning. It has a very compact footprint that makes it quite portable.
Best Hydroponics Starter Kits: Buyer's Guide
When buying a hydroponics starter kit for the first time, the experience can be quite intimidating due to the vast varieties of options available. However, you can avoid the unnecessary hassle by doing sound research before purchasing one. 
Broadly, there are five main categories of hydroponic systems. These include drip systems, deep water culture, wick system, ebb and flow, and aeroponics.
Drip systems are perfect for beginners as they use a low power pump along with a timer to deliver nutrient-rich water to each plant after short intervals. It is a water-saving technique, as water is given to each plant through a tube and excess water is returned to the reservoir. However, as the number of plants increases, you might have to switch to a high powered pump to ensure equal delivery of water.
In deep water systems, plants are submerged in water where they develop roots and eventually start growing. The only thing you need is an air pump, which introduces oxygen into the water to ensures that it stays oxygenated. 
This is energy efficient as air pumps require less energy than water pumps, and also less requires less maintenance as there are no drip lines.
The wick system relies on plant capillaries to supply water and nutrients to it through a wick placed in a reservoir. This does not require any pumps so energy consumption is close to none. However, as the wick can only transport a limited amount of water, this is only practical for small plants and herbs.
Ebb and flow are designed for a large scale hydroponic system. It has a timer that releases water through the pump in the reservoir at pre-decided intervals. In the case of a pump failure, all plants in the system may wilt, or even die. It als.as the plants grow.
Aeroponics is an advanced form of hydroponics. The roots remain in the air and the required amount of water is sprayed onto them after short intervals. This considerably increases the yield as roots can absorb more oxygen, water, and nutrients, and plants are less likely to develop root diseases. But, it needs more maintenance as the spray nozzles need to be cleaned now and then to ensure that they don't get clogged.
8 Best Hydroponics Starter Kits: Conclusion
These were some of the best hydroponics starter kits. Make sure to pick one according to your requirements.
Latest posts by John Terry
(see all)