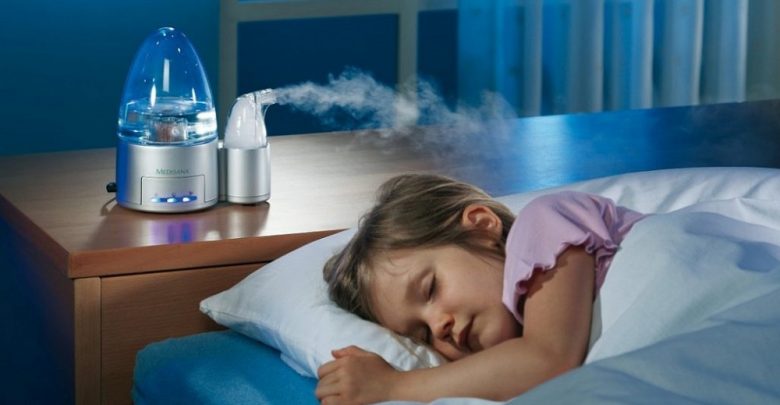 If you suffer from respiratory problems such as sinuses or your bedroom tends to be too dry every time, you will benefit from the best humidifier for bedrooms. Dry air can be an issue for both babies and adults with sinus and asthma problems; however, using a humidifier can help get the balance right by refreshing and adding moisture back into the air.
Humidifiers control the humidity levels and come in different sizes and types, with warm mist and cool mist models available on the market. Cool mist humidifiers are usually quieter, and they are either ultrasonic or evaporative humidifiers. Conversely, warm mist humidifiers use steam to moisten the air and eliminate harmful bacteria that might have grown in the water holding tank.
With all these options, it can be overwhelming to choose the best humidifiers but not anymore. This article will help you make an informed decision when buying the gadget, whether a warm mist or cool mist humidifier.
1. LEVOIT Humidifiers (LV600HH)-Ultrasonic Cool Mist Humidifier for Large Room Bedroom
Sale
LEVOIT Humidifiers for Large Room Bedroom (6L), Warm and Cool Mist…
Warm and Cool Mist: The humidifier provides both cool mist and warm mist to…
Auto Mode: The humidifier's built-in humidity sensor automatically…
Aromatherapy: Add your favorite essential oils to the aroma box to give…
Perfect for Large Room: With a mist output of up to 500 mL/hr, the LV600HH…
Convenient Remote Control: Adjust settings in the middle of the night…
If you are looking for the best humidifier for bedrooms that comes with options, you can bet on the LEVOIT Ultrasonic Humidifiers (LV600HH) for a Large Room Bedroom. The LEVOIT Humidifier has both cool and warm modes that you can choose from for your needs. The warm or cool mist humidifier also gives you the choice of controlling the gadget remotely without the need to move around all the time. Furthermore, it is ideal for all-year-round use due to its customizable features.
The Levoit Humidifier has a tank capacity of 6 liters, ideal for a large room bedroom of up to 753 square feet. It can work in auto mode with no need of you being there to control it every time. It also produces a maximum warm mist output of 500mL/hr, plus 60 hours of continuous use with a low mist level. Additionally, this cool mist humidifier will automatically shut down when water runs out in the tank.
The cool mist humidifier ensures that the air in your home stays enhanced, and you will no longer experience allergies, dry skin, cold flu, congestions, cracked lips, nose bleeds, or sinuses. It operates silently, and the display turns off for you to sleep easily and uninterrupted with the night mode that takes great care of things. Moreover, the humidity levels in the bedroom will remain consistent until the water in the tank runs out.
You can easily set a 1-12 hour timer that this cool mist humidifier comes with that reduces the worry of forgetting to shut it off. The cool mist humidifier has aroma pads and will keep your bedroom fresh all day and night long. Also, the plants and flowers in the house will remain hydrated. Furthermore, we can't forget to mention that the water tank is easy to clean and can easily open wide for access.
Pros
Warm and cool mist ultrasonic humidifier.
The humidifier uses a remote control.
Can service a room size of up to 753 square feet.
Easy to clean.
Cons
It is not safe for water to get into the air vent.
2. Vicks Warm Mist Humidifier-Vaporizer and Warm Mist Humidifier
Sale
Vicks Warm Mist Humidifier, Medium to Large Rooms, 1 Gallon Tank…
VICKS WARM MIST HUMIDIFIER: This warm mist humidifier, for bedrooms, baby…
VICKS HUMIDIFIERS FOR KIDS, ADULTS: Humidifier diffuses 95% bacteria free…
COUGH & CONGESTION RELIEF: When you or your kid has a cold, it can be…
VICKS VAPORIZERS, HUMIDIFIERS, & STEAM INHALERS: Moisture & humidity offer…
HUMIDIFIERS FOR BEDROOMS, DESKS, TABLES: Our humidifiers & vaporizers help…
If you are looking for the best warm humidifier, you can count on the Vicks Warm Mist Humidifier. This humidifier is suitable for bedrooms, kid's bedrooms, baby nurseries, or anyplace where you want congestion relief. It is quiet while operating, filter-free, and a full one-gallon tank that can run for 24 hours.
The Vicks Humidifier diffuses 95 percent bacteria-free mist into thin air. The tank is easy to handle for easy transportation when cleaning and filling. The transparent tank also allows you to see when levels are low easily. Besides, when you or your kids have a cold, the humidifier offers temporary relief from congestion and coughing, so your sleep won't be disturbed by coughing fits.
The humidifier comes with an auto shut-off; therefore, if it does run out and you are not around, it won't keep trying to operate. You have the option of adding an inhalant such as Vicks VapoSteam, into the gadget's medicine cup to help you relieve cough symptoms. Besides, it helps you breathe better wherever you are.
Pros
Easy to handle and clean
Diffuses 95 percent bacteria-free mist
Quiet while operating
Suitable for bedrooms, kid's bedrooms, and baby nurseries
3. ASAKUKI 5 In 1 Ultrasonic Aromatherapy Fragrant Oil Humidifier, Essential Oil Diffuser
ASAKUKI 500ml Premium, Essential Oil Diffuser with Remote Control, 5 in 1…
5-IN-1 AROMATHERAPY DEVICE: This ultrasonic essential oil diffuser is an…
GREATLY IMPROVES AIR QUALITY: Besides its uses in aromatherapy, this…
PREMIUM QUALITY MATERIALS: When it comes to our premium essential oil…
A GREAT GIFT IDEA FOR EVERYONE: If you're in the market for a nice and…
100% RISK FREE PURCHASE: At ASAKUKI, we have great faith in our essential…
If you are looking for the all-purpose best humidifier for bedrooms, we recommend Asauki 5 in 1 Ultrasonic Aromatherapy Essential Oil Diffuser. This humidifier features a large water tank with 500mm and 7-LED changing color lights, some mist nebulizer modes, and a safety auto shut-off that automatically shuts off when the humidifier runs out of water when you are not around, so you don't have to worry about the humidifier overheating.
The humidifier comes with an essential oil tray to add essential oils to spice up your breathing. The tank is easy to clean, so you will not have a hard time dealing with it. Additionally, the humidifier comes with two mist modes and 3-time intervals 60, 120, 180 minutes continuous intervals. We can't forget to mention that some users love how the humidifier is easy to use, and the large tank that holds much water reducing the refilling time spent.
Pros
Versatile humidifier come diffuser
Easy-to-use and clean humidifier
Has a fragrance that allows you to sleep well
Portable humidifier
4. Magictec Cool Mist Humidifier-2.5L Evaporative Humidifier Diffuser
Cool Mist Humidifier, Magictec 2.5L Bedroom Essential Humidifier Diffuser,…
LARGE CAPACITY, ENJOY OVERNIGHT OF COOLING ATMOSPHERE: Get the most sleep…
360° NOZZLE SPRAY + ADJUSTABLE MIST OUTPUT COOL HUMIDIFIER: Our nozzle…
DISCRETE MIST + POWER SAVING AUTO SHUT-OFF MECHANISM: Nothing is more…
HUMIDIFIES EVERY LIVING SPACE, FRESH AIR QUALITY FOR THE WHOLE FAMILY:…
PREMIUM QUALITY + AWESOME GIFTING IDEA + ZERO RISK PURCHASE: Constructed…
If you are on a fixed budget looking for the best humidifier for bedrooms, we recommend you the Magictec Cool Mist 2.5L Bedroom Essential Humidifier. This ultrasonic cool mist humidifier comes with a 2.5L water tank and operates for up to 24 hours in a medium mist setting. You, therefore, get the most sleep at night without having to wake up to refill your humidifier or without disturbance from mist noise. Additionally, the humidifier comes with a 360° nozzle sprayer that offers all-around humidification that gives the entire bedroom comfortable, cool and fresh air during sleeping.
This ultrasonic cool mist humidifier has inside low water protection for when its lacks liquid. This evaporative humidifier automatically directs the flow of mist to places that need moisture and keeps away from the already dried place. It is designed with ultrasonic technology and provides a super quiet mist of less than 30dB. Furthermore, it has an automatic power-off function which starts when water runs dry to ensure safety.
This humidifier is ideal for the bedroom, nursery room, living room, and office. It creates a comfortable and breathable living atmosphere at home, especially during the winter season.
Pros
Budget-friendly humidifier'
Ideal for bedroom, nursery room, living room and even for office
Creates a comfortable and breathable living atmosphere
Produces 360-degree mist
5. Dyson Humidifier Pure Hot & Cool, HEPA Air Purifier, for Large Rooms
If you are looking for the best humidifier for bedrooms that will also purify the air you are breathing, we recommend the Dyson Pure Hot & Cool Humidifier. This air purifier purifies, heats, and cools the air delivering multi-functionality without compromise. It automatically detects airborne particles and gases then purifies the air by utilizing the Dyson technology. Besides, it comes with a sealed HEPA filter which captures 97% of allergens.
This air conditioner purifies air throughout the bedroom or any other larger space using an air multiplier technology that delivers over 77 gallons per second of smooth, powerful airflow. You can use it for long-range personal heating, even room heating. It comes with multi-functionality, including a humidifier, space heater, HEPA air purifier, and tower fan. Besides, it has a sleep mode timer, oscillation, ten airspeed settings, and automatic shut-off when tipped over.
Pros
Purifies the surrounding air
Has multi-functionality
Captures 97% of allergens
Easy to use a humidifier
Factors to Consider Before Choosing the Best Humidifier for Bedrooms
1. Size
The size of the humidifier you want to buy will depend on the size of the bedroom you are looking to add moisture to. There are different humidifier sizes, including console, tabletop( portable), and the whole house.
Console humidifiers- are large devices that you can place on the floor and have increased-capacity water reservoirs that will need less regular filling than tabletop humidifiers. They are the best option for space up to 1,000 sq. ft.
Portable humidifiers- are usually small and have limited water reservoirs, meaning you will need to keep refilling them frequently. The smallest portable humidifiers are usually travel-sized or personal-sized. They are cheaper and can be easily moved from room to room. Besides, with similar dimensions to a water bottle, therefore, you can take them anywhere.
Whole-house humidifiers- You can attach these humidifiers to your home's ductwork to add humidity throughout your home. They are best for adding moisture to a large room of 1,000 square feet. Since this humidifier connects to your home's plumbing, you, therefore, don't need to refill the water tank.
2. Warm or cold mist
Both humidifiers effectively add moisture into the air; however, cool mist options tend to be suitable for homes with pets and children since there is no burn risk related to a heating element. Conversely, warm mist humidifiers are suitable for zapping more bacteria and germs. Since they are meant to work through all seasons, you need to check whether the devices can work through hot and cold seasons or just one of the two. The best humidifiers can switch from a cool mist to a warm mist.
3. Water tank capacity
When looking for the best humidifiers, you need to check the water tank capacity. Water tank capacity is usually closely related to the size of the humidifier. To identify the water capacity, you need to check the estimated run time from the manufacturer, and you will know how frequently you will need to refill the tank. Also, if you want to use the humidifier 24/7, ensure you pick a model with a large water capacity.
4. Ease of cleaning
Often cleaning your humidifier is essential to prevent the growth of bacteria, mold, and microbes. The best humidifiers have removable parts, such as the tank. Therefore ensure the unit is easy to disassemble and assemble back since you will be doing so often.
5. Humidistat feature
For maximum humidity level in the air, ensure you look for a model with a built-in-humidistat. This feature usually monitors the room's humidity and shut off the device when the air's moisture level reaches a set target. Although it is not much essential feature, it does take some of the guesswork out of running a humidifier. It can prevent excess moisture in the air from creating a musty odor in the room or fogging up the windows.
6. UV filtration
Moist, humid conditions can quickly become a breeding ground for mold, pathogens, and bacteria than dry air. Therefore, you need to look for humidifiers that are equipped with UV light. This specialized light filtration system eliminates microbes growing in the humidifier's tank and prevents them from getting into the air with the mist.
7. Run time
When shopping for a humidifier, put into consideration the run time. Usually, the longer the humidifier can run, the better. You want a device that can work through the desired period without hitches in between. The best humidifier should run for up to 40-60 hours.
8. Automatic shut-off
Ensure you buy a humidifier that can auto-power off when water runs dry to prevent overheating or change the desired humidity level. However, most humidifiers have these automatic shut-off features; therefore, worry less.
9. Remote control and connectivity
A humidifier that you can control through voice command is an added advantage. Check whether the humidifier is compatible with Google Assistant, Siri, or Alexa before buying. Some humidifiers on the market can connect easily to apps on your smartphone. Besides, you can use the remote control to change the setting.
Latest posts by John Terry
(see all)