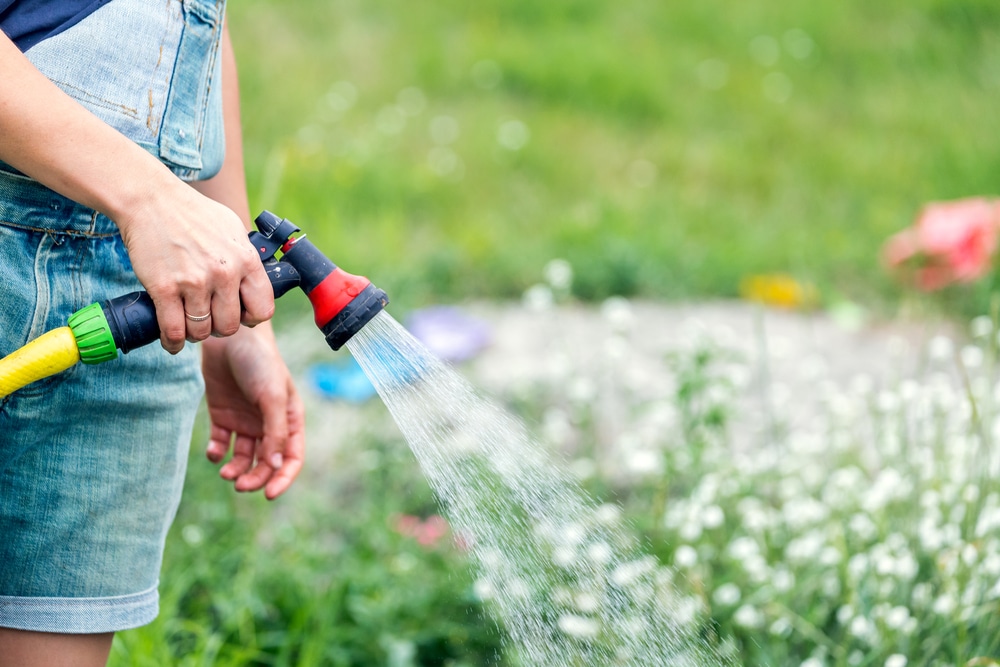 You need the best garden nozzle to water your plants, and choosing one of the hundred good ones on the market is no easy task. However, it is best to pay attention to some important factors such as spray patterns, nozzle materials, the design, and ergonomic handles can help you narrow down to your ideal nozzle.
We have come up with this list of five different garden hose nozzles to make your research easier. Read on to find why they are the best hose nozzles in the market right now.
1. Gilmour Full Size Zinc Pistol Grip Nozzle with Threaded Front
One thing you need to pay a lot of attention to when buying your best garden hose nozzle is the material. It would help if you had the most durable hose nozzle to go about your watering and cleaning tasks without stress.
This Gilmour nozzle is made of pure metal and sports a pistol grip for easy handling. It weighs 3.65 ounces and allows a full-spray flow, a sharp stream, or a cone-spray flow. In addition, this garden hose nozzle comes with a flow-control dial so you can adjust your ideal spray pattern.
The metallic garden hose nozzle comes with reliable sealing to prevent leakages. It features a self-adjusting duck packing that prevents water leakage and also protects the springs from rusting. In addition, this hose nozzle comes with a threaded end that is easier to attach to many cleaning tools when you need to clean your patio or garden tools.
The handle is ergonomic so that you can use it for longer periods without fatigue. The hose nozzle comes at a very affordable price and is your best buy when you need to water a small garden. However, you need to avoid leaving it outdoors too long as the metal is bound to rust after being exposed to a lot of moisture.
Pros
Affordable price
100% metal construction to guarantee durability
Self-adjusting duck packing to prevent leaks and rusting
It comes with an ergonomic trigger-style grip
Allows different spray patterns when you use the flow-control dial
It is lightweight
Cons
The metal construction is prone o rusting if left outdoors for long
2. Twinkle Star Heavy Duty Adjustable Brass Hose Nozzle
Twinkle Star Solid Brass Heavy Duty Adjustable Twist Hose Nozzle Jet…
Heavy-duty solid brass construction.
With 4 holes at the tip for maximum pressure & water flow, fitted with…
Twisting barrel to adjusts water from a fine mist to a powerful jet stream.
Great for watering gardens, car washing, deck, siding & driveway cleaning…
Fits standard garden hose. Package includes: 1 x adjustable jet nozzle, 1 x…
The Twinkle Star garden hose nozzle is made with heavy-duty brass, so it can withstand years of continued use without rusting or any damage. In addition, it uses O-rings for sealing to prevent leakages at the back and the front of the water outlet.
The hose nozzles also come with female threaded ends to make them easy to connect to multiple gardening tools for watering and cleaning. Also, the tip of the nozzle comes with four holes to allow for more water flow.
The nozzle allows you to adjust water flow by twisting the nozzle, which is made easy by the solid brass material and the knurled grips. The nozzle is your best buy if you have delicate plants or cleaning that need a consistent jet stream.
Pros
Affordable price
Solid brass construction for durability and easy water flow control
Female threaded ends are compatible with standard garden hoses
Uses reliable O-rings to prevent leakages
Improved brass design
Nozzle tip comes with four holes for extra water flow
Your best hose nozzle for watering delicate plants
It is compatible with most garden hoses
Cons
Does not offer many spray options
3. GREEN MOUNT New Patent Garden Hose Nozzle
GREEN MOUNT New Patent Garden Hose Nozzle, Heavy Duty Water Nozzle, High…
Large On and Off Handle: The fireman water hose nozzle lever controls water…
Water Nozzle Heavy Duty: With robust metal construction, the fire hose…
New Patent Spray Patterns: 3 Mist Jets & Mesh Shower Head. 3 mist jets…
Bonus: Detachable filter mesh for cleaning the clogged dirt away and rubber…
If you are a dedicated DIY gardener, this is your best buy when looking for garden hose nozzles. It is one of the easiest to use nozzles, coming with a large, ergonomic on-off handle that is easy to grip without fatigue. In addition, the nozzle comes in a pistol grip rubber handle for better control.
This Green Mount garden hose nozzle is made with ABS plastic but features metallic nozzle housing. As a result, it is durable and easy on your hands, with ABS plastic even making it impact-resistant.
The nozzle allows you to choose between six spray patterns; jet spray, three mist sprays, a shower spray, and a flat spray. You can adjust your ideal sprays with the nozzle's easy-to-use rotatable dial. In addition, the nozzle comes with a metal mesh screen so you can remove clogging sediment from the water.
This garden hose nozzle is best for your garden and cleaning. The nozzle comes with female threaded ends that are compatible with most hoses. It is easy to connect by twisting until it is tight. It is very affordable and weighs 21.3oz.
Pros
It is affordable
Allows you to choose between six spray patterns
Lightweight
Ideal for watering plants, cleaning cakey mud from the driveway, and even cleaning your pet
Easy-to-rotate dial
Features a removable metal mesh so you can remove sediment to prevent blocking the nozzle
It comes with female threads for easy connection to hoses
Best garden hose nozzle for people with weak grips
Comes with an ergonomic TPS rubber handle
Cons
Metallic screws are prone to rust
4. Melnor 16-Inch High-Pressure Watering Wand
Melnor 65089-AMZ RelaxGrip 16″ Watering Wand with QuickConnect Product…
Relax grip handle helps reduce stress on the wrist and hands
Approved by the Arthritis foundation for their ease of use commendation
Easy to operate thumb control requires less force to operate
Quickly connect and disconnect the wand with an included Quick Connect…
Backed by a Melnor 2 Year Limited . Melnor stands behind its products.
Sometimes you need to water higher plants, or you need to clean cakey mud from your driveway without trekking all over. For such, watering wands may prove to be some of the best garden hose nozzles for you.
This Melnor 16-inch watering wand is designed to help you conquer your tasks in minimal time. It comes with a 16-inch wand with a pivoting head, an ergonomic grip, and eight adjustable spar patterns.
It is an easy-to-use wand, requiring you to adjust the head to a different angle to adjust the spray pattern. In addition, this wand comes with the company's RelaxGrip design that reduces stress on your wrists and hands, thus your best buy if you struggle with conditions such as arthritis.
The wand features a QuickConnect adapter so you can easily connect and disconnect from a garden hose. However, this adapter is sold separately, which may inconvenience you a little. Nonetheless, it is an affordable wand ideal for gardening and cleaning. It also comes with a 2-year warranty from Melnor.
Pros
Affordable and comes with a 2-year warranty from the manufacturer
It comes with a 16-inch wand for easier use
Offers eight spray patterns
Comes with an ergonomic RelaxGrip handle that the Arthritis Foundation approves
It easily connects to the hose
Cons
QuickConnect adapter sold separately
5. TABOR TOOLS Metal Garden Hose Nozzle Set
Sale
TABOR TOOLS W91A Metal Garden Hose Nozzle Set (2-Piece), 1 Water Pistol…
VALUE PACK – TWO virtually indestructible, robust METAL water hose sprayers…
7 WATERING PATTERNS. Jet, Flat, Shower, Center, Cone, Soaker and Mist and…
FLOW CONTROL KNOB. Having control of the water pressure means that you can…
RUBBER COATED GRIPS. Both sprayers come in an attractive red / black color…
ORDER WITH CONFIDENCE. We at TABOR TOOLS stand behind our products. Please…
When you are unsure which hose nozzle to purchase, it could help to go for the most versatile hose nozzles available, such as this pair from Tabor tools. The package comes with two nozzles; one is a pistol spray nozzle, while the other is an adjustable spray head with seven spray settings.
The garden adjustable spray nozzle comes with a rubber grip, a metal housing, and a handle-style trigger for flow control. The pistol-style nozzle comes with all-metal construction and a rubber-coated handle to guarantee durability.
When using the garden spray nozzle, you can change the spray settings from flat, jet, soaker, mist, cone, cater, and center settings by adjusting the dial on the head. The nozzle comes with a squeeze-style trigger mode of operation. It is an affordable value pack for you if you can't choose between other options in the market.
Pros
Value pack of two nozzles for different garden uses
Affordable
Durable construction
Seven spray patterns to choose from
Comes with rubber handles for a better ergonomic grip
Squeeze style-trigger
Factors to Consider When Buying your Best Garden Hose Nozzle
The market has no shortage of your best garden hose nozzles, and this only makes it tricky for you to pick just one out of the hundreds available. Here are a few elements you need to consider for your best hose nozzle before the purchase.
a) Build
When buying a hose nozzle for garden use, you understand the nozzle will be exposed to outside elements and possibly drops. As such, you need to ensure you get one made with robust materials to prevent damage after exposure to sun or water, and a few drops, or an accidental stepping on.
The most common materials used when making hose nozzles are ABS plastic or metal. These are strong materials that guarantee delayed wear and tear so you can enjoy your nozzle without worry.
If you decide to buy a plastic hose nozzle, you will need to be careful about handling it, especially dropping it or accidentally stepping on it. In addition, plastic wear down after prolonged exposure to the sun, so it will be best to keep it indoors whenever you're not using it.
On the other hand, metal stands the test of time whether exposed to the sun or when dropped, but could also rust if exposed to moisture. Thus, it is best to ensure your metal hose nozzle does not leak and is dry anytime it is not in use.
In many scenarios, it is best to buy a hose nozzle made of materials such as brass as it will resist corrosion for better durability. If your hose nozzle contains plastic, ensure it is durable ABS plastic and that the head and tips are made with metal.
b) Grip
When buying your best garden hose nozzle, you need to consider how comfortable the grip is, as you will need to hold it while directing water flow. The best groups are made with rubber so they won't slide even when wet. In addition, look for an ergonomic design that encourages your hand and wrist to stay in an upright position as you water.
Additionally, it is best to look for a no-press grip if you struggle with arthritis, as maintaining the pressure will take a toll on your aching wrists. Your best solution will be a nozzle you can control with a button or a trigger nozzle that keeps the handle locked into a spray position until you are done spraying.
The grip will also be affected by the weight of your nozzle, making it imperative to get a lightweight option so you can take care of your wrists.
c) Spray patterns
It is important to understand the different spray patterns you need for your garden; this depends on the types of plants you need to water and how often. In addition, a hose nozzle is a valuable tool for other tasks such as pet cleaning and spraying mud off your driveway.
When buying the best garden hose nozzle, it is best to pick the most versatile, usually offering more than six spray patterns. In addition, consider how easily you can change the spray pattern. It is best to get a nozzle with an easy-to-rotate dial so you can easily switch from one spray pattern to the next.
Look for these multiple spray options for your hose nozzle;
Shower
Mist
Flat
Cone
Soak
It is equally important to consider the water pressure. Get a good pressure nozzle to control the flow better and minimize the time you spend watering the plants.
d) Mode of operation
When buying a hose nozzle, it will help pick the most comfortable mode of operation for you. There are two main types of hose nozzles; pistol-grip hose nozzles and dial nozzles.
A pistol grip nozzle requires you to apply some pressure to the grip to squeezed it down so water can flow. While most people have no trouble with this, it can take a toll on your wrists if you have conditions such as arthritis, as you will need to apply varying temperatures to adjust the spray settings.
On the other hand, dial hose nozzles come with a dial on the head so you can turn it to adjust the water pressure. In most cases, this nozzle will also come with a pistol grip or, in some, a button on a molded handle for easy activation.
It is best to pick an activation process that does not need you to apply pressure on the grip if you suffer from joint pain. Thus, it would be best to avoid the pistol grips as they will only work with you holding down the handle.
e) Hose compatibility
Before you take home a garden hose nozzle, make sure it will easily connect with your hose without leaking. Most hose nozzles come with threaded ends so you can easily quickly connect to your hoses.
Make sure the threads match your hose threads. Thus, before buying, it is best first to understand the threads on your hose; differentiate between standard garden hose threads (GHT) and the British Standard Pipe (BSP) threads.
In addition, ensure you can tell if your hose has male or female threads so you can buy a hose nozzle with the opposite threads for leak-proof fastening.
Latest posts by John Terry
(see all)