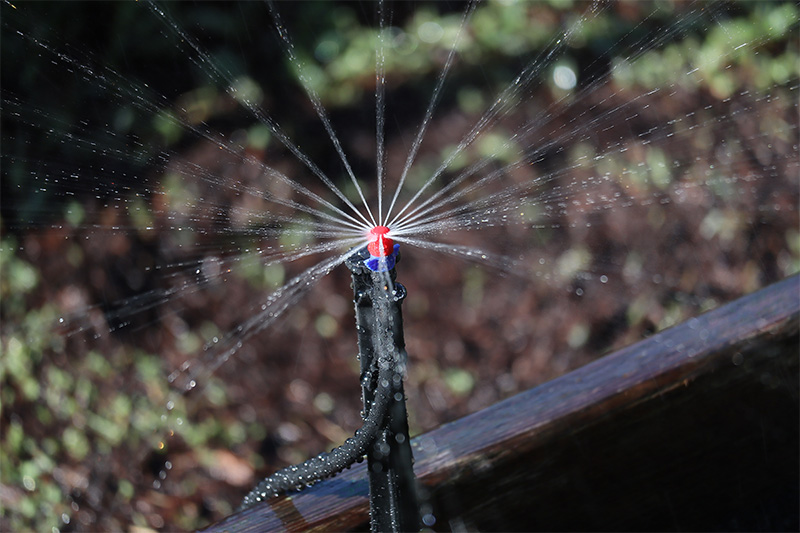 A drip system, also sometimes called a 'drip irrigation system' helps supply optimum levels of water directly to your plant's root zone. The water is supplied in the form of droplets. Hence, the name drip system.
A drip system is simply a hose that has a few holes in it. These holes are called emitters and are essentially where the droplets of water are supplied to the plant roots little by little over the course of a few hours.
Advantages of a Drip System
Water does not reach the roots, which can cause plants to grow poorly. The best advantage of a drip system is that it specifically targets the roots of the plants and supplies them with the right amount of water.
2. Controlled Water Distribution
With a drip system, it is easy to control how much water the roots receive. You can not only control the water dripping speed, but can turn off the water supply completely as well since most systems come with a control valve.
3. Efficient Water-Saving
A drip system, as the name suggests, makes use of water droplets to irrigate plant roots. This helps conserve water, which is very important since it is a scarce resource.
Each drip system is different from the other. Some have unique features while others come with extra accessories. All of this can make the choosing process difficult. This is why we have compiled a list of the best drip systems to help you pick the right one.
Best Drip System: Comparison Table
1.06 x 6.81 x 3.75 inches
9.37 x 8.27 x 2.05 inches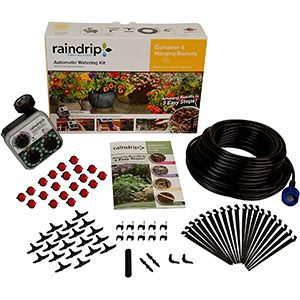 You will definitely say goodbye to hand watering your plants after you get your hands on the drip system by Raindrip.
It comes with everything that you may possibly need to set up your very own drip system. Unlike some other options out there, this one is not only made for potted plants, but works efficiently for hanging baskets as well. This is what makes it popular among gardeners who have a variety of planting setups in their gardens.
We love how durable it is. The tubes are made of a UV resistant, low-density and linear polyethylene that lasts long even under the sun.
With this drip system, you will have the option to either bury the hose or leave it installed in the ground. Both options are possible and just as effective. The hose can withstand any temperature whether hot or cold.
Additionally, the system also comes with a timer. This eliminates the trouble of having to constantly keep a tab on when you need to water your plants. The drip system does it for you, all with a simple timer.
It comes with a 5-year warranty and an incredibly responsive customer support team as well. All your concerns and doubts will be resolved in an instant.
Fully equipped and ready to install

Timer for easy watering

UV resistant hose that can withstand tough weather conditions
The system does not come with a regulator
If you are a beginner looking for a drip system that is not only easy to set-up but also makes operating it a breeze, then the Raindrip Watering Kit for Containers and Hanging Baskets might be the perfect choice for you.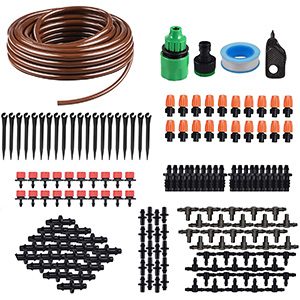 This drip system is specifically built for large gardens and delivers the best performance all in a budget-friendly manner. This drip system covers a large area of up to 270 square feet and can water multiple plants at a time without fail.
The best thing about this system is that it does not only save money, but water as well. It makes use of a special precision drip system that supplies just the right amount of water to the roots at the right time as well. It can save up to 70% water in a single day.
This feature gives the KORAM drip system an advantage over other drip systems.
Additionally, the drip system also allows you to individually adjust the water pressure of each drip emitter. This works wonders for gardeners who have a wide variety of plants that require varying levels of water.
Despite its extremely efficient system, the KORAN drip kit is very easy to install. It requires no plumbing or additional digging. All you need to do is connect the hose to a faucet and say goodbye to hand-watering. The icing on the cake is a detailed manual that makes the process even easier.
Thanks to the extra flexible tubing that comes with the kit, it ensures adaptability to every possible space that you may have in your garden.
More affordable than most drip systems

Capable of covering a large garden area

Adjustable water pressure
May require extra accessories to be purchased
Are you looking for a drip system that can effectively water all the plants in a large area with added extra features to make the job easier? The KORAM Irrigation Drip Kit can provide you with just that making it one of the best drip water systems.
It is clear to see why this drip system has made it into our list of the best drip systems. It promises an unbeatable flow rate of 7 liters per hour, all while helping you save water with a precise system.
This is bound to give you only the healthiest and the lushest plant yield.
The nozzle included in the kit has two modes that you can adjust according to your preference. The first option is the columnar mode which replicates a watering-can like water outlet. 
The second option is the mist mode which imitates a mist like water outlet.
Alternatively, if all you need is a drip system to directly water the roots of your plants, then you can stick to the drip-mode.
The drip tubing is composed of a UV-resistant, high quality material that can stand strong through the toughest weather conditions, even when it is extremely sunny.
The entire drip system takes 40-45 minutes to set up thanks to the detailed instructions manual included in the kit. While setting it up is not difficult, some users may not like the time it takes to get started.
The best thing about this drip system is that it comes with a 50ft, incredibly flexible hose that can adapt to gardens of any size.
Overall, this drip system is extremely versatile and is fit for not just home gardens, but large greenhouses as well. This is why many call it the best drip system.
Extremely long-lasting and weather resistant

Nozzle with multiple water outlet options

The flexible hose makes it easy to use
No timer or pressure regulator in the kit
The MIXC Drip Irrigation System fits gardens and greenhouses of all sizes and is, therefore, one of the perfect choices for people who want a versatile drip system.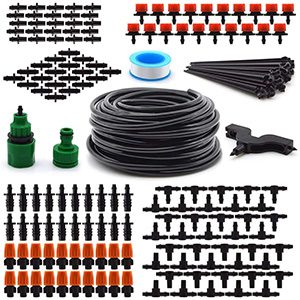 Want more than what most drip systems have to offer? Take a look at what the Flantor Garden Drip System has in store.
Not only does it boast a long tubing measuring almost 50ft, but it also comes with twenty drippers. These two features make sure that no plant in your garden goes dry due to a lack of water.
Additionally, the kit also comes with extra connectors that allow easy customization of the drip system according to your choice.
The irrigation system can easily be converted into an automatic drip system with the help of a timer. The timer is not included in the kit and will have to be bought separately. The good thing is that it's easy to connect and use.
According to the makers, this drip system works best for vegetable gardens thanks to its adjustable nozzles. We found that it's suitable for planted pots, greenhouses and even hanging pots. 
It comes ready to install and use. Connect all the nozzles and the hose pipe to a faucet and you will be ready to go.
Individually adjustable nozzles

Can be turned into an automatic drip system with the help of a timer

Easy installation
Good quality drippers, but the sprayers are not the best
The Flantor Garden Drip Irrigation System comes ready to use and with a lot more nozzles than most drip systems. It makes the perfect choice for those who have a wide area that needs irrigation. All these features make it one of the best drip systems.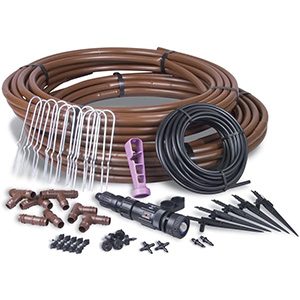 It is not a shocker that the Rain Bird drip system has made it to this list of the best drip systems. It comprises a piping system that can easily irrigate up to 75 square feet of land.
Additionally, it has a special emitter that specifically targets the roots of your plants and supplies them with the required amount of water. Thanks to this precise targeting, you can save up to 75% more water than you would while watering your plants by hand.
While some drip systems require a complex installation process that requires plumbing and digging, installing the Rain Bird drip system is as easy as connecting the hose pipe to an available faucet.
Another great thing about this drip system is that it ensures a weedless gardening experience. It directly waters only the roots and avoids any water leaking out into the soil. This is very important because this incredible tool can reduce the amount of time spent on managing lawns.
You will not have to make any extra purchases as it comes with everything needed to get the job done. 
We think this can be the best drop system for scattered gardens as well as large spaces. It delivers .09 gallons of water per hour with a coverage area of 18 inches. This calls for a uniform and balanced supply of water to all parts of your garden.
The highlight of this drip system is that all the water devices included in the kit are clog-resistant. You will not have to worry about cleaning parts every few days.
Easy, tool-free installation

Widespread coverage

Eliminates the chances of weed growth
The system may not fit well in round-shaped garden areas.
If you want a drip system that calls for easy installation without the added stress of requiring extra tools then you should consider investing in a Rain Bird Irrigation Drip Kit.
Best Drip System: Buyer's Guide
Before you go ahead and invest in a drip system, it is necessary to consider a few things. Some drip systems require more space than others and thus, might not be the right choice for your garden.
Here are a few things that you need to think about:
The types of plants you have in your garden is the first thing you should take into consideration.
A drip system works best for smaller plants like shrubs or small vegetable plants. It might not be as effective for bigger plants.
Since a drip system essentially supplies water directly to the roots, you need to make sure you have the right type of soil. The soil shouldn't turn muddy with the addition of water.
Make sure the drip system you get has the type of water outlet that your garden will require.
Some drip kits offer more than the normal drip system. Some provide a mist-system as well.
It is best if you think about which type of water outlet you need.
In addition to this, consider additional tools like a timer for ease, the coverage area to ensure one unit can cover the entire space. You will otherwise have to invest in multiple units. Lastly, the speed can be a factor as well. Some drip systems can be very fast, they do not only waste water but can also damage your plants.
Best Drip System: Conclusion
There it is, a list of the best drip systems to make the process of choosing the right one for your garden much easier.
The best one in our opinion is the Raindrip Watering Kit for Containers and Hanging Baskets. It comes packed full of features that are worth investing in. Plus, it's among the easiest to use. 
If you want a more versatile drip system, then the Flantor Garden Drip Irrigation System might be a good choice.
Look at all the options and pick what fits you the best.
Latest posts by John Terry
(see all)