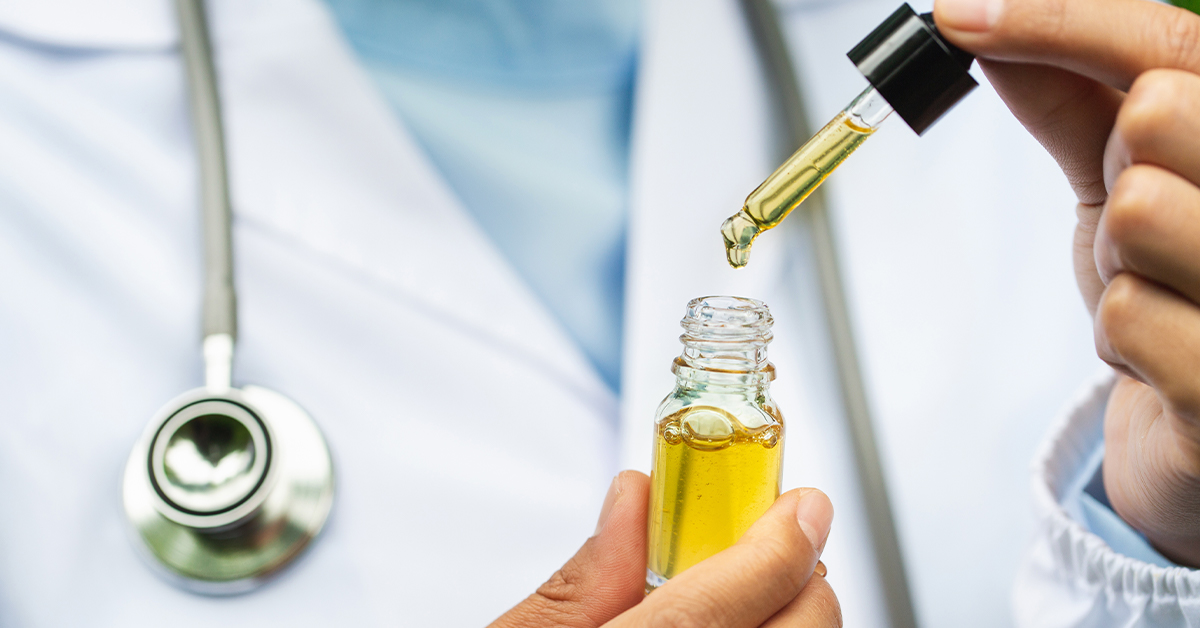 Getting good sleep can be a hurdle, especially when you factor in all that's been going on in the recent past. Therefore, if you find yourself needing some extra help to fall asleep, know that it's normal. Today we'll look at the best CBD for sleep that'll allow you to fall asleep as soon as your head hits the pillow.
Once you pick the CBD oil that suits you best, you'll forget all about using complex sound machines, weighted blankets, and even rain sounds from YouTube.
How Does CBD Oil Help With Sleep?
Cannabidiol (CBD) oil is carefully derived from the Cannabis Sativa (Hemp) plant and supports a network of receptors in your body known as the endocannabinoid system (ECS). This system regulates your mood, energy, sleep, and more.
Unlike tetrahydrocannabinol (THC), you won't get high from CBD oil. Instead, once the CBD compound enters your system, you'll naturally wind down and fall asleep. It works because the quality of your sleep is tied to stress and your immune system.
Therefore, CBD decreases the level of cortisol in your body and keeps it in a homeostasis state.
Now that you know how CBD oil works to help you sleep better let's look at the best CBD oils in the market to have you sleeping like a baby.
This full-spectrum oil from Spruce will kick off our list that will help you relax and sleep like a baby. Spruce is a family-run brand and is known for its high-quality full-spectrum oil made that is third-party lab tested. This 2,400 mg of CBD oil is made from one of the oldest hemp strains in the United States.
Spruce is based in Raleigh, North Carolina, and has been dominating the CBD scene since its formation in 2018. In addition to making one of the best CBD oils for sleep, Spruce makes some of the best American-made CBD products you'll come across.
Spruce uses a fine strain of hemp that's been grown in the United States for over two centuries. This kind of hemp is grown in Kentucky and North Carolina. This family-owned company uses the unique moonshine (alcohol) extraction method to isolate the CBD-rich extract from the rest of the hemp plant.
This 2,400 mg of CBD oil has an irresistible peppermint flavor. This best CBD oil is made with full-spectrum hemp extract. This means that you get all the terpenes, cannabinoids, and other compounds that are beneficial to your health and sleep.
Pros
Made from a very high-quality strain of American hemp
Complete with comprehensive, third party testing
Spruce is a trustworthy family-run business
Fast-acting
Cons
More expensive than the average CBD oil
Another big dog in the American CBD industry is Charlotte's Web which was founded in 2013. This popular brand is named after a special strain of hemp. Therefore, you can expect that you'll be getting the very best from this CBD oil for sleep.
It's fascinating to learn that Charlotte's Web's founders used this special hemp to help a young girl who suffered from a rare form of epilepsy. This girl was called Charlotte Figi. This CBD oil for sleep comes in a 60MG CBD/1ML bottle.
This CDB oil for sleep is one of the many CBD products that this company produces. Charlotte's Web gets its CBD from organic hemp plants grown in Colorado, Oregon, and Kentucky. In addition, this company is certified by the U.S. Hemp Authority. This Authority ensures that companies such as this one adhere to the strict hemp manufacturing standards.
This full-spectrum CBD oil comes in four low-to-high potencies. These include 7 mg/ml, 17 mg/ml, 50 mg/ml, and 60 mg/ml. You can choose to get the 10ml bottle, 30ml bottle, or 100ml bottle. The flavors include lemon twist, orange blossom, mint chocolate, and natural.
Pros
Comes in four different potencies
Comes in a variety of flavors
Undergoes comprehensive third-party testing
Hemp Authority certified
Cons
You can only get the third-party testing results after purchase
This 2500 mg of CBD oil can be the answer to your prayers if you have trouble sleeping and have migraines. With this CBD oil for sleep, you can relieve yourself from migraine pain and sleep like a baby. CBDfx is an innovative company that was founded in 2014 in California.
Since its formation, the company has aimed to produce numerous CBD products to helps its customers navigate through life smoothly. Some of these other products include topicals, vape juice, face masks, and drinks.
The hemp used is grown in Kentucky. You get 2500 mg of CBD per purchase, and you can use it whenever you can't fall asleep. You also get the third-party test results with your purchase. The full spectrum means that you get all the cannabinoids, terpenes, and flavonoids.
Pros
Created from high-quality organic hemp
Sustainably grown
Comes in various concentrations
Contains all the healthy compounds from full-spectrum cannabidiols
Cons
More expensive than the average CBD oil
Another natural sleep aid that will give you a good night's rest without worrying about side effects is this Endoca CBD oil for sleep. Endoca is a renowned company celebrated to be one of the oldest CBD companies in the market.
The company undertakes exceptional quality control and gives its customers only the very best. You can take the oil to get better sleep without any side effects. You can trust the effects of CBD from Endoca since the company everything from beginning to end.
To get the pure CBD product, Endoca grows and extracts from its own hemp plants in Denmark. Although the products are third-party tested, Endoca still does its own testing on its plants. These CBD oil products come in either a 10ml bottle or a 30 ml bottle.
Pros
Very trustworthy
Sleep CBD oil rich in minor cannabinoids
Has undergone rigorous testing
Comes in an easy to use bottle
Cons
Only has two potencies
Has a strong earthy flavor
Finally, we have this CBD that has a great balance in cost, efficacy, and transparency. Known for its competitive prices, CBDistillery often has CBD products just for you. The company was established in 2016 and had been kicking ass ever since.
CBDistillery is very open about the manufacturing process is used to get you the best CBD oil. The company uses the two main extraction processes to extract CBD products for sleep and other uses: ethanol and CO2 extraction.
This brand is also certified by the U.S. Hemp Authority. Therefore, you can trust that they give you the best sleep aids for a good night's sleep. These full-spectrum CBD products come in various potencies, including 17, 33, 83, and 167 CBD per ml.
You can choose the mg CBD that best suits your needs.
Pros
U.S. Hemp Authority Certified
Comes complete with third-party testing
Trustworthy
Has competitive prices
What Should You Look At When Buying the Best CBD for Sleep?
1. Source of Hemp
Where the hemp plant is grown will determine how pure the CBD will be. We've looked at where the CBD oils above are grown, proving that they are the best of the best. You can get this information by quickly checking the product descriptions of the oils you want before purchasing them.
You should know where the hemp plant is grown because it can absorb compounds in the soil, water, and air that can affect its quality. Most responsible manufacturers carry out regular tests to ensure that the plant doesn't absorb anything bad.
Also, if the soil is full of helpful nutrients, the stronger the CBD oil will be. Hemp grown in the United States is considered one of the best, thanks to the strict environmental regulations.
2. Extraction Method
The extraction method used can determine how pure the end CBD product is. The best extraction method to use to get the purest mg of CBD per bottle is the carbon dioxide extraction method. This method will give you a more effective and potent finished product every time.
So, how does this method work? The carbon dioxide extraction method involves the use of carbon dioxide at high-pressure levels. This CO2 is used to extract various components of the hemp plant.
Therefore, as you choose the best CBD, knowing the extraction method will help you know how pure the CBD oil is. We've only selected the CBD oils that we believe are safe for you to use.
3. Capsule or Liquid
The form in which your CBD oil comes in is also a factor to consider. For the pure liquid form of CBD oil, you can comfortably swallow it directly. However, this might be easier, especially when you're winding down after a long day.
This is why you find that we've looked at the CBD oils that have flavors. For the capsule, you can also take this orally. Nonetheless, you'll still get the same effect as taking CBD oil directly.
4. THC Levels
Remember how we mentioned that THC is the part that gets you high? Well, you may want to check if the CBD oil you are getting has any trace of THC. You don't want to get the psychoactive effects of cannabis while in a compromising position.
If your job requires you to get regular drug tests, this is an especially key factor to look into. However, you don't have to worry so much since most CBD oils have less than 0.3% THC levels. So once you know that the THC levels will not make you fail a drug test, you're good to go.
5. Concentration
Check the product information to get the concentration in milligrams. For example, most of the best CBD for sleep has a concentration of 250mg to 1,000mg. You can check the labeling of the bottle if you're unsure.
If you have other conditions in addition to insomnia, such as rheumatoid arthritis, you'll need higher doses. For example, if you want to alleviate some pain, getting a CBD oil with more concentration than 250 mg of CBD will work.
6. Isolate CBD or Full Spectrum CBD
Isolate CBD has been isolated from cannabinoids and other compounds found in the hemp plant. This includes THC. You can think of CBD isolate as a 99% pure form of CBD extract. On the other hand, full-spectrum has other natural compounds and cannabinoids present.
Some of these compounds include minerals, fatty acids, vitamins, flavonoids, and terpenes. THC is also found in this version.
There's also the broad spectrum CBD which contains all those compounds other than THC. So broad-spectrum CBD is probably the way to go if you are likely to get a drug test now and then.
7. Budget
Although you want to sleep tight at night, you also don't want to dent your pockets in the hopes of getting there. Therefore, we've looked at an array of CBD options that have varying prices. However, note that since CBD is a sensitive compound, you shouldn't compromise on quality to get a low price.
Sometimes, it's better to dig a bit deeper into your pocket to get a great product that will be good for your health.
Frequently Asked Questions About CBD for Good Sleep
1. Does CBD for insomnia work?
Yes. A CBD dosage of about 160mg has been shown to increase sleep duration and enable you to sleep tight all through the night.
2. Is it safe to take CBD oil every night?
Yes. For the best results, you should take CBD daily to help you sleep tight like a baby. Then, after ensuring that the CBD is third-party lab tested, you can proceed to take it every night before you sleep.
3. Should you refrigerate CBD oil?
No. You can store this oil at room temperature, which often ranges between 60 to 70°F (16 to 21°C). Keeping it in its original package will prevent unnecessary exposure to air and sun. Keeping it in a closet, cupboard, or pantry can be a good idea.