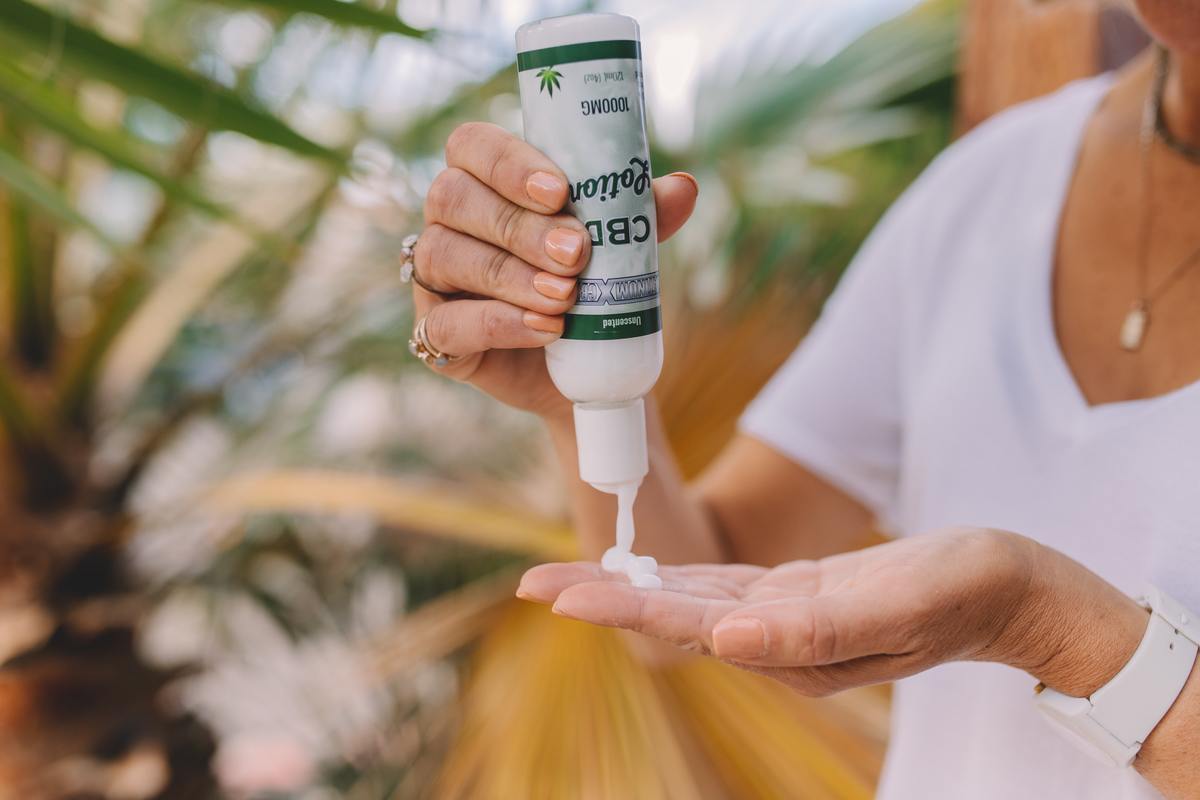 If you struggle with joint pain and conditions like arthritis, using topical CBD creams is one way to alleviate the pain. But, you'll soon find there is a challenge in finding the best CBD cream for pain. The market is abundant in CBD creams, but there are creams that effectively relieve pain and those that don't.
What Is a CBD Cream?
A CBD cream is a lotion or salve that's infused with cannabidiol, also known as CBD. When applied topically, these creams are believed to offer pain relief. While you can buy CBD creams for pain relief only, the creams may also help repair your skin imperfections.
Wondering how CBD helps relieve pain in your joints? Well, your body has an endocannabinoid system (ECS), which is an intricate process that controls your appetite, mood, and pleasure, and pain sensations. So, when you use CBD, it binds to cell receptors in the skin, nerves, and muscle tissues to activate this ECS system, thus encouraging pain relief. This study explores how CBD is suited to relieve neuropathic pain as well as other chronic conditions.
CBD creams for pain relief are designed with different features to offer various forms of therapy. You can find an anti-inflammatory cream, a warming CBD cream, or a cooling cream. In addition, the creams will come with different potency levels that target different severities of pain.
Now that you need to start using the best CBD creams for pain, we have compiled this list of five powerful CBD topicals you can buy today. Read on to find which among them is best for you, plus a few tips you can consider before buying your CBD pain cream.
If you are looking for an excellent cream to help with your pain, a 1000mg concentration of full-spectrum CBD will offer the best results. This Spruce CBD salve is also 100% organic and made with olive oil, shea butter, beeswax, and coconut oil.
When looking for the best CDB creams, it is best to look for one that is, like this Spruce product, third-party lab tested. It is also easy to apply, made in the USA, and will never get you high with less than 0.03 % THC concentration.
It comes in a 0.87-ounce jar or a 1.7-ounce jar with a pleasant and mild smell and ships to all 50 states.
Pros
Easy to apply
Made in the USA
Made with organic botanicals
Comes with 1000mg full-spectrum CBD concentration
It contains less than 0.03% THC, thus will never impair your judgment
Ships across the country
It is a lab-grade, third-party tested CBD topical
If you have severe joint pain, you need a cream that is easy to apply and fast working. This cream from Penguin has a very easy-to-work-with consistency plus a cooling effect that offers instant relief when you apply.
It is a third-party tested cream made with organic botanicals such as shea butter, safflower oil, and cocoa butter. In addition, the hemp CBD in this cream is extracted using the company's CO2 extraction technology and used in its broad-spectrum CBD form.
While the company markets this CBD cream as a fast-working solution when you need skin-cell rejuvenation, many satisfied customers credit it for effective pain relief. According to the manufacturer, the cream contains zero THC, thus no chance of getting you high.
The cream is sold in different affordable packages, and it also comes with a 30-day moneyback guarantee if you get any adverse reactions. It is easy to apply, and a little spreading over your affected joints will be enough to relieve your pain.
Pros
Affordable
Contains zero THC
the company uses their organically-grown hemp from Oregon
It is an easy-to-apply, highly potent CBD pain relief cream
It comes with a 30-day moneyback guarantee
It has a lavender and peppermint smell that is also soothing
It contains organic botanicals
It is third-party tested for harmful chemicals and metals
It is a broad-spectrum CBD type
Cons
They don't offer the best money-saving subscriptions
It may not impress people who don't love peppermint or lavender
When you have pain, one of the fastest remedies you can think of is using cold therapy. Now, when looking for the best CBD pain creams, looking for one with cooling ingredients such as menthol can help with pain better.
The topical CBD cream contains powerful properties of broad-spectrum CBD extracts, cocoa butter, safflower oil, coconut oil, among other ingredients, to form a rich, thick cream that quickly penetrates your skin to soothe joint and muscle pain.
The company uses locally-grown organic hemp, and this lab-tested, THC-free topical CBD for pain comes in a 300mg bottle. It is an affordable cream free of harmful ingredients like fragrances, parabens, sulfates, and gluten.
Pros
It is a 1.7 fl. oz. bottle containing 300 mg of CBD 
Third-party lab testing guarantees the best quality
Made with 100% natural and organic botanicals
Features menthol to offer a cooling sensation for fast relief
It does not contain harmful ingredients like fragrances, parabens, and sulfates
Extracted from organically grown hemp
Affordable
It comes with a 60-day moneyback guarantee
Cons
It may irritate people with sensitive skin
This CBD pain relief cream can also help with inflamed joints if you have arthritis or more conditions. It is a broad-spectrum CBD coming with varying potencies from 500mg to 3000mg. In addition, it also has menthol, which offers a cooling effect to offer faster relief.
The highly potent cream contains anti-inflammatory botanical extracts such as white willow bark, caffeine, and menthol. In addition, it does not contain any harmful ingredients such as parabens, sulfates, gluten, and more.
It is your best broad-spectrum hemp extract cream to combat muscle and joint pain and inflammation. It is also cruelty-free, solvent-free, and comes with a 60-day money-back guarantee.
Pros
Best cream for muscles and joints
High-potency plus cooling menthol for fast relief
It comes with a 60-da moneyback guarantee
Cruelty-free and solvent-free
It contains anti-inflammatory botanicals extract that relieves aches and pains
It is a vegan CBD pain-relieving cream
While looking for the best topical CBD products to offer pain relief, you also need to consider how they affect your skin. If you have susceptible skin, ingredients like menthol and fragrances can leave you healing skin reactions that would inevitably agitate your symptoms.
This full-spectrum 1000 mg CBD Cream is formulated for pain relief. Instead of menthol or eucalyptus and other cooling ingredients, it comes with calendula flower, Arnica Montana, MSM, plus other secondary cannabinoids like CBG, CBN, CBC, and little quantities of THC.
It is an easy-to-apply cream that comes in a bottle for easy retrieval. As an organic product, you can apply it as often as you need, but it is best to avoid broken skin, according to the manufacturer. It is an affordable cream that also comes with a 30-day money-back guarantee.
Pros
Best CBD cream for sensitive skin
Menthol, dye, and fragrance-free
It offers a high potency of 1000 mg full spectrum CBD
Affordable
It comes with a 30-day moneyback guarantee
You can apply it as often as you need
How Does the Best CBD Cream for Pain Work?
As mentioned earlier, the endocannabinoid system (ECS) in your body controls pain sensations, and it is an active system even when you don't use cannabis. This is how the CBD in your cream can manipulate this system so you can enjoy pain relief.
ECS is a network of three components; endocannabinoids, receptors, and enzymes. Endocannabinoids are molecules made by your body. So far, only two are confirmed to be effective; anandamide (AEA) and 2-arachidonoylglyerol (2-AG).
Endocannabinoid receptors are also found in your body, and they trigger the ECS system to react to changes in the nervous system. The two primary receptors are CB1 and CB2 receptors. The way they work, endocannabinoids bind to any of these receptors to react to and relieve pain or inflammation. Finally, the enzymes break down endocannabinoids when they've carried out a function such as relieving pain.
Now, when you experience pain and use the best CBD creams, the CBD content in them prevents the enzymes from breaking down the endocannabinoids, possibly allowing them more time to work on your symptoms.
If your best CBD creams contain just a tiny amount of THC, you may enjoy even better results with pain alleviation. THC can bind to both CB1 and CB2 receptors, which stimulates the ECS system for better relief.
Factors to Consider When Buying the Best Topical CBD Cream
If you are convinced a CBD cream is your best solution for pain and sore muscles, there are several factors you need to consider so you can get a quality cream. Let's explore them below.
a) Verified third-party testing
When you look at the products shared on this list, you will notice that all manufacturers share third-party lab testing results on the website. It is an important feature to look for because it informs you of the cream's purity and effectiveness.
Before buying, make sure you read the test results and compare them against the advertising to ensure the descriptions match the test results.
b) Type of CBD
There are three types of CBD that manufacturers will use on their products.
Full-spectrum CBD can feature all cannabinoids, flavonoids, and terpenes found in the hemp plant. This type of CBD will also contain traces of THC.
Broad-spectrum CBD also contains most cannabinoids and flavonoids, but it will not come with THC.
CBD isolates are free of other cannabinoids, flavonoids, and THC.
c) Ingredients
For a CBD cream, your manufacturer only adds little amounts of CBD, but the rest of the formula is made with all sorts of ingredients. Thus, when looking for a cream, ensure the ingredients are all-natural, and if you can, get a cream that has ingredients known to offer pain and inflammation relief, such as menthol and arnica.
Also, if you have sensitive skin, make sure you avoid ingredients such as dyes, menthol, and fragrances that could aggravate your symptoms further.
d) Potency
CBD potency refers to the amount of mg of CBD you get for each recommended application. So, depending on how severe your pain is, you can choose a cream with a higher potency for faster relief.
Frequently Asked Questions About the Best CBD Creams
a) How do I use a CBD lotion for pain relief?
As the creams are CBD topicals, you will only need to apply them to areas that hurt. For instance, if you have chronic pain on your finger joints, you can apply the cream to the affected joints as many times as you need to for effective pain relief.
b) Are there any side effects of CBD creams I should know before using?
A high-quality CBD topical cream will rarely pose any side effects if it is applied topically. However, it is best to choose a cream with the best ingredients if you have sensitive skin. You will also need to avoid applying the cream to broken skin to prevent irritation.
It is also best to discuss the cream with your doctor if you are on other pain medications.
c) How long do the CBD topicals last?
The severity of your pain may determine how long a cream will relieve pain. But, when you get a good cream with cooling or warming ingredients, the relief could last longer. Also, the potency of your cream may determine how effective it will be in relieving pain, so it is best to choose high strengths if you have excruciating pain.
d) How often should I apply CBD creams?
You can apply most CBD creams as often as you need pain relief. As you will apply it topically, there is little chance the cream or CBD can get into your bloodstream to risk overdosing.
In addition, when you have to attend to chores, you would benefit from a highly potent cream whose relief would last longer.
Latest posts by John Terry
(see all)